If you're like many of the other tradie admin people we've encountered, your home office isn't exactly a place of Zen and calmness. It's more likely to be a messy corner of the kitchen table, piled high with paperwork that's got to be done, price lists from suppliers, and scraps of paper notes from site that need to be turned into quotes and invoices.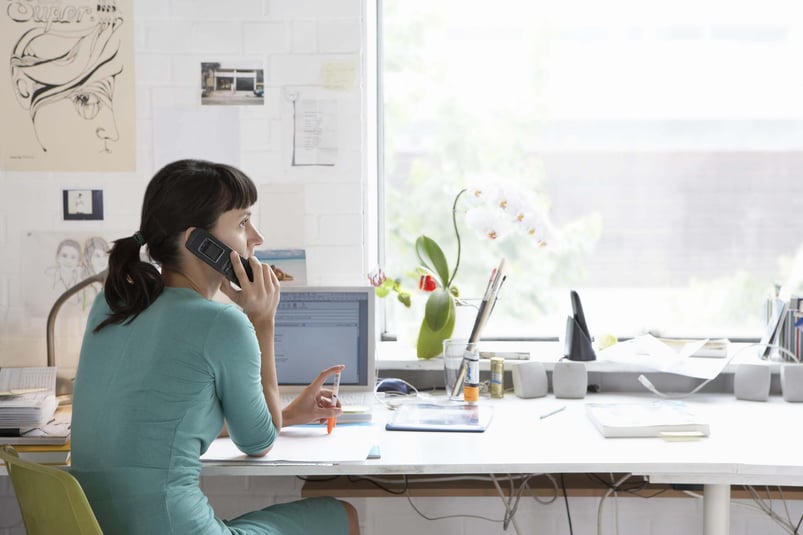 Life's hectic and working from home often means working in the midst of family chaos. But there are a few things you can do to create an efficient home office environment.
1. Create some barriers (whether physical or mental)
In order to get some actual work done, you need to create a dividing line between work and family life. This might be an actual line – made by a door or a partition or even a designated table in the corner of the family room – or a line made by time.
Tell your family that during certain hours you are in the office and can't be disturbed unless someone is bleeding or on fire. Stick some headphones on and use that time to motor through your paperwork. And speaking of paperwork ...
2. Get rid of that paperwork
The big problem with stacks of paper is that all too often you forget about what's on the bottom. That's why home offices filled with paper are often black holes for information – everything gets sucked into the vortex, never to emerge again.
You can use Tradify to manage all the admin associated with your tradie business, from quote and invoices to supplier price lists, timesheets, and job sheets. Give it a try today – I bet you'll be amazed at how much time it saves you on wrangling the paperwork.
3. Limited space? Use the walls
If you don't have a lot of space to spread out and get organised, then spread UP instead. The walls around your desk are prime real estate for organising and pinning up essential information.
If your partner happens to be the handy tradie, then get them to put up a series of shelves, a wall-mounted filing unit, or a write-on calendar.
4. Start a daily clean desk policy
The desk becomes a piling system for objects, papers, and other things to do with the business. It can also become a place to dump things that have nothing to do with the business – family bills, sports team schedules, takeaway menus …
The more stuff ends up on the desk, the more likely you are to miss something. As well as this, excess things in your surroundings have a negative impact on your concentration and ability to process information.
To keep the desk clutter under control, finish each day with ten minutes of desk clearing, where you throw out, deal to, or store items away, leaving you with a clean desk when you start the next day.
If you find yourself struggling to fit in the clean desk at the end of the day, it also works if you start the day with a clean desk, instead.
5. Remind yourself why you're doing this
It's nice to add a bit of personality to your home office. It helps to make your space feel like a pleasant place you actually want to be, and not the walls of a prison closing in on you.
You could include some artwork from your kids on the walls, a picture of the holiday destination you're saving up for, a motivational poster (my personal favourites are these ones from Bernard Black of Black Books) some action figurines on the desk, or the ultimate office accessory – a judgement box for the family cat.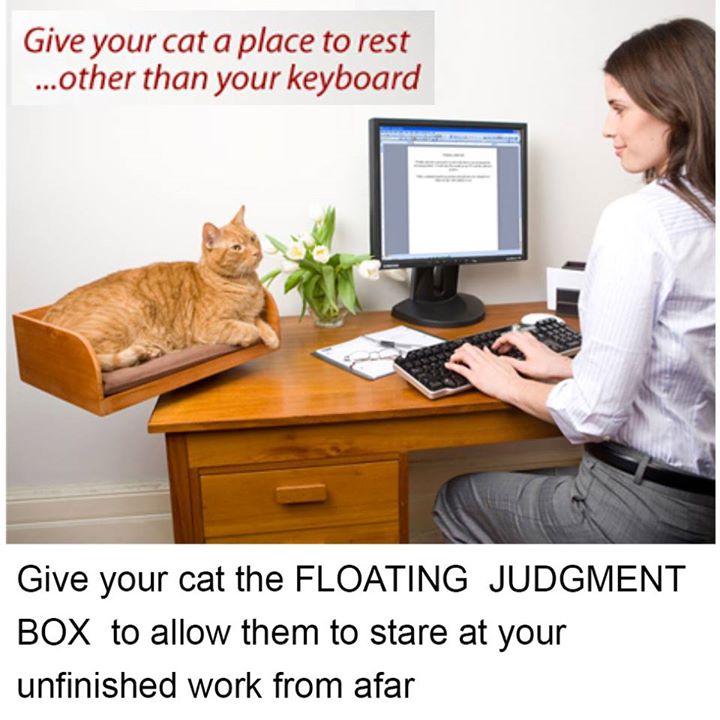 From Imgur.
How do you organise your home office for your tradie business? What do you do to make things run smoother when you're doing the books or your admin work from home?
Tradify can help you sort your home office, getting rid of the paperwork and freeing up more time for the family. Find out how when you sign up for a free trial.