Here at Tradify, we've been doing some work within the team to define our company culture. To us, Tradify should be more than just a great product – it's also a place where we love to work, and where we work together to support our customers to grow their businesses. A big part of that is having a defined set of values – what's important to us.
We've been inspired by the amazing work our tradies do, and the work ethic they promote in their companies. When we go out to visit customers on site, we're always amazed to see everyone working together to get the job done. If a site needs to be cleaned, everyone pitches in. If someone needs a ladder held or a tool from the car, another person will put their hand up to help without delay. It may seem like common sense to you, but coming from the cutthroat corporate world, it's refreshing and awesome!
We're all just a bunch of techy guys and gals, and we couldn't do what you guys do. But we want to take a bit of that tradie attitude back to our office.
We've been working on a culture code for Tradify – 11 simple messages we can all live by, to drive our work and our interactions with customers and with each other. Our amazing Charlotte is transforming the code into posters we can hang around the new office.
To celebrate the launch of the code, we've started the monthly "Golden Helmet" award within the team, to single out (and embarrass) someone who's exemplified the culture code over the previous month.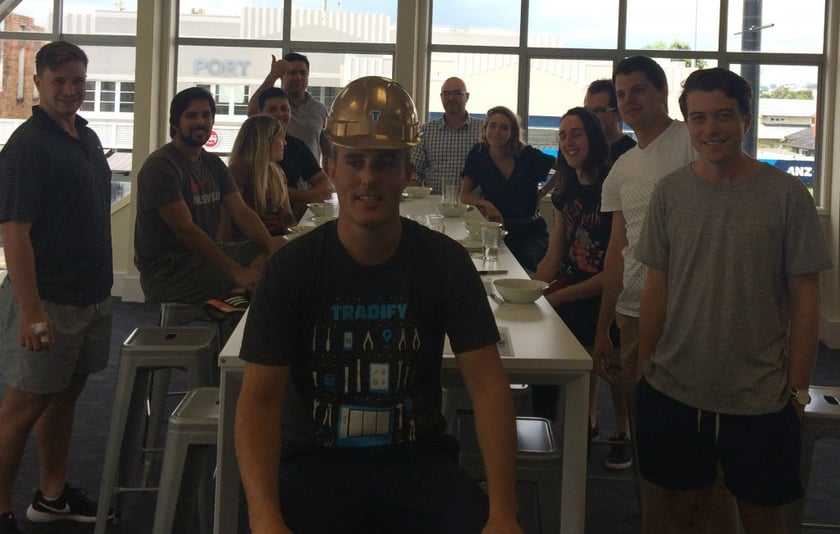 This month, Rob won the Golden Helmet for his hard work sourcing our new office in Mt. Eden. It's not easy to find a short-term lease in Auckland within our budget, that didn't look like crap. But Rob dug in, and found it, and the place looks fantastic.
Thanks for the awesome work, Rob!