Who are you and where do you consider your hometown to be?
I'm Paul. I am passionate about helping realise the potential of great design and user experience with a design ethos that is admired and followed. I've been galavanting around most of Europe and the UK for the last eight-and-a-half years. However, now I've settled back into Waikato, where I work remotely. I'm always keen to make the trip up to Auckland for synergistic-ness though. 🤓
When did you start at Tradify and what do you do exactly?
Why do UX Designers like forks? They're great stakeholders! 😅 I started my role in August. I'm a big picture thinker. I like to dive into the customer experience, help solve the customer's problems and provide solutions that turn into new or improved features and sometimes even new business opportunities. I design apps, focus on the end-to-end journey, and help improve our products to relieve friction.
The best thing about working with tradespeople is…
They're down-to-earth, genuine people — no-bull, tell you how it is. They're probably the better half of a group to give you advice or tell you how your product is suited for them or not. They provide a certain sense of transparency that leads to some delicious nuggets of information to help us make our design decisions.
What's the top priority for you in your role?
Plain and simple, to help realise the potential in the customer experience with both our web platform and mobile app, and to build great products that follow a set of best practice guiding design principles.
Favourite feedback from a Tradify customer?
It's not precisely direct customer feedback, but a few days in, a post on our company forum surfaced with a YouTuber having an interview chat style video directly with a customer. I found the format very insightful, especially when this came from a customer who loves to use our product and stated their personal opinion. It was genuine and refreshing.
What's happening at Tradify that you are most excited about?
We are shifting into a society that is more focused on quality of life. It's not your hard 9-to-5 slog anymore. I've seen this increasingly with my experience from going through a COVID pandemic in the UK and quite recently here in NZ. Contractors want to do great work, but they tend to get tied up with all the admin. That's where we come in. I'm excited to be a part of the journey. We are all making a difference to tradies' lives, ensuring we give them their time back. It may sound corny, but I genuinely believe in it!
Have you got any secret productivity hacks?
There are so many tools out there that increase productivity. For me, it's hard to go past the good old to-do list. It's so easy to keep track of. Whatever task you can think of, it's probably a good idea to put it on a to-do list :)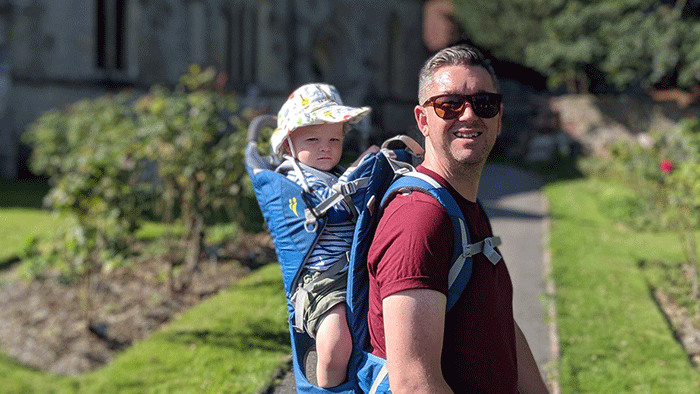 Quickfire round
Cats or dogs?
Dogs.
Snow or Sand?
That's hard, can I have both?
On the weekend you'll find me…
With my family, spending some quality time and trying to stay away from chocolate.
On a scale of 1-10, my DIY skills are…
I'd say they have increased significantly during the COVID-19 lockdown. About 6 out of 10.
If I could instantly master any trade, it would be…
Electrical. Live wires freak me out.
My favourite holiday was to…
This is a tough one! Probably Europe, visiting the Cinque Terre ranks quite high up there :)
---