To know why MPH Home have such a strong future ahead of them you first have to understand their past.
18 years ago Ewan Mclean set out to forge his own path and started his own Plumbing company. From those humble beginnings Ewan, with the help of family, friends, customers and staff, has crafted one of Scotland's most successful, trusted and respected home improvement businesses.
MPH Home first cut their teeth doing kitchen and bathroom installations and renovations. Not comfortable with completing 15-20 bathrooms or kitchens per week they then moved on to Boilers and more recently into high spec cost effective kitchens with a mobile show room using virtual reality technology to enable customers to see their dream kitchen in the comfort of their own home.
So what makes MPH Home so special?
MPH Home are Scotland's number one supplier and installer of boilers, they create some of Scotland's finest, stylish, and bespoke kitchens and bathrooms and they can also handle all your plastering and tiling needs.
The MPH Home group includes MPH Boilers and Kitchens2u, but if you haven't heard of MPH Home before it's because up until recently most of their work was based on contracts with some of the UK's biggest companies including B&Q & British Gas.
MPH Home have now started to focus more on growing their own brand with a range of services as their customers kept returning and asking them to provide a greater range of services.
Their Highly Commended at the recent Scotland Regional Energy Efficiency Awards (check out the criteria here) as well as their excellent reviews and feedback on Checkatrade (check their reviews here) suggest that these guys know how to combine expertise with a great customer focus.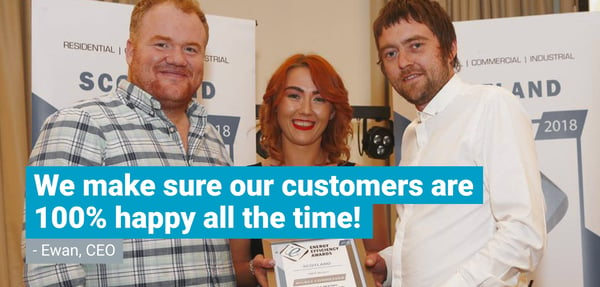 What is it that sets MPH Home apart from the rest?
As Ewan (CEO, MPH Home) will tell you, MPH Home have a simple formula that everyone in the business lives by and that is "to treat the customers home as if it was your own." Ewan goes on to say "all our guys (and gals) care about our customers property and we make sure our customers are 100% happy all the time."
In addition to that philosophy they also make sure that all tradesmen are time served and hold disclosure Scotland certificates.
If having a qualified, customer focused team wasn't enough for you, then you might also like to know that MPH Home are a close nit family owned and run business. Ewan even has a brother in law and his eldest son (one of 5!) in the office beside him keeping him on his best behavior.
Few businesses manage to successfully combine a growth focus will still being committed to 100% customer satisfaction and retaining strong family values culture as well as MPH Home have done.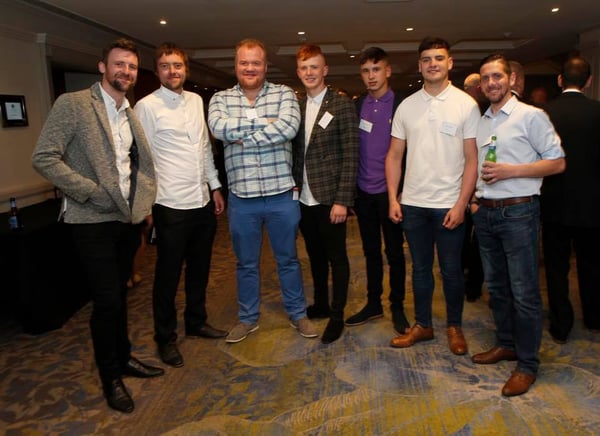 So what's their secret?
In today's world becoming one of Scotland's best takes more than good staff with the right qualifications.
To stay one step ahead of the rest you have to be leveraging all the right tools and that's why Ewan has the business running on Xero, the cloud accounting software for SMBs and Tradify, the job management solution for the UK's best trade and construction businesses.
When Ewan decided to spend more time and energy growing the MPH Home brand he found that a lot of the systems and processes normally required to run and grow a business weren't actually in place as traditionally most of the jobs had been provided through contract installation agreements with much larger businesses.
As far as Ewan is concerned growing their own brand simply wouldn't have been an option without Tradify as it provided them with a one stop shop for all the systems and tools they needed and meant that they could grow and diversify the business without a massive team of back office experts.
Tradify helps the team in the office load, track and manage jobs, and helps the guys out in the field with time and job tracking.
Says Ewan "as our business has grown, Tradify has continued to grow and we are always trying to use as much of it as possible to help streamline and simplify things further. It's been such a massive success for us that I've recommended it to a bunch of other local businesses. We've also moved onto Xero recently and we only went with Xero because of how it integrated with Tradify."
Ewan's recommendation for other aspiring young trade business owners is "get Tradify sooner so you can get organised and stop wasting time."
So what does the future hold for MPH Home?
For Ewan and the team they aren't in this for the quick flick. Ewan and the rest of the team are committed to building a lasting legacy that their son's, staff, family, friends and customers can be proud to be a part of.
Judging by recent awards, their customer reviews and their commitment to leveraging technology to enable the business, it's clear MPH Home have a long and prosperous future ahead of them.
If you're near Edinburgh or Kirkcaldy with a home improvement project that needs doing then you need to contact Ewan and the team at MPH Home. If you think its time for a new kitchen then you need to check out Kitchens2u on Facebook here.
View their Checkatrade profile here or look them up in all the usual places.
Fb - https://www.facebook.com/MPHHome/ or https://www.facebook.com/kitchens2uinfo/
Ph - 01592 508766