Any half decent Tradesperson loves to fish and if you love to fish you've probably considered an epic fishing adventure to the northern hemisphere. If you've ever considered it then now is the time to stop slacking and get planning as the flights are cheap and shortly Donald Drumpf (yes I meant that - click here to see why) may have destroyed the place.
So to help our favorite tradies save time researching here is a definitive list of the three best fishing adventures the United States can offer.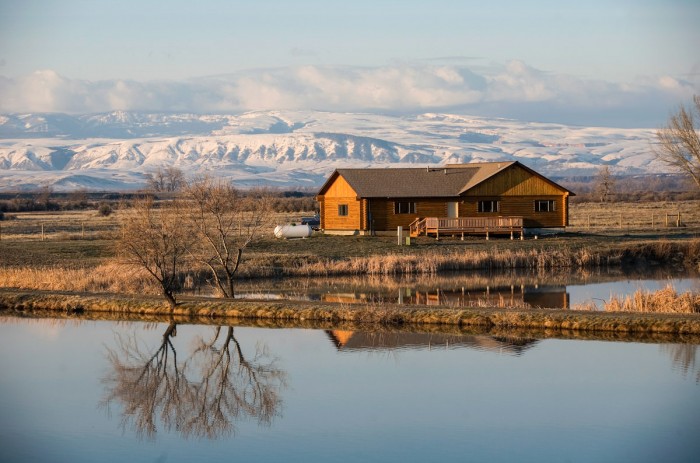 From mountain brook trout of Pennsylvania to elusive sturgeon in Idaho's Snake River it is hard to go wrong no matter where you may find yourself. But, if you want to experience the type of trip you can never experience again anywhere you need to push these adventures to the top of your list.
Tarpon in the Florida Keys
Tarpon is one of Florida's most sought after game fish, with thousands of anglers flocking to the Sunshine State each season hoping to hook a silver giant. Although tarpon is found in other sub-tropical locations, many of which offer excellent opportunities, the Florida Keys are on the top of the list. Not only are the Florida tarpon found in large numbers but the local guides are known for specializing in catching these monsters on light tackle.
Florida Tarpons average 6 ft. in length and weighing 150lbs, although they have been known to reach over 8 ft and to top the scale at over 300 lbs. Even on heavy duty, salt water tackle a fish of this size is something to brag about. When caught on only 20 lb test a fish which weighs as much as the angler who caught it is something you may never experience again.
The prime locations for prize tarpons are found around area bridges, due to the abundance of bait fish & crustaceans that seek refuge in the rip rap & pillars. One of the reasons the Keys are such a hot spot, from Miami to Key West is a string of bridges connecting island to island. Some tarpon can be found at almost any time during the year, but the main run occurs between April and June to coincide with the annual spawn.
Giant Brown Trout On Montana's Bighorn River
Montana is known worldwide for providing trophy class trout in a variety of species, but the Bighorn River is the go-to destination for scale tipping brown trout. Plus, if you are lucky you might also hook into a line striping rainbow which is not as common but considered a real prize. The gentle, cool, clear water provides the perfect habitat for growing big fish and conditions necessary for anglers to catch them.
Although the Bighorn River is a destination fishery and something which many local businesses depend upon, it is almost entirely surrounded by private property, and anglers are cautioned to stay within the river's banks. While wading is possible on the majority of water, this limited access means that floating is the preferred method of travel. Public access is available at several National Park & State access points, which provide both parking and boat launching facilities.
One of the reasons trout are such a popular U.S. game fish is their year-round activity, which allows anglers to catch them under almost any conditions even during a winter snow storm. But, like most game fish, it has a preferred season when conditions offer the best opportunity for success. For Bighorn brown trout, this time is from April to November, although the higher summer temperatures tend to cause all trout to slow down a bit.
Striped Bass in the Montauk Surf
Striped bass are one of the most popular game fish on America's East Coast and can be found in great numbers from New England to the Carolinas. Although the Hudson River or the Chesapeake Bay offer excellent opportunities from both the beach or boat, there is very little that can compare to pulling a 30lb + cow from the crashing surf of Long Island's Montauk. Not only is the fishing out of this world but so are some of the anglers who risk life & limb to balance on slippery jetties or even wade into the surf itself for the perfect cast. Fishing for these rockfish is as much adventure as any extreme sport!
Most of the coastal rivers and tributaries experience their best fishing in April – June, during the annual spring spawning migration. Montauk is the polar opposite of the heaviest action occurring from Sept – Nov, during the annual migration of the already spawned schools from Long Island Sound south to the open ocean. September is by far the best of the best, known for having the most fish ( and anglers) swarming the beach.
One of the reasons Montauk is so good at attracting striped bass is a large number of bait fish which also inhabit the local waters. On the best days, stripers swim onto the beach chasing these tasty meals, in what is known locally as the blitzes, offering lucky anglers the ability to catch fish until their arms are too tired to continue. Because striped bass are nocturnal, the most experienced anglers sleep during the day and fish all night and are usually rewarded with the biggest fish.
Disagree with the list, then comment below or on our Facebook, but otherwise, quit procrastinating. If you're too busy running your trade business to even thinking about booking flights then its time to trial some Job Management software such as Tradify. Job Management software will save you time and money so you can finally get away on a trip like this!