What does Alert Level 2 & 3 mean for New Zealand tradies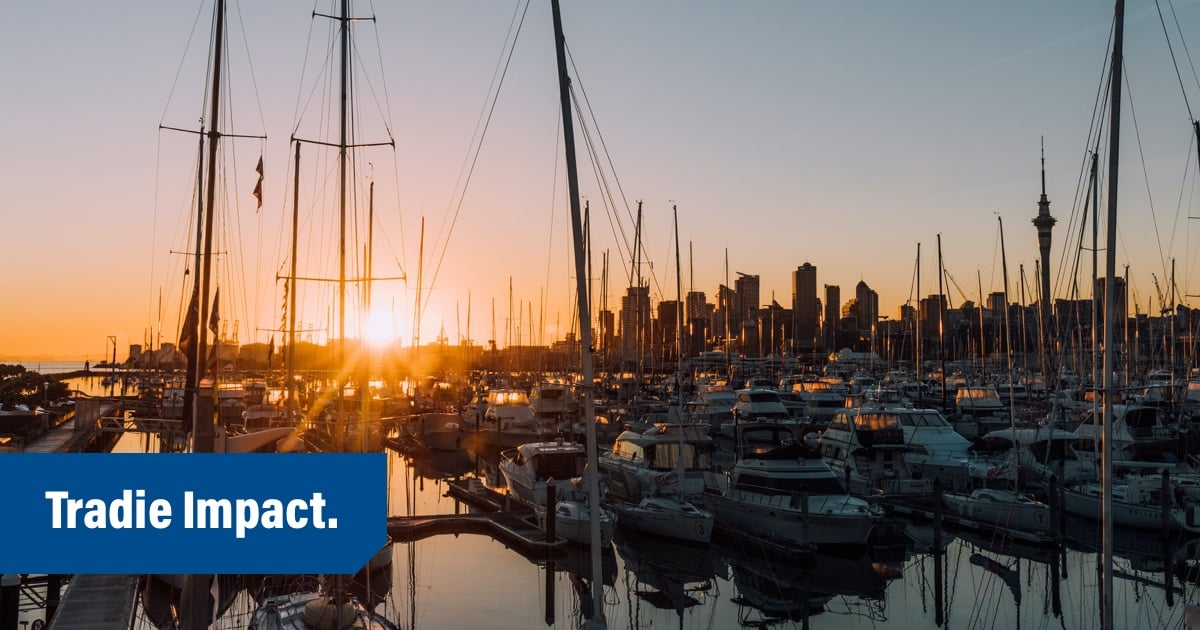 Restrictions returned to New Zealand on August 12th with Auckland moving to Alert Level 3 and the rest of the country Level 3 until 11:59pm on August 30.This means that if you're in Auckland and you can work from home, you should. Tradies in Auckland and throughout New Zealand can still operate, albeit with the re-introduction of strong rules around physical distancing and other health and safety measures.
The government's alert level system can move fast – and at times, it can be hard to know exactly what trade businesses can and can't do at each level.
We break down what Level 2 and 3 mean for New Zealand trade businesses here.
Level 3 (Restrict) - Auckland from noon on August 12
At noon on Wednesday 12 August, Auckland moved to Alert Level 3 until midnight on Sunday, 30 August. With this transition, new rules are once again be in place for how tradies and trade businesses can operate.
Keep in mind that alert levels may move down (or up again) by region. What we know now is that Auckland will be in Alert Level 3 until midnight on Sunday August 30.
At Alert Level 3, you must work from home – if you can. That means that if you have office staff, they will need to continue to work from home. They can't work in the office. But if working from home isn't possible – the most likely scenario for most tradies – you can go to work under certain conditions.
There are detailed Health & Safety standards now available for the industry. Here is a quick overview of what you need to be thinking about:
You can go to work. Tradies can do repairs and installations if it is safe to do so. Plumbers, electricians and tradespeople can work on customers' property e.g. in their homes

You must operate safely. Avoid face-to-face contact and stay at least two-metres away from customers. If you need to enter a client's home or business for a job, ask if there's a back entrance you can use, and make sure they are aware and will comply with the physical distancing guidelines. You should also confirm in advance that your client (and anyone else on site) is symptom-free.

Physical distancing on a work site. While maintaining 2 metres physical distance from others is recommended whenever possible, that's not always going to be practical on a job site. In a controlled environment such as a building site, 1 metre distancing from other workers is required.

There are still travel restrictions, but they have been reduced. You can now travel within the Auckland region for work or to access an essential service. Use common sense – only take on jobs in the Auckland region.

Be smart with scheduling jobs. If you have a team working for you, all the same rules apply. Send one employee only to a job if possible, or if more than one person is required, try to send them in separate vehicles and make sure they stay one metre apart. Maintaining a distance of two metres is even safer, if possible.

Contact tracing

is necessary. Keep a detailed record of where you and your staff have been and who you've been in contact with. This helps authorities trace transmission if one of you (or one of your customers) contracts the virus.

Good hygiene? Yes. PPE gear? Probably not. Most workers won't need full PPE gear, although wearing masks is highly encouraged and practising good hygiene practices is a must. This includes physical distancing, frequent handwashing, practicing sneeze and cough etiquette and disinfecting tools and surfaces.

Stay organised with a checklist. Having a

health and safety checklist

is the best way to ensure you, your staff, and your customers remain as safe as possible.

Apply safe distancing practices with suppliers. Tradespeople will still have access to supplies. If you can, have materials delivered. If you must visit a store, place your order online or via phone ahead of time so it's ready for pick up and you can limit the time you spend in the store. While you're in the store you should wear a mask, ensure you follow store processes & maintain public health measures including physical distancing of 2 metres.
Level 2 (Reduce) - rest of New Zealand (except Auckland) from noon on August 12
The rest of New Zealand (except Auckland) will move to Alert Level 2 at noon on Wednesday August 12 until midnight on Sunday August 30. This means that all businesses can remain open but physical distancing of one metre will apply, as will health and safety rules. Trade businesses can continue to operate and if you have office staff, they can return to the office.
In Alert Level 2, you can still continue to go to work and your kids can attend school, with physical distancing.
Businesses can open to the public if they are following public health guidance, which include physical distancing and record keeping. Having a contact tracing solution in place is still very important in Alert Level 2 and everyone is encouraged to wear a mask if you can in public.
Keeping yourselves, your team, your families and your customers safe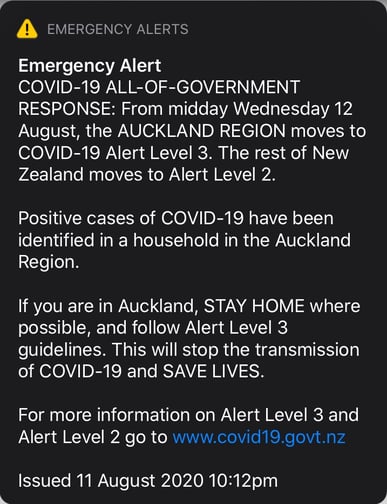 So yes, most tradies can continue to work in Alert Level 2 and 3, but make sure you follow the necessary health and safety practices and have a contact tracing solution in place to prevent the spread of COVID and to keep yourself, your team, your families and your customers safe.
The move to Level 2 and 3, although essential to prevent the spread of COVID-19 and hopefully only for a few days, is not welcome news to New Zealanders. Look out for your mates - and look after yourself. This stuff is stressful. Here's a blog we put together with a few tips to help tradies take care of their mental health. Take a look or share it with a mate.
You can find more information about NZ's alert levels at the COVID-19 website.
Helpful resources