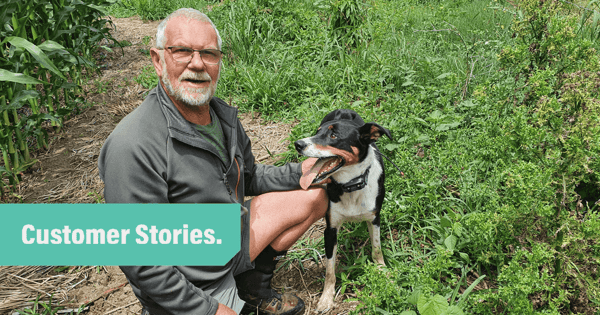 John Taylor is a retired electrician, a lover of dogs, and was once an avid deer hunter. Although hunting isn't on the cards much these days (he blames age for that), John isn't sitting on the couch twiddling his thumbs. Instead, you'll find him and his dog Wink out hunting for a different kind of prey.

Short on time? Skip ahead!
For half the year, John and Wink (who is a certified detector dog) track invasive plant species – specifically spartina grass and Velvetleaf. Wink is one of three dogs in New Zealand that can detect spartina grass, and the only Velvetleaf 'sniffer' – which means this work takes the pair all over the country.
When the plants go dormant for the winter, John turns his attention to another type of pest – the kind with legs. He contracts to various local government agencies and organisations as a pest controller, taking care of wayward rabbits, feral pigeons, rats, stoats, possums and weasels.
John's 'retirement' doesn't look like your typical trade business. It's a small operation that keeps him out of trouble, but that doesn't mean he's free from paperwork. Unfortunately, as many tradespeople have experienced before, he was dealing with "a mass amount of paperwork" that was driving him nuts.
"I'm an outdoors, practical person – not a paper person!"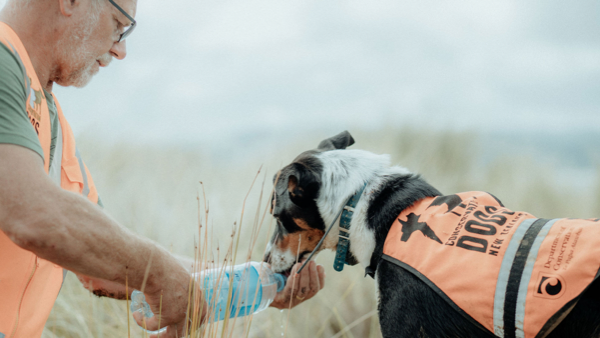 1. Wasting precious work time on invoicing
John might only have two types of work he charges for, but there's a lot of administration that goes into getting each invoice right. He has negotiated different prices with different organisations – some might be charged an hourly rate, others a half-day or full-day price.
When his work requires him to travel, there are airfares, accommodation and food expenses John must track and submit for reimbursement when he gets home. On top of all that, he's got to account for Wink's work expenses too.
"After one of those trips, it took me seven hours to do all the invoicing – it was horrendous!"
Not only did John have to manually log his time, but he also had a pile of receipts to sort through – all of which needed assigning or dividing between the seven jobs he'd worked on along the way.
John knew he was wasting time, and after years of experience as a sparkie, he knew something needed to change and quickly.
2. John finds the right fit, jumps straight in
While browsing through a copy of ElectroLink magazine, John came across an advertisement for Tradify. It caught his attention, and he especially liked that it had been developed by a fellow Kiwi electrician.
When John decides to do something, he goes all in, so after a bit of umming and ah-ing — he skipped the free trial and went straight to signing up.
"I actually set it up while walking around a paddock in Southland looking for Velvetleaf," he laughs.
John particularly enjoyed that the Tradify team were available to help him create email and invoice templates – and then away he went.
"I've been using it for six months now and I'm never going to go away from it. It's too easy," he says.
3. Invoicing: time and expenses all accounted for
With Tradify's mobile job management system, it doesn't matter whether John is at home or travelling – he can take his invoicing system with him.
He uses the app's job timer to accurately track his hours on each job to ensure he isn't missing any time from his invoices.
"I'm not losing any time and I'm not having to guess how long I was there," John explains.
With pre-set templates for each of his clients, he doesn't need to fiddle around with allocating the right hourly or day rate. And when it's time for a cup of tea, he can go straight into Tradify, take a picture of the receipt and charge it to the job he's on.
"It saves a huge amount of time because I can do my expenses on the fly."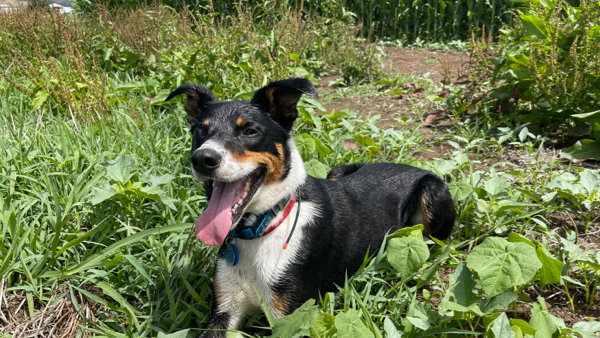 Normally, John would've had to set up a job in a spreadsheet, make up a folder on his computer and add all that stuff.
"I thought I was doing a really good job until I got Tradify," John laughs.
4. Weeding out unnecessary EOFY paperwork
John also finds the NZ end of the financial year a much simpler task – and reckons his accountant would say the same thing.
Because he doesn't produce an enormous number of invoices, he doesn't use an accounting system. John sends his accountant all his invoices and expenses, and his tax is sorted.
With Tradify, John can send his accountant all of that info in reports, which saves him having to bundle all his paperwork at the end of the year.
While his end-of-year financials aren't anywhere near the volume of larger trade businesses, it's not a task John wants to voluntarily spend time on. Using Tradify means he doesn't have to.
"That time is better off earning money than being wasted," he says.
5. Still using paper? You're bloody nuts!
Some say you can't teach an old dog new tricks, but John proves them all wrong. While he's hung up his electrical toolbelt, he shows no signs of slowing down with his pest control work. If anything, Tradify is helping him move faster.
"If I saw someone still using paper, I would say, 'You're bloody nuts!'," he says.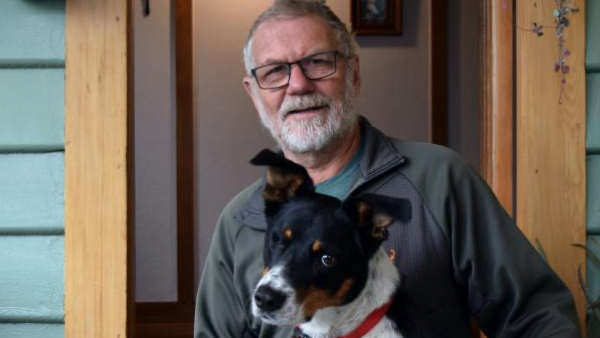 When speaking to a few of his electrician mates, he casually asked them how they were managing their invoices. To his surprise, one said, "I'm using Tradify and Xero."
"I said, 'Damn – I was going to try and sell Tradify to you – maybe get a bonus'," he laughs.
But in all seriousness, he says it's obvious when someone is struggling to keep on top of the admin – and it would probably shock some tradies to see just how much they're losing.
"If you forget a $4 charge off one invoice, that's no biggie. Do that every day for 365 days – and that's profit walking out the door."
Here's John's last piece of advice:
"Tradify's support team is really good! They take the time to understand how your business works so you can adapt the app to your needs."
6. John says Tradify hits all targets
Multiple devices: seamlessly synced across computer, iPad and phone.
Cloud-based: accessible while travelling, or in the middle of a paddock.
Job timer: an accurate record of hours, down to the last minute.
Receipt-tracking: photos of expense receipts loaded directly into jobs.
Easy invoicing:

pre-set templates take the hard work out of admin.
Interested in giving Tradify a go?
Start a 14-day Free Trial (no credit card required), or jump on one of our weekly live demos to see Tradify in action.
---