Tradify helps Grant keep tabs on over 200 jobs
Grant Speller is no stranger to the life of a self-employed contractor. For many years, that's how he made his living before moving back into employment when his first child came along. But it wasn't long before he went out on his own again, contracting for a friend's business.
"But I just got sick and tired of earning him money instead. I was at the end of where I could earn more because I was already doing too many hours," Grant says.
So, Grant began to build up his own electrical business, working part-time in the evenings and weekends to get the ball rolling. Two years later, business is good despite the disruption of a global pandemic, and Grant has hired an apprentice to help with the workload.

The plus side of previous experience running your own business is the ability to learn from your mistakes. Grant says he wanted to provide his family with a better life, but in a way that didn't involve him burning the midnight oil doing paperwork.
"I decided to go back on my own again and this time to do things a little bit differently to how I'd done things before," he says.

Managing the influx of new jobs
In June 2020, the UK government introduced new regulations to improve safety in all residential premises, particularly private rentals. All landlords are now required to have the electrical installations in their properties inspected and tested by a qualified person at least every five years.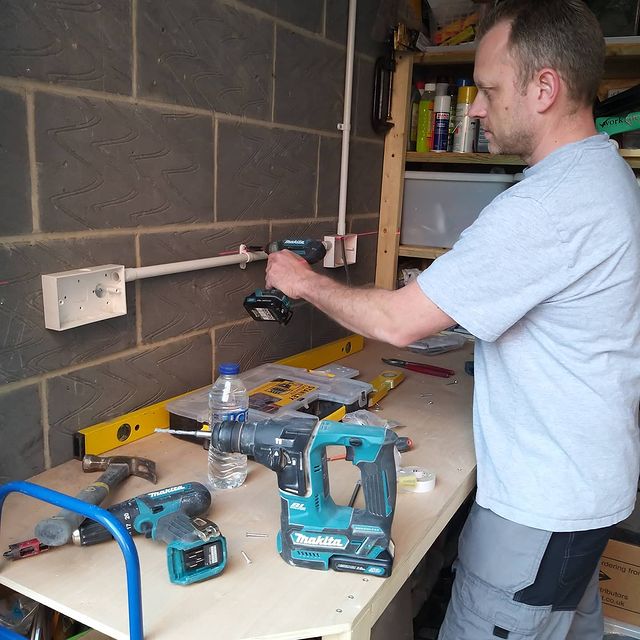 Grant anticipated this change, sending out information packs to letting agents at the beginning of the year. At the time, they didn't "bat an eyelid," but his forethought paid off. He was contacted by a letting agent in July, and the next thing he knew he had 80 properties lined up to inspect and test – not to mention the office refurbishment he was currently in the middle of.
"Now I've got all this work coming over to me – 80 jobs – I needed something other than my brain or a piece of paper to make sure that I'm organised," Grant explains.

Chasing payments causing cash flow headaches
Grant also knew from previous experience what an absolute nightmare chasing overdue payments can be. While this is his first time running his own trade business, he's "learned quite a lot over the years."

In his old job, he was chasing invoices every single month. While it might have only been "little bits of money here and there", it all added up. Plus, there was the time he'd spend constantly following up.
"Back then, hardly anyone ever paid on time. I never wanted to do that again because it's not worth the hassle. I wanted to make sure I was on a better path for growth," Grant says.


Grant finds new admin management tool on YouTube
It wasn't long before Grant found a solution to his admin problems. He's an avid YouTube watcher and follows several other tradespeople on the platform. And that's exactly how he came across Tradify.
"Obviously, it caters for all kinds of trades. I probably only use 50% of its functionality but that's enough to give me a little advantage over my competition."
Grant says his first impression of the job management app was that it was simple and user-friendly. Once he'd tested it with a few jobs, he was sold.
"After six months, I've now got over 200 jobs on there. If that was all in my head, I think the business would be under now," Grant says.

Lots of jobs – no problem!
While that might seem like an overwhelming number of jobs for one man and his apprentice, Grant says he's never been more organised. Keeping tabs on all his work from start to finish is now a simple matter of flipping open his phone.

When he gets a new work enquiry, he immediately enters the details into Tradify and schedules the job. When inspecting and testing a property, he can take photos on-site and upload them to the job's notes section.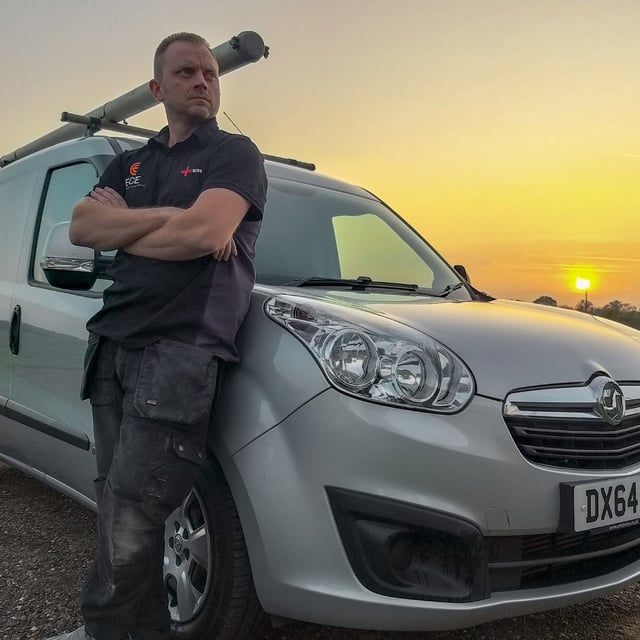 "No matter where I am, I can bring up a job's details on my phone, and I like the function where if you click on the customer's phone number, you can send them a message – tell them that you're on your way," Grant explains.
He uses customised job-status tags to track each job stage in his workflow. This helps him allocate his time better – putting aside one day a week to catch up on his admin.
"It's a really easy system to work and I've never been so organised in my life! I don't know where I'd be without it – I'd probably have Post-It notes all over the wall."

Seamless accounting with QuickBooks integration
Grant has not only streamlined his workflow process, but he's been able to simplify his accounting too. He has his QuickBooks account linked directly to Tradify, so when he creates an invoice, that information is automatically transferred to his accounting system – removing the need for him to do this manually.

When he sits down at his desk every Tuesday to do his admin, he doesn't have to waste time flipping between systems or searching through stacks of paper. With a click of a button, he knows exactly how many quotes and invoices he needs to send – and doesn't have to worry about his accounts not reconciling properly. He's also had minimal issues with clients paying on time.
"I'm just looking at my screen now and know I've got approximately 15 invoices and two quotes to do. Without that, the admin would just give me a headache I think."

Playing the long game
While Grant has his hands full now, he's very aware in the current financial climate that might not always be the case. With a looming deadline for private rental inspections, he's cramming in as much as he can. But he's confident that with the help of Tradify, he's been able to cultivate a professional and trustworthy reputation with his clients. He says that's essential to a long career as a self-employed tradesperson.
"When I started with Tradify, I was also thinking of longevity. I'm hoping that when the properties need testing again, I've got all the property data and history already in my system, which will make it easy to work on those properties again."

Grant says Tradify does everything he needs
Job tracking: visibility of each job in the workflow process.
Finances: seamless integration with his accounting system.
User-friendly and intuitive: Quick and easy to use, the right fit for tradespeople.
Cloud-based: job info all in one place, accessible on the mobile app.
No more admin-induced headaches for Grant!
To keep up with Essex County Electrical, follow them on Instagram and Facebook, or watch Grant in action on YouTube.
Interested in giving Tradify a go?
Start a 14-day free trial. No credit card required. No pressure. Or jump on one of our weekly live demos to see Tradify in action.
---