Filling out a High Risk Construction Work Safe Work Method Statement (HRCW SWMS) form is a required part of the job, so why not go digital and make your life easier? Tradify has a user-friendly and comprehensive digital SWMS form template that will help you get all your paperwork done, right on site.
Note: SWMS and JSA forms are available to all Tradify users in Australia and New Zealand.
Jump ahead:
---
1. Tradify SWMS in action
Below, you can see how it all works on the go with this quick video tutorial.
2. Understanding the SWMS form
A Safe Work Method Statement is a document that trade business owners use to identify high-risk activities on site. The document also requires you to assess the risks arising from said activities and outline how you'll control them.
For high-risk construction work, SWMS forms are required. While not necessarily mandatory for every site, it's a great way of ensuring you're meeting workplace safety obligations.
In Australia, high-risk construction work is defined as work that:
Involves a risk of a person falling more than 3 metres.
Is carried out on a telecommunication tower.
Involves demolition of an element of a structure that is load-bearing or otherwise related to the physical integrity of the structure.
Involves, or is likely to involve, the disturbance of asbestos.
Involves structural alterations or repairs that require temporary support to prevent collapse.
Is carried out in or near a confined space.
Is carried out in or near a shaft or trench with an excavated depth greater than 1.5 metres; or a tunnel.
Involves the use of explosives.
Is carried out on or near pressurised gas distribution mains or piping.
Is carried out on or near chemical, fuel or refrigerant lines.
Is carried out on or near energised electrical installations or services.
Is carried out in an area that may have a contaminated or flammable atmosphere.
Involves tilt-up or precast concrete.
Is carried out on, in or adjacent to a road, railway, shipping lane or other traffic corridor that is in use by traffic other than pedestrians.
Is carried out in an area at a workplace in which there is any movement of powered mobile plant.
Is carried out in an area in which there are artificial extremes of temperature.
Is carried out in or near water or other liquid that involves a risk of drowning.
Involves diving work.
SWMS forms help everyone on-site to carry out and control the measures established to ensure any high-risk tasks are done safely.
3. Filling out the SWMS form
Tradify offers you a detailed yet easy to complete SWMS function that automatically links to your Job.
You can use this feature on mobile and desktop devices. So, wherever you go, you can create, edit and view these certificates with ease.
Accessing SWMS within Tradify
Head to the Job you want to complete an SWMS form for, and you'll be able to create a new SWMS form within the Forms & Certs tab. Here, you'll be able to fill out the digital SWMS template.
Tradify automatically assigns the form a serial number and the date you created the form for ease of record keeping.
If you want more info on how to create a cert within Tradify, check out our help article.
Pull job details into your SWMS form
In your SWMS, you'll need to have details of your company, your customer, the site name and address, and the date of the task. In Tradify, this information is completed automatically by pulling in information from the Job the form is linked to.
If you have subcontractors, you'll need to provide their names and contact details.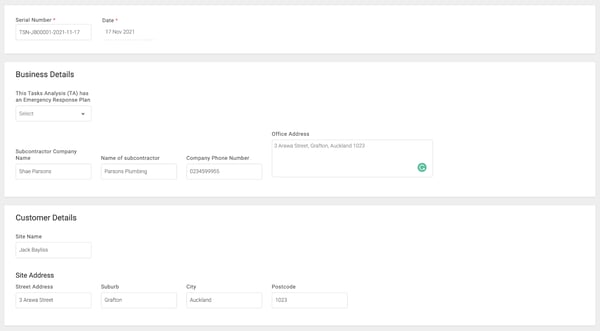 The basic details of your SWMS form within Tradify.
Steps and hazards in the SWMS form
You'll need to break down the major tasks within your work into steps.
From there, these steps will need to have the potential risks identified and assessed. For the SWMS form, the risk assessment levels are:
Very Low
Low
Moderate
High
Critical
These levels are determined by how likely the event is to happen and the severity of the injury/illness that could be caused by the risk.
SiteSafe has a risk assessment matrix that allows you to measure your risk. You'll be able to fully understand the risk once you have developed your control plan. If your risks are still at a critical level, you may need to re-think your controls.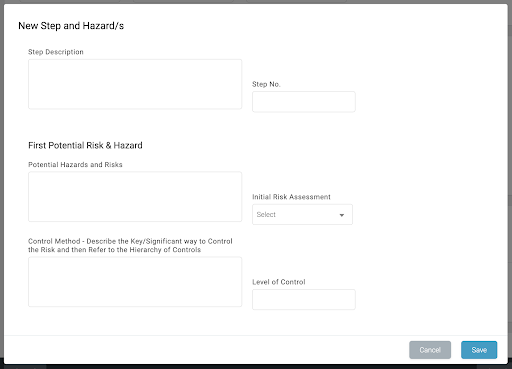 Entering Steps and Hazards for an SWMS within Tradify's web app.
Hazard controls in the SWMS form
After assessing the risks, you'll need to show how you will manage these to avoid harm. In Tradify, we've added the control methods directly below the potential hazards and risk for ease of access.
When describing your control methods, you'll need to refer to the Hierarchy of Controls. This will help you determine what the most effective controls would be on site.
As an example, some controls may be:
Eliminating the hazard: this would be the most effective solution to your risk however, this isn't always possible. Therefore, you would outline ways you would control the risk on site.
Substitution of the hazard: choosing to replace the hazard with a safer option partially or entirely could be an option to minimise the risk.
Isolating the hazard: you could do this by using barriers, distancing or time measures.
Use engineering controls: this includes using specific tools or equipment to reduce risk.
Using administrative controls: this relates to developing specific working methods, processes or procedures to reduce the risk.
Using Personal Protective Equipment (PPE): using PPE to reduce risk should be the last option after you have used any other control method.
Signing off your SWMS forms
The final part — getting your SWMS signed off. This is crucial to ensuring everyone that needs to be, is across the risks and control plans.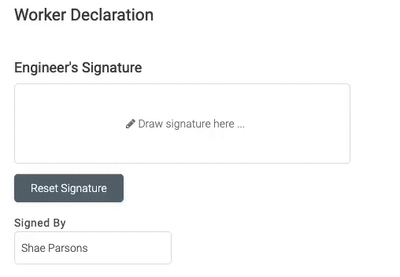 Simply sign in the provided spaces to add a signature to the Tradify SWMS form.
Tradies who want to grow successful businesses use Tradify. Sign up for a free 14-day trial, or jump into one of our weekly live walkthroughs.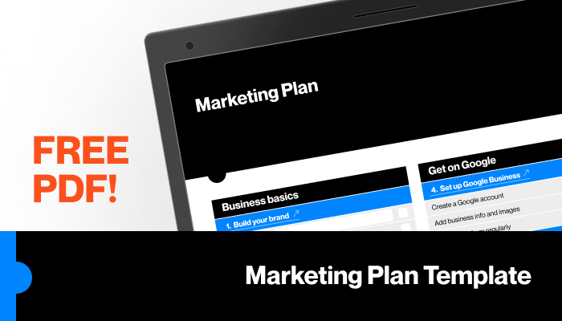 ---