Just like avoiding death and taxes, being in two places at once is a relatively challenging exercise so if you're the owner/manager of a growing trade or construction business then sooner or later you're going to have field workers working in places where you are not.
For any business owner that started out on their own, having to manage field workers in different locations working on different jobs is a challenging new dynamic that can take a good bit of getting used to.
However, the good news is that 1) this is a good problem to have as clearly you have more jobs on the go than you can handle so you must be doing something right and 2) you're starting from scratch so you can put all the right building blocks in place right from the day your first new field worker starts.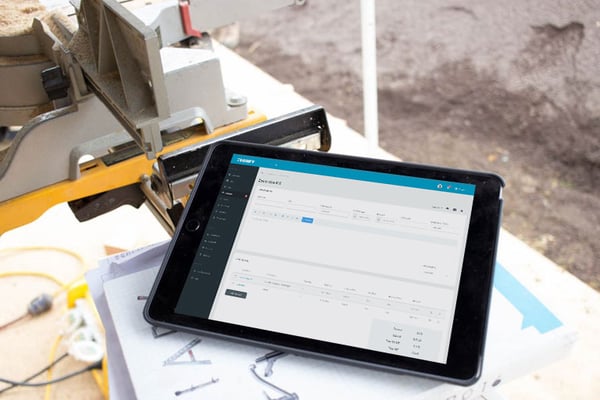 So what's the secret to effectively managing field workers in your growing trade or construction business?
Here at Tradify we help thousands of great tradespeople be great business managers so we get to see every day what the best business managers are doing for their field workers and here are our top 5 tips for getting the most out of your field workers.
1) Be clear on the mission
As you grow your team, make sure your field workers are 100% clear on your mission statement, your company goals and the company objectives. Now this might sound a bit white collar corporate gobbledygook but it doesn't have to be. It doesn't need to be a bunch of complicated sentences or a 48 page slide show. This can be as simple as sitting down over an ale with each of your new field workers and explaining:


What your mission is; why you started your own (pick one of Electrical/Plumbing/HVAC/Building) business and what you think it is that sets you apart from the rest (pick one of the customer service/workmanship/awesomeness).
What your goals are; how many vans do you want on the road in 3 years or 5 years, what type of jobs do you want to be doing and who do you want to be doing them for?
What your objectives are; what is it you want from your field workers, how can they best help you achieve the objectives and the mission.
Making sure all your field workers are clear on the mission will help them make better decisions while out in the field leaving you to get on with running and growing the business.
2) Keep the comm lines open
Make sure your field workers are clear on the types of decisions they need to consult you on vs those you expect them to make themselves (now they understand the mission). This isn't as easy as it sounds as we are all getting enough emails and phone calls as it is so to keep the comms lines open when running a trade and construction these days means you actually need to put a specialist field worker management app in place like Tradify.
With a specialist field worker management app in place like Tradify it's much easier to use the features in the app to keep everyone informed whether they are out in the field or in the office.
Tradify has lots of clever features such as new job and appointment notifications, sub contractor job sharing, job notes, and custom job statuses mean everyone is informed, up to date and no longer relying or waiting on you to share all the info that was previously kept in your head.
Being up to date and informed about the job means your field workers can get on with getting the job done. The sooner the job is done, the sooner you can invoice the customer and keep the cash flow flowing.
3) Make your field workers feel like part of the team
Culture beats strategy any day of the week so if you want your trade and construction business to go from strength to strength, then you need your field workers to feel appreciated and a part of the team.
Tradify can help them feel part of the team as it allows you to easily share jobs, notes, quotes, documents, photos and files with your field workers while they are out and about but there are lots of other things you can do in your trade business to make sure everyone feels like they are part of the team.
Little things like weekly toolbox meetings where everyone attends, regular Friday drinks or lunches are super easy and effective. Why not go one step further and involve all your field workers in a monthly or fortnightly jobs WIP and forecast session and how about dragging some of the team along for a customer quoting or business development meeting to see how you go about winning the jobs that put money in the bank.
4) Share info in real time
This is kinda covered in some of the points above but its super important so I thought it should get its own point. Making sure you share job information quickly and efficiently is important for three reasons. Firstly, it stops information from being lost, secondly, it avoids wasted effort or delays and lets field workers focus on the customer experience and getting the job done.
Of course I am biased but I don't see how any trade or construction business can share information with field workers in real time without using a field worker management app like Tradify.
Tradify is specifically designed to get information out of emails or diaries or your head and into the hands of the people that need it most. Posting a letter or sending a pigeon isn't going to keep your field workers up to date and informed in real time, but Tradify will.
5) Get the right tools for the job
Which brings us to the final point. Make sure all your field workers are using the best tools for the job. The more efficient your field workers are the more profit margin you can make. The right tools for the job for any field worker includes all the tools that enable them to get them from A to B and to get the job done as quickly and efficiently.
Field workers should be 100% clear that you expect their vehicle and all their tools and equipment to be kept in sound working order. Likewise your field workers will expect you as the business owner to ensure the business is using the right tools for the job.
In today's world that means getting the business on to a great cloud accounting solution like Xero and integrating it with a field management platform like Tradify.
Hopefully following these 5 steps this summer will help you get the most out of your field workers. If field worker management software like Tradify sounds like it could be just what you need then start your free trial today.
---