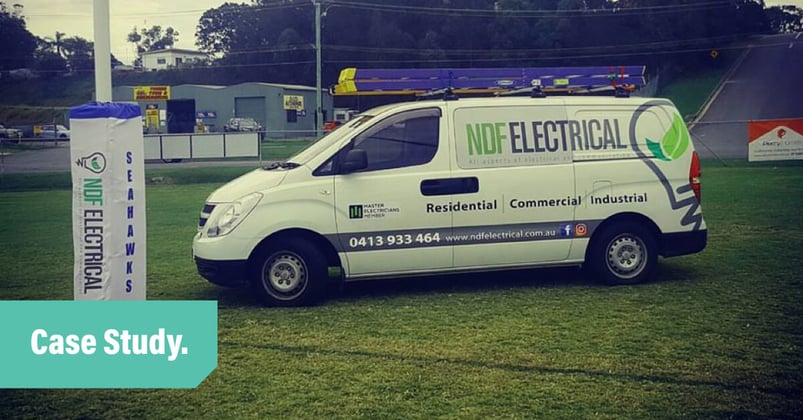 Getting the business sorted from the start
For Nick Foley from NDF Electrical, the journey to business ownership looked a bit different to most trade businesses. When he opened the doors to his own electrical business 10 years ago with 20 years of experience and a background in administration, he knew he'd need to get job management software in place right away.
Putting midnight paperwork to bed
NDF runs a team of seven, with seven trucks. Nick oversees the team and their projects which are mainly medium-scale commercial construction and maintenance.
When he first started his electrical business, Nick was on the tools – it was just him, a truck and an apprentice. And while he was looking for the right job management software, he used pen and paper for about six months.
"It was me writing stuff down and doing things at midnight," he said.
Nick had heard of other programmes but says Tradify was the easiest to use, the most cost-effective, and the most streamlined. He is also impressed with how responsive the Tradify team is.
"They seem to be pretty good with adopting changes when they get feedback. Tradify keeps getting better and better," explains Nick.
Smarter data, nailing the scaling
The difference Tradify has made to his electrical business is massive. Nick's life is easier – he can do a "quote for a million dollars in 10 minutes" – but he says the real value is that Tradify has made the business scalable.
"Growth was always the goal – I wanted to grow out of my business, not stay in it," he says. "Now we've jumped into larger-scale projects, it's easier for me to track things. I'm learning new things, better ways to do things on the tools. Tradify has made us a lot more scalable — 100%."
Nick has even bigger plans for the business and says Tradify gives him the data he needs to make smarter business decisions.
"It works hand-in-hand with Xero. I can see where things are going and if I'm missing stuff," he says.
The staff tracking is also really valuable – it lets Nick know if he's "winning or losing" on quoted jobs, and his tidy operation is helping him attract and keep the best staff.
"I've had all bar one employee with me from the start. We actually absorbed another business and the new guys couldn't believe how much easier it was with us – because there is a job management tool in place to manage things, keep things on track and show you where things are," he explains.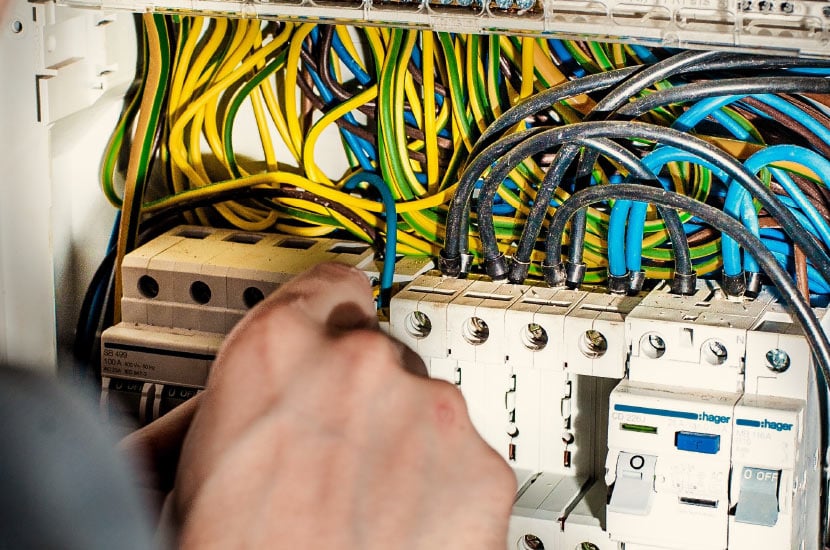 Getting paid fast
Nick has used Tradify to streamline every part of his operation. His team does most of the data entry on-site, even sending out invoices and ordering stock. That saves time and it also means that Nick doesn't need to hire extra office staff.
"It's easy for my guys to do it. I don't have to hire other people just to enter data."
The invoicing process is super-fast – something customers comment on often.
"They get invoices straight away – well, that's because I want to get paid straight away!" laughs Nick. "I do invoicing out of Tradify, rather than Xero – it's way easier. Any mistakes and I can just change it in Tradify – I don't have to go to my accountant."
Nicks says that even with a busy and growing business he still has lots of time for his family.
"I have mates who run their own trade businesses, and they want to know how I can run my own electrical business and still spend time with my family.
They're always asking me, "Why aren't you doing this at night?" Well, I don't need to, I'm doing it all during the day."
Keeping clients happy and projects on track
With the admin ticking over, Nick can focus his energy on making sure clients are happy and the projects are all on track – something Tradify helps with too.
"It gives better customer service – with the GPS, I can see where guys are. It keeps people accountable with time and stock and everything else."
Nick uses Tradify to protect his profits too – especially when clients are questioning invoices.
"I can check the GPS, it doesn't lie – I can tell the client, 'Look, they logged on at the right site and the right time.' It's saved us a couple of times when customers have complained. I just print a job report and it's all there. It gives us peace of mind and a safety net, with all your terms of trade embedded in the system," says Nick.
"Tradespeople who are still using paper, their lives are a shambles, they're using notepads and sitting up at night scrolling through things. With Tradify it's possible to run a business with two kids under two and get to see them every day of the week."
Nick has Tradify at the top of the toolbox
Simplicity helps Nick attract and keep the best staff
Getting paid faster with more accurate job tracking and invoicing
Systemised business leads to faster scaling and less admin time

Fast, easy quoting

helps win more business
GPS keeps staff and clients accountable
Cloud connection lets Nick's team use Tradify anywhere
Check out Tradify today
Interested in seeing if Tradify can help your trade business? Check out a 14-day free trial or jump on one of our 30-min live demo webinars to see Tradify in action. It's a great way to see if Tradify is the right tool for your business.
---