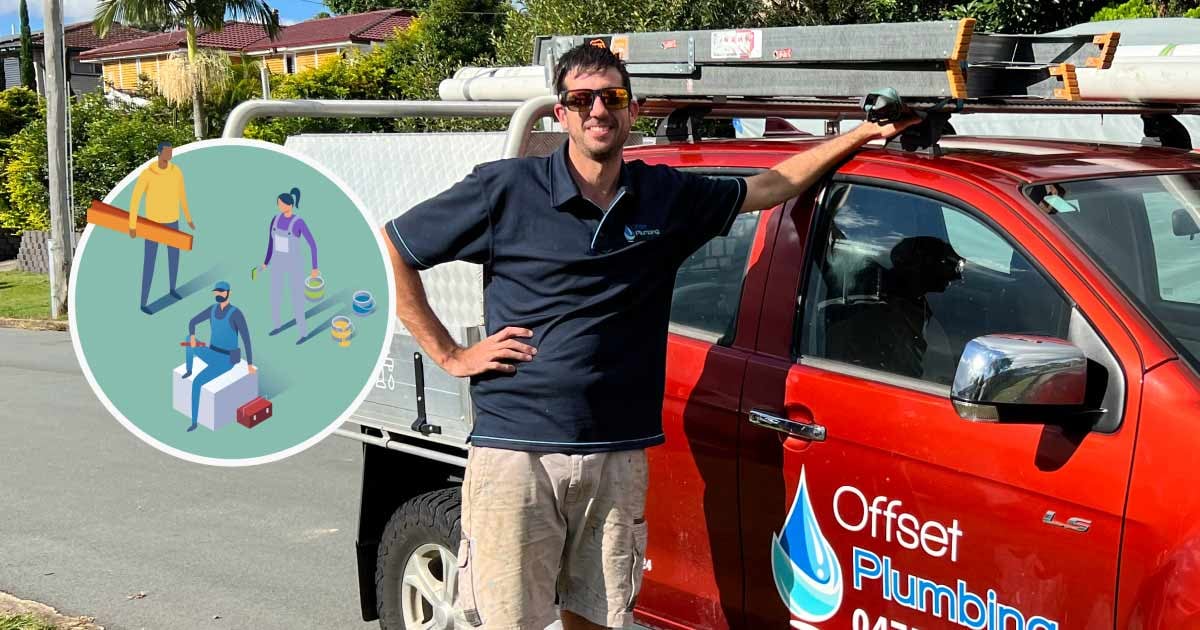 Josh Gastaldin has spent 15+ years honing his plumbing skills, gaining experience across residential and commercial work of all sizes, new builds, and renovations. But in 2020, when he was made redundant in the wake of COVID-19, he and his wife Michelle saw an opportunity to start Offset Plumbing.
Now in his second year of business, Josh is flat-tack, with over 40 active jobs currently on the books. He does most of the plumbing work himself with the help of a newly-hired apprentice,while Michelle manages the administration, compliance, and business planning.
Josh used a mixture of online systems and a paper diary, which was ok while the business was in the early stages. But when he almost lost his entire diary with all his client and job information, it was a risk he was no longer willing to take.
"During an exceptionally busy day, Josh left his work diary on top of his ute and it fell off as he drove away. Luckily somebody found it and got it back to him, but we realised that he couldn't keep running the business without better systems in place," Michelle says.
From writing notes on plywood to having everything in one place
For Offset Plumbing, the lure of an online alternative wasn't just about backing up client information. Michelle was finding it increasingly difficult to find and decipher all Josh's job notes. They used Xero to manage their accounts but all their other systems still needed work.

Michelle was also spending a lot of her time meeting the compliance commitments required for running the business, such as council approvals and QBCC submissions. Keeping all of this paperwork organised was not efficient when everything was saved in different places and she risked the work being delayed, putting their whole schedule out if things weren't submitted on time
Michelle jumped onto the Facebook group TradieWives, designed for Aussie partners of tradespeople in business, to ask for advice.
The recommendations were varied, but one name came up again and again: get Tradify!
"His pen and paper notes were very bare bones. He would write them on random things – bits of cardboard, wood, or ply. I was like, 'whose invoice is this, and why does this other man owe us $500?'"
"Tradify has completely streamlined our business"
Josh has taken to Tradify like a plumber to a leak. Michelle says it helps them focus their time, decrease stress, and make things look professional. They take advantage of lots of Tradify's tools like keeping notes, tracking jobs, scheduling, quoting, and storing everything on the cloud.
"If anything, it's helped concentrate our efforts into one spot. And it has all the features to make sure that we can see all the details we need to run our trade business well, and ensure our customers get the best experience."
This makes it easy for Josh and Michelle to log in from anywhere and see clearly what needs to be done for our customers.
"With Tradify, it's so much easier for us to stay on the same page."
Scheduler saves time and headaches
Before Tradify, Josh would jot down his jobs in his diary, or separate online calendar. Aside from this being time-consuming, it was chaotic to make changes or move things around.
With Tradify's scheduling software, he has much more control over his work schedule. He can keep track of where his team needs to be each day, book jobs quickly and move things around if needed – without the risk of losing the information, forgetting jobs, or double-booking.
"You just do things the way you've always done them until someone asks, 'Why are you doing it like that?' Now that we've tried Tradify, there's no way we would go back to pen and paper."
Notes feature makes long-term jobs run smoother
Big plumbing jobs sometimes take weeks or even months to complete, and that can mean a build-up of paperwork. There are council inspections and approvals, QBCC submissions, price quotes and client feedback, and without a cohesive set of online systems, Michelle and Josh became frustrated with the inefficiencies.
Now, they sleep easy knowing all historical information sits tight in the assigned job folder, ready to be charged when the job is finally done.
"Tradify has made those long-term jobs easy. We can track the paperwork, pricing, notes, photos and permits, keeping everything together in one job folder."
Effortless communication with clients
Offset Plumbing finds that they can create the best experiences when they engage with their customers early, even before the jobs start. Previously, Michelle managed this with lots of back-and-forth emails, and some text messages thrown in for good measure.

Tradify's email templates make sending invoices, quotes, and receipts incredibly easy. Michelle is reaping the benefits of setting up the business templates and appreciates the convenience of being able to send automated messages with links so clients can review their business.
"The email templates are something new we've recently tried. I've since seen a few more features that I want to add that I know will be even more useful."
Tradify a royal flush says Josh
Scheduling: easy to keep track, make changes, and add jobs
Admin in one place: Josh and Michelle stay on the same page
Photos and notes: keep long-term work more organised
Cloud-based system: less risk, secure storage of client information
Email templates: keep business professional, save time
Ready to give Tradify a go?
Start your 14-day free trial. No credit card required. No pressure. Or take a look at Tradify in action during one of our weekly 30-min live walkthroughs.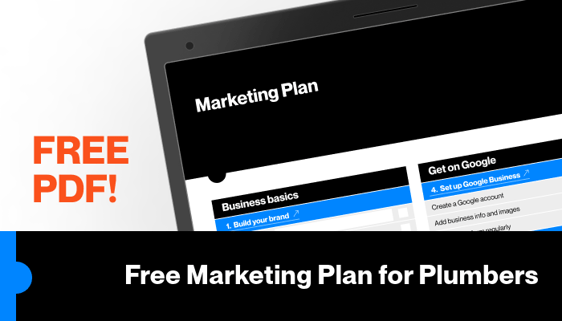 ---