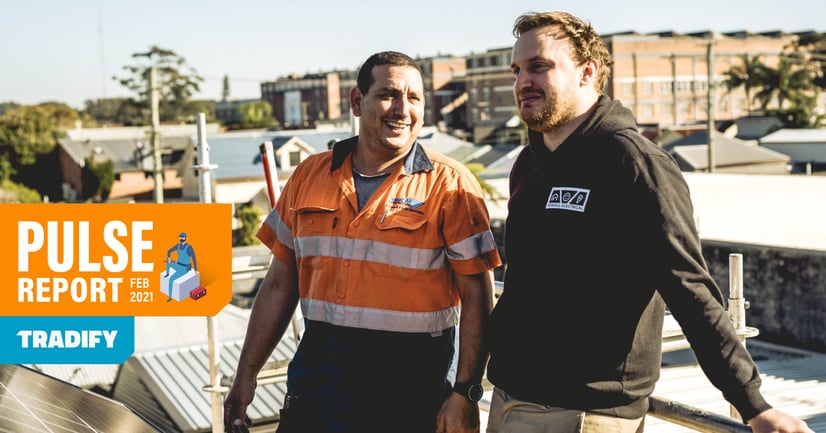 The Tradify Pulse Report is back for 2021! How does your trade business stack up against similar businesses? What are other tradespeople thinking about the outlook for 2021? How does your trade compare against others? Here's your chance to find out.
In the September 2020 Pulse Report, we found out from hundreds of tradespeople around the world about how COVID-19 had affected their trade business. Despite the havoc caused by a global pandemic, nearly two-thirds of Australian tradies surveyed felt that COVID-19 had little to no impact on their business. On average, Aussie tradies were a lot more positive about the future of their trade businesses compared to tradespeople in New Zealand and the UK.
We also found that most trade business owners were spending too much time on admin. A massive 40% were spending over 12 hours a week on paperwork, the equivalent of over a week every month!
More data than ever!

Across December 2020 and January 2021, the Tradify team used an online survey to take the pulse of more than 460 owners of trade businesses from Australia, New Zealand and the United Kingdom. The results vary by country, so we've split the data into three different reports — one for each of these regions.

We also asked these trade business owners a bunch of other questions about how they run their business, what they do well, and what they don't do well. This is your chance to see how your business compares to similar trade businesses across a number of different areas.


How much time do other trade businesses spend on admin?
Trade business owners are spending around 15-20 hours on admin every week. Most people hate paperwork, but how much time should you really be spending on it every week? Are you spending more or less time on admin than other trade businesses like yours? Get this info plus more in the Tradify Pulse Report.

The Pulse Report includes:
The outlook for 2021 as told by real trade businesses.
What other trade businesses think they have under control, and what they really struggle with.
How much time trade businesses spend on admin each week.
Plus, you'll get:
Tips on how to respond to 2021's challenges & opportunities.
Insights into other trade businesses.
Recommendations to keep your trade business ahead of the pack.
Grab your copy of the Pulse Report to see how your trade business stacks up.