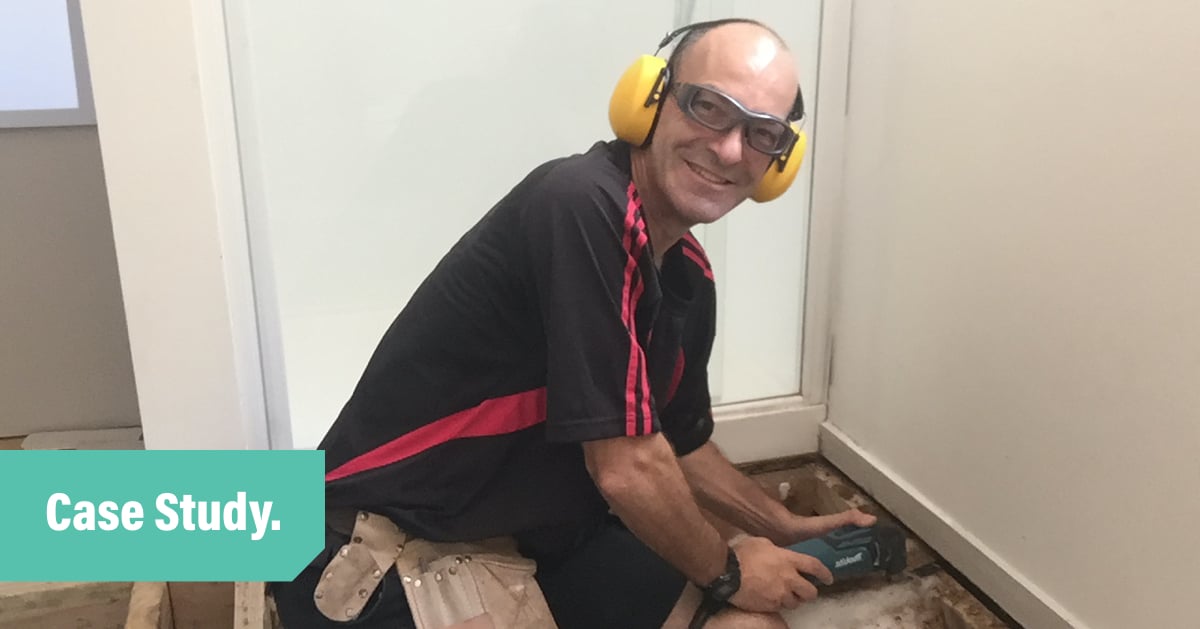 Clocking in and out has never been so easy
Three years ago, Andrew McCormick left his job in the corporate world, trading his suit and tie for a hi-vis vest and a hammer. Now he runs a successful handyman business, helping repair, maintain, and renovate homes in his local area of Howick, a suburb of Auckland, New Zealand.
But like most tradespeople, one year into his new business and Andy was fighting an uphill battle with his admin – and he wasn't winning. He was losing track of his timesheets and new enquiries – and his paperwork was eating into his evenings and weekends.
"I spent a whole year doing the manual admin thing and it was grinding me down. I needed to take a few steps back and look at the big picture."
Running behind with his timesheets
One of Andy's biggest headaches was keeping an accurate record of how many hours he'd spent on a job.
Each day he'd note down the time he started, when he took lunch breaks, and when he'd finished or moved on to the next task. Then, when he was back in his office, he'd add up the total number of hours to see if he was over or under the time he'd quoted.
While Andy says he was pretty good at keeping track, manually recording his jobs left too much room for human error, and there was no way to see if he was taking too long to complete certain tasks.
"I love Excel – but it's not designed to do timesheets," Andy adds.
Because of his corporate background, he knew he could use job management software to automate certain manual processes – but he didn't want to invest in an expensive and complicated CRM.
The cost is nothing compared to the time saved
When a friend recommended Tradify, Andy had already looked at a couple of other options online. So when his accountant organised for him to go along to an intro evening for the tradie app, he jumped at the chance to learn more.
Andy was impressed by Tradify's features and loved that it was designed and developed by a New Zealand company.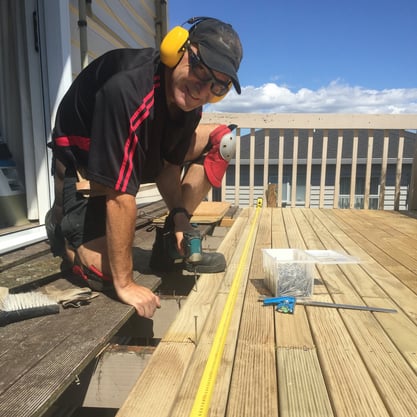 "It was nice that the developers themselves could tell me what it could do," he says. "They said, 'Once you get into it, you won't regret it' – and they were absolutely correct. It has paid for itself every month a couple of times over – the cost is nothing compared to the time saved."
Timesheet functionality saves at least two hours per week
With the push of a button on his phone, Andy can clock into and out of a task and allocate the recorded time to a specific job. When he needs to press pause for lunch or take a phone call, he no longer needs to check his watch and take note of the time.
The best part? Andy can now see how long it takes him to complete certain tasks so he's able to quote new jobs more accurately. Each time he starts and stops the clock, he adds a note about what part of the job he did and when.
"I can drill down and see what part of the job took longer or was quicker. Matrices and KPIs were obviously a big thing in the corporate world, and now I can pull them through into my work with Tradify's time breakdowns – it's fantastic!"
Being able to do his timesheets from his phone has "probably saved me at least two hours a week," says Andy – meaning he can spend his evenings and weekends with family rather than counting hours.
Following up new enquiries
New customers will often call Andy while he's out on a job. Before Tradify, he'd quickly scribble down the details on a piece of paper and make a mental note to ring the person back. Andy says Tradify is like having a bookmark he can come back to later.
"With Tradify, I can quickly throw in their details and decide later whether to make an appointment, make a new job, or quote. I use the notes feature to record under each client where they've come from, e.g. referral, as well as things like security passcodes if they have them."
The next step will be integrating Tradify's new enquiries feature with his website.
Seamless integration with Xero
Before Tradify, Andy was using free digital software to put together his quotes and invoices. He was a little hesitant to pay for both Tradify and Xero – but says in the end it was a "no-brainer."
"I sort of screwed my nose up at paying more money for Xero, but combining them has saved me so much time, which means I get more time on the tools."
Andy uses Tradify to create quotes for new job enquiries. Then, when he's added his time and materials to the job, he's able to use that information to build an invoice in Xero – and send it out for payment.
"It's relatively easy, even if you're not used to this type of software – and later it becomes indispensable. I rely on it so much. I'm almost paperless now because of it."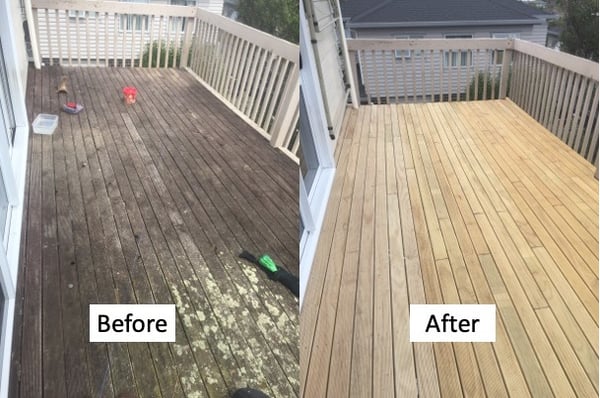 A shout-out to customer support
Tradify has automated and modernised the way Andy runs his business, but he says he wouldn't be where he is today without the help of Tradify's customer support team. He adds they're personable, and their response times are brilliant – especially during lockdown.
"I was getting replies at 10:30 at night and within half an hour. If something couldn't be done, their workarounds have been good suggestions."
"In hindsight, I wish I'd found Tradify a little earlier," Andy laughs.
Tradify gets a big tick from Andy
Contact Andy for your property maintenance needs today!
Interested in giving Tradify a go?
Start a 14-day free trial (no credit card required). Or jump on one of our weekly live demos to see Tradify in action.
---