Whether you need to create an invoice, complete a certificate, or use an electrical calculator, there's an app for everything off and on-site. Some are free and some come with a small fee, but either way, using them will help your business bring in more cash and make your life easier.
If you're looking for a job management app for your electrical business, check out Tradify.
Short on time? Find the app you're looking for:

1. Master Electrician Reference – electronic reference guide
(Available as a paid app on Android, free on iOS.)
This app is a one-stop-shop for a host of electrical information, with extensive facts on simple circuits, electrical formulas, colour codes, motors, wiring and electrical symbols — just to name a few.

2. Electrodoc Pro – electronic reference guide
(Available as a paid app on both Android and iOS.)
The cheaper option, Electrodoc Pro has an extensive list of electronic tools and references. It's an app favoured by tradies everywhere for its easy navigation and useful information. With glowing reviews and more than 100,000 downloads, this app is definitely one to have on hand.

3. Ugly's Electrical References – the veteran electrician reference
(Available as a paid app on both Android and iOS.)
Initially, a book by Charles R. Miller, Ugly's Electrical References has moved with the times and developed into a very handy app. A complete on-the-job reference tool with the most relevant and up-to-date information specifically for electricians, it's packed with useful knowledge and tips and has excellent reviews from fellow sparkies. You can check out Ugly's full story here.
4. Electrical Business Name Generator — for finding the perfect brand name
(Available on any device.)
This is a simple one, and does exactly what it says on the tin.
If you're planning on going out on your own or just want to spice your brand up a bit — the first port of call is finding a good business name. This free generator finds a name that's specific to the electrical industry and the unique identity of your business. Just plug in one word that describes your business and it'll spit out a whole list of different names, and report whether their domain names, Facebook pages, and Instagram are available to use.

5. Electrical Engineering Dictionary – the free electrical dictionary
(Available for free on both Android and iOS.)
This dictionary is a necessity for every electrician. It's a comprehensive list of more than 3400 electrical engineering terms. There's also a guide of electrical symbols, equations, graphs and formulas. The app has more than 100,000 downloads — it's not one to miss.

6. Electrical Calculations – the pocket calculator
(Available as a paid app on both Android and iOS.)
This is a complete electrical calculations app, with conversion features, calculation tools and resource references. If Google Store reviews are anything to go by, this app is not to be missed – it has a near-perfect rating from nearly 30,000 reviews and more than 1,000,000 downloads worldwide. The app developer, Gallina Ettore, also has other apps available for electricians – check out the full list here.

7. CableCalc – the premium pocket guide
(Available for free on Android.)
This app is developed and powered by Megger – a premier provider of electrical test equipment and measuring instruments for over 100 years. This app includes a cable calculator tool and an extensive guide on different testers. Born in the UK but available worldwide, it's free to download – and essential for every electrician. For more information on Megger, you can visit their website.

8. Route4Me – route-optimisation software
(Available as a free app, with paid subscription, on both Android and iOS.)
Route4me is the most used route planning software in the world, helping thousands of tradies spend more time working and less time driving. Simply upload your list of customer addresses and number of drivers, and the app will create a route for you and every driver on your team to optimise time and location efficiency.
The subscription cost starts at $149US per month, but you can start a 7-day free test-drive of the app here.

9. Electrician's bible – reference guide for newbies
(Available as a paid app on Android.)
Particularly handy for apprentices or someone wanting to train as a sparkie, this app serves as a complete electronic pocket reference guide, covering all the basics for new electricians. With excellent reviews, it's a sure investment in any electrician's career, or to keep on-site as a reference tool. It's compatible with Android 4.0 or higher, and you only need an internet connection to use it.

10. Xero – bookkeeping and accounting
(Available as a free app, with paid subscription, on both Android and iOS.)
This isn't an app strictly just for electricians, but Xero changed the way small businesses think about bookkeeping. If you don't use it already, it's worth adding to your must-have list. It minimises the time you spend sorting out your numbers and the money you spend getting your books done.
Reconcile spend, view reports, create expense claims and file GST returns, all with a few clicks. Xero is hosted in the cloud and can be accessed from any device as long as you have internet. You can sign up for a 30-day free trial here to see if it works for you. If it does you can choose from a range of plans with different pricing to best suit your business.
Best of all, Xero integrates with Tradify. This means the two systems can talk to each other to sync information across both platforms. Run your electrical business with Tradify, while accounting information syncs to Xero.

11. Stripe – online payments
(Available as a free app for both Android and iOS.)
Getting paid on time is essential for good cash flow. Giving your customers payment options, like paying online with a credit card, makes it easier for you to stay on top of your invoices. Stripe lets you process payments on the go, so you can get paid the same day you finish a job. You can also integrate Stripe with other tools like accounting software, or your job management app, to automatically chase up or reconcile payments.
Stripe integrates seamlessly with Tradify, allowing your customers to pay invoices online.
Spark some appy-ness
Whether you're a veteran sparkie or just starting out, the apps listed above are sure to come in handy. Our Tradify app is another one! An end-to-end job management tool for electricians, allowing you to create jobs, quotes and invoices, while giving your team access to job information when they need it.
Try Tradify for your electrical business free for 14 days.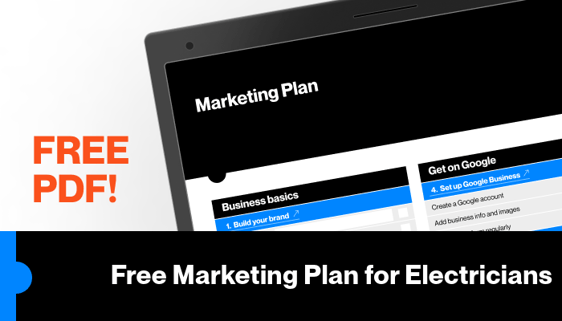 ---