As a trade business owner, the idea of taking a holiday might be far from your mind — you might not have taken one in years. After all, you've got a business to run and that can mean working around the clock. It's pretty common for trade business owners to forgo a holiday, but while we agree that business is (obviously) very important, so is taking a break.
It's not as easy to go on holiday as it once was — you've got jobs to track, staff to manage, bills to pay, and customers to please. People expect 24/7 service these days. You can't just pack up the toolbox and head out. But with a bit of planning, it is possible...and it's more important than you might think.
Looking for better ways to manage your team? Try downloading our free Employee Handbook Template, so your newbies can hit the ground running!
1. Why it's important to take a break
Tradespeople are usually pretty quick to say they don't need a break. But here's why a holiday is good for you, your family – and your business.
1. Gives you time to reflect
Have things in your business been stressful or not working the way you'd like them to? Taking time out is the best way to get a different perspective or find a solution to a business problem.
2. Can inspire new ideas
Sometimes a change of scenery is just what your mind needs to wander – and grow your business. Who knows what new ideas you might have while sitting on the beach with a cold beverage in hand?
3. Sets an example
You're the boss – your team looks up to you. If you never take a break and are always stressed and tense, your team will follow suit. Lead by example, find a healthy work-life balance and make sure you take regular breaks to reset. That way, your team will do the same – and your workloads will be more sustainable.
4. Improves your health
Life as a business owner is mentally demanding. Throw in the daily duties of a tradesperson, and it's just as tough physically. Taking a break will give your body some much-needed rest – so you can come back feeling mentally and physically refreshed.
5. Shows faith in your team
You might be nervous that your team can't cope without you. Handing over the reins for a week or two will empower them – and benefit your business long-term. After all, you're going to have to step back at some point...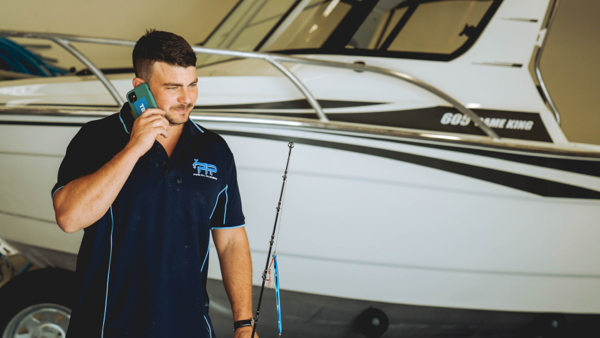 2. How to prepare for your holiday
To make sure things run smoothly while you're away, there are a few things you'll need to get in order:
1. Plan ahead
As important as it is to take a decent break, you probably don't want to go during your busiest time of the year. The further ahead you plan, the more prepared you and your team will be.
2. Identify potential problems
Make sure your team is clued up on potential hazards that could arise while you're away. Go over your health and safety plans for current jobs and be sure they know how to fix equipment if it breaks or what to do in an emergency.
3. Have procedures in place
Even if you think you've got everything under control, things can still happen. Your staff must understand how to manage without you if someone calls in sick, there's been a break-in, or how to deal with a difficult customer.
4. Set the expectation
Before you go, make it clear what kinds of things (if any) you'll respond to while you're away. Setting clear boundaries will mean your team doesn't disrupt you unnecessarily.
5. Appoint a replacement
You'll need someone in charge while you're away to manage the day-to-day running. Appoint someone you can rely on who is up to the job. Your holiday could provide a good opportunity for someone to step up and prove themselves.
6. Delegate jobs
You've got a lot on your plate as the boss. Once you've appointed someone to fill your boots, delegate jobs to staff so every team member knows what you expect of them.
7. Organise 'out of office' emails
When you run the show, you're usually everyone's main point of contact. Don't leave them hanging for a week or two. Set up an automatic out-of-office email to explain who they can contact instead and when you'll be back.
3. Holidaying as the boss
You've made it to your holiday – you pour yourself a well-deserved drink, change into your party shirt… and think of nothing but work. A holiday is a bit pointless if you never completely switch off. Most people take a couple of days to fully relax. Here are our tips to help you switch off so you can get the most out of your break.
1. Turn your phone off
If turning off your phone for a whole day gives you sweaty palms, try it for a few hours to start with. The most important thing is that you do turn it off for at least some of the time. It's your holiday — if you've prepared the business, then you don't need to be contactable 24/7.
2. Clear your head
You're on holiday – the last thing you want to be thinking about is paying invoices or finishing a job. It can be hard to do, but the sooner you can relax and clear your mind, the quicker you'll be able to enjoy your break. Take a book to read, make dinner plans, go sailing, cycling, or sightseeing for the day. Whatever it is that takes your mind off work, know that it'll make you more productive on your return.
3. Don't feel guilty
It's important to spend time with your family and it's also crucial for the growth of your business. Remind yourself why you booked the holiday in the first place, and don't let pangs of guilt take over. Your team will be fine without you, and your business will be better off in the long run.
4. Take a break - for yourself, your family, and your business
It's common for trade business owners to go without a holiday in fear of their business falling apart without them. In reality, the complete opposite is true. Taking a holiday empowers your staff and sets a healthy example. It's also vital for your health. See for yourself — take a break and go back to work refreshed, rejuvenated, motivated, and full of new ideas to grow your trade business.

Set your staff up with Tradify and keep everything running smoothly while you're away. Sign up for a free 14-day trial, or jump into one of our weekly live walkthroughs.


---