Site inspections and risk assessments are a part of daily life in the trades. Given the importance and frequency of this task, it makes sense to do it right...right? Well we think so, so we've come up with some simple tips on how you can get the most out of this process.
Short on time? Skip ahead!
The most effective way to manage risk in the workplace is to get everyone involved in proactive health & safety. To make things easier for you, we've put together a one-page H&S survey that you can get your team to fill out. Find out how effective your current H&S processes are — or if there are gaps that need filling.
1. Why do I need to do site inspections and risk assessments?
The trades include a range of industries, including the most dangerous ones. Injuries and fatalities within the construction industry in particular are well above the average of other sectors. There are three main reasons you need to think about site inspections and risk assessments in your trade business.
It's the law
Every country has legislation designed to protect the health and safety of workers and other people. This is often done by eliminating or minimising risks that arise from specific types of work or workplaces.
The best way to ensure compliance is to take all reasonable steps to:
Provide a safe work environment without risk to health, mental health and safety.
Monitor the conditions at the workplace to prevent injury or illness as a result of work activities.
Maintain safe plant, machinery, tools, equipment, structures and work systems.
Allow for safe use and storage of plant, machinery, tools, equipment, and substances.
Monitor the physical and mental health of workers.
Provide any and all training and information necessary to protect against workplace health incidents.
Completing and documenting regular site inspections and risk assessments is a great way to demonstrate that you've taken the appropriate practical steps to create and maintain a safe work environment.
It's about the people
Health and safety isn't really about laws and legislation. It's actually just about making sure your mates get to go home safe at the end of the day. Site inspections and risk assessments are the key to identifying and resolving hazards in the workplace.
It's good for business
You can't run your construction and building business from a hospital bed and your employees aren't much use to you laid up at home with a busted back. Your business depends on a fit and healthy workforce and you need to do all that you can to keep them that way.
Implementing and maintaining a decent site inspection process is a great way to put in place processes and behaviours that will help keep everyone fit, healthy, and ready to work.
2. Use a risk assessment template
A great site inspection template needs to be all of the following:
Easy to use - if it's difficult to use, people won't use it. It's that simple. Keeping processes simple and easy will ensure higher uptake among staff.
Relevant to your region and trade - standardised templates are a great start but it's important to check your local requirements to ensure you remain compliant. The template should allow you to add all the details you are obligated to include.
Be accessible, editable and storable - the risk assessment template must be accessible and editable so people can make comments and add feedback. It also needs to be storable (either physically or electronically) so that if the worst happens you can demonstrate you've taken practical steps to minimise health and safety risks.
3. Integrate health & safety into your job management software
Take things to the next level by integrating your site checklist process into your job management software. Upload the PDF of your risk assessment template to your existing jobs so that you or your staff can access it from a phone, right there on site.
Here are just 3 possible benefits of an integrated job management software and site checklist process:
Clarity - by saving the completed checklist to the job notes everyone on the team can access the checklist to review the outcome and you could add tasks or items to the job to ensure any items are actioned.
Storage - by saving the completed checklist to the job notes you can ensure the checklist is being securely stored and that it will be easily accessible in the future.
Accountability - you can add the completion of a site checklist as a task and allocate an owner so you can track when the job was done and how long it took.
Health & safety in the trades is serious business. As a trade business owner, you are obligated to do everything you can to keep your employees from harm. Our Health & Safety Policy Template and Risk Assessment Template are good first steps, but that's all they are — first steps. Your next steps are to determine your obligations under local law, and do whatever you can to comply. Then educate your staff on their responsibilities as well. Unfortunately, accidents happen — but together we can minimise the risk.
Start your 14-day free trial today. No credit card required. No pressure. Or take a look at Tradify in action during one of our weekly 30-min live walkthrough.
Find out how your staff feel about health & safety by downloading our free Health & Safety Survey Questions!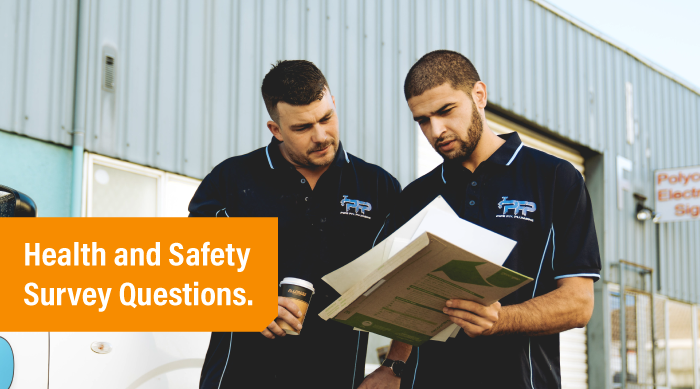 ---