These days there really is a mobile app for everything and running a plumbing business is no different. From managing your team to creating invoices to measuring pipes – if you have a problem, there's an app that can help. Getting the right app for the job can make your life run smoother and your jobs more time-efficient. Below we've compiled a list of the best apps for plumbers.
If you're looking for mobile job management software for your plumbing business, check out Tradify.
Short on time? Find the app you're looking for:

1. ImageMeter – the photo measurement annotator
(Available as a free trial app on Android, full version is paid).
This app puts measurements straight into the photos you take, so you don't need to sketch out rough plans of job sites. No more lost notes, misunderstood measurements, wasted time, or grumpy clients. ImageMeter measures lengths, area, height, circles and rectangles, and you can export your images with these calculations so they're easy to share with clients, with colleagues, or keep on file.

2. Pipe Trades Pro Calculator – on-hand calculator
(Available as a paid app on both Android and iOS.)
Pipe Trades Pro Calculator gives answers to all your plumbing maths questions:
Parallel pipe cutbacks
Pressures
Flow rates
Complex rolling offsets
Weight and volume conversions.
The app has more than ten thousand downloads on the app store – and with mostly 5/5 ratings, it's definitely worth the money.

3. Pipe and Fitting – free piping calculator
(Available as a free app on Android.)
When you're out on the job, Pipe and Fitting helps calculate:
Pipe size
Pipe hanger
Pipe clamp
Fitting
Flange
Gaskets
Also provides accessory information
With more than half a million downloads and excellent reviews, it's definitely one to have on hand.

4. Plumb-bob – an all-in-one tool
(Available as a free app on Android.)
Plumb-bob is a high-tech, 3D measuring app. With an in-built protractor, laser level and tape measure, it's the all-in-one app to help you verify vertical and horizontal alignments, and measure distances and angles.
It's user-friendly, too – simply take a picture, and move the frame around to measure any visible object on the screen. A magnifying glass appears to help you make precise measurements. Plumb-bob also offers free video tutorials to make sure you get the most out of it. The app has more than a million downloads on the Google Play store.

5. Route4Me – route-optimisation software
(Available as a free app, with paid subscription, on both Android and iOS.)
The ultimate app for planning your routes if you travel to many destinations in a day. Which, as a plumber, you most likely do. Simply upload your list of customer addresses and number of drivers, and the app will create a route for you and every driver on your team that optimises your time and location efficiency.
Route4me is the most used route planning software in the world, helping thousands of tradies spend more time working and less time driving. Costs start at $149US per month, but you can do a 7-day free test drive. Learn more about Route4Me on their website.

6. MileIQ – mileage tracker and log
(Available as a free app, with paid subscription option, on both Android and iOS.)
This app tracks your mileage, so you know you're claiming the right amounts for reimbursement or tax. It automatically monitors your movements and accurately calculates logs that follow IRS mileage standards. Your first 40 drives are free every month, but to get a complete record of all drivers in your business you can upgrade to MileIQ Unlimited with a paid subscription.

7. Plumbing Formulator – plumbing formulas
(Available as a free app on iOS.)
This app calculates the expansion of pipes, radiant heat, and heat loss. It has various formulas that can be used to calculate areas and volumes of differing shapes. Plumbing Formulator also calculates the areas of pipe walls, the weight of different pipes and the temperature when two bodies of water are mixed.
With plenty of conversions and the option to email or print all results calculated on the app, this is definitely one to have on hand.

8. Xero – bookkeeping and accounting
(Available as a free app, with paid subscription, on both Android and iOS.)
While this isn't specifically for plumbers, it's so good it was worth including anyway. Xero changed the way small businesses think about bookkeeping. It minimises the time you're spending on the numbers and the money you're spending on your accountant.
Reconcile spend, view reports, create expense claims and file GST returns, all with a few clicks of a mouse. Xero is compatible with all your devices and is hosted on the cloud. There are various plans with different pricing to best suit your business.
Best of all, Xero integrates with Tradify. This means the two systems can talk to each other to sync information across both platforms. Run your electrical business with Tradify, while accounting information syncs to Xero.

9. Stripe - online payments
(Available as a free app for both Android and iOS.)
Getting paid on time is essential for good cash flow. Giving your customers payment options, like paying online with a credit card, makes it easier for you to stay on top of your invoices. Stripe allows you to process payments on the go, so you can get paid faster than ever.
Connect Stripe to Tradify to automatically chase up or reconcile payments.
10. Plumbing Business Name Generator — for finding the perfect brand name
(Available on any device.)
This is a simple one, and does exactly what it says on the tin.
If you're planning on going out on your own or just want to spice your brand up a bit — the first port of call is finding a good business name. This free generator finds a name that's specific to the plumbing industry and the unique identity of your business. Just plug in one word that describes your business and it'll spit out a whole list of different names, and report whether their domain names, Facebook pages, and Instagram are available to use.
11. Fix time leaks with more efficient ways of working
From calculations to communications, technology is changing our lives one app at a time. Adopting even a couple into your working day can free up time and make jobs run easier.
Our Tradify app for iOS & Android is a job management tool for plumbers, where you can create jobs, quotes and invoices and give your team access to job information whenever they need it.
Keen to give Tradify a try? Start your free 14-day trial.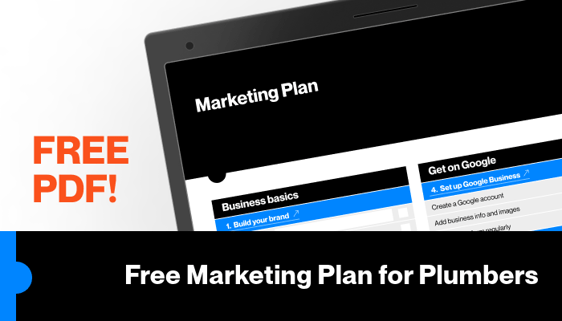 ---