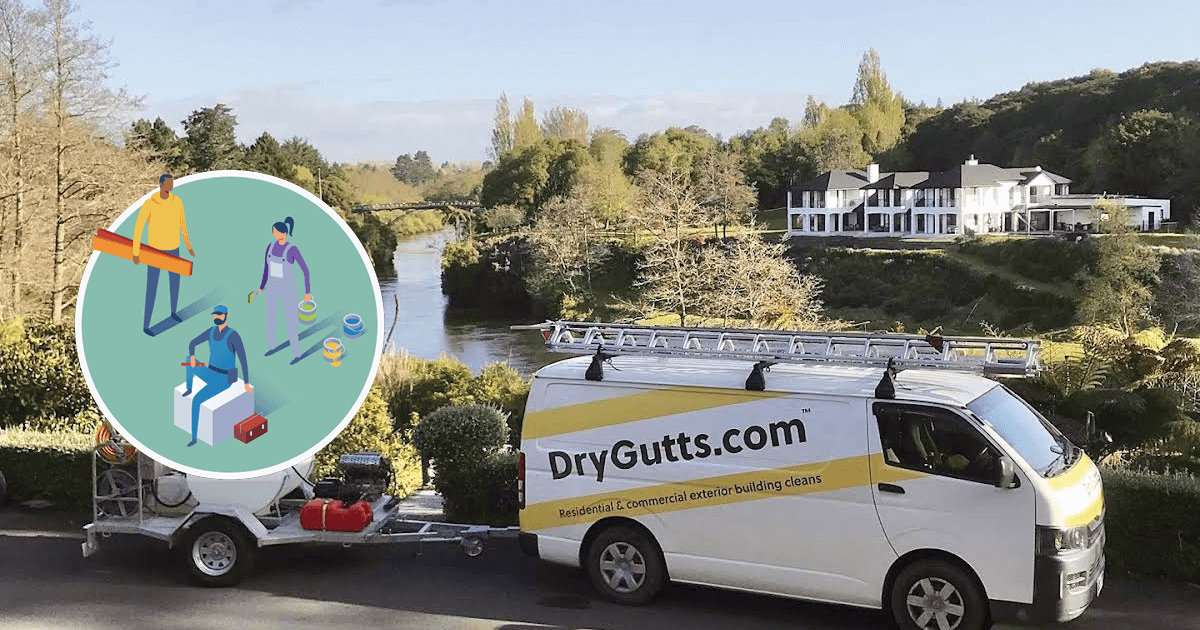 One day, cousins Josh King and Mitchell Yeager began discussing business ideas over Christmas lunch. Mitchell had been working hard for an exterior house cleaning business in Auckland and Josh was the owner/operator of an ice cream parlour in Hamilton called Sunny Nelson.
The cousins officially joined forces in 2019 and launched DryGutts, initially focusing on cleaning gutters (hence the name). Now, the company offers full exterior cleaning on residential and commercial properties.
Josh and Mitchell bring complementary skills to the business — Mitchell is an expert on the tools and Josh is a whizz at running a business. They began teaching each other what they knew and together have grown DryGutts into a thriving operation. They've recently hired two new staff members: Josiah as an extra tradesperson and Davina, head of administration.
Focused on building their foundations strong, DryGutts picked up Tradify very early on in their business journey. Josh says it has been essential to their growth.
"We wouldn't have been able to scale as we have without Tradify."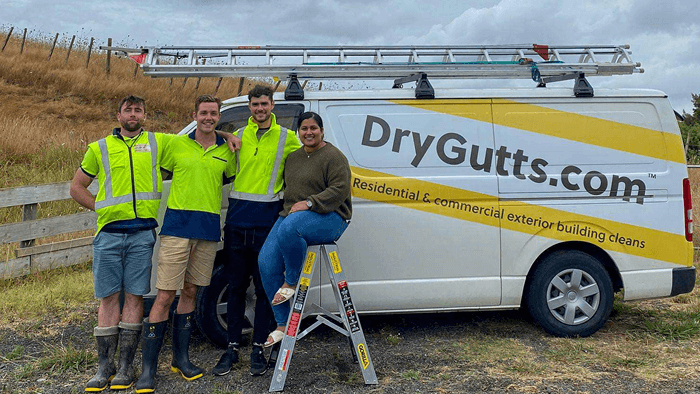 From messy quotes to compliments on their professionalism
As the unspoken head of operations, Josh made the decision to adopt Tradify swiftly. He only had to make and send 20 quotes on Excel before throwing in the towel and searching for a better alternative.
Josh knew that to grow a business at speed, it needed to provide excellent service at every corner. If their quotes looked great and the invoices were easy to pay, the company's professionalism would set it apart.
"I tried so hard to make the quotes look good on Excel, but I'm not an artist and they always ended up looking messy and unprofessional."
When Josh found Tradify through a quick Google search, he knew it was the perfect fit. Not only did it create beautiful quotes and invoices, but it could also act as a foundation for the whole business. Once he got started, the customers took note.
"I remember one client came back to me and said 'How do you get your quotes to look so good?' Another thought the 'click and accept' option on our invoices was incredibly professional and efficient. Tradify has saved me so much time in this area, that alone was worth every cent."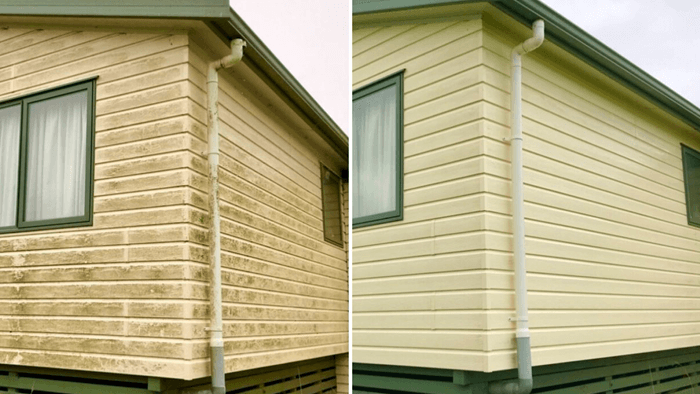 30% less time on enquiries and quotes
While Josh and Mitchell strive to work hard, they want to make sure they can play hard, too. They try to keep the business running smoothly so that they have downtime to spend with family or go sailing. Tradify has made this possible. With their admin streamlined, they've now got the freedom to enjoy some downtime. It also means they can get more done before 5 pm — making the business more efficient and profitable.
Davina says pre-saved costings for quotes have been her biggest time saver.
"The software creates drafts for our quotes which makes it easy for me. We have our costing information pre-saved, so I just have to make slight adjustments to suit the clients' needs."
Beforehand, Davina would spend hours following up enquiries from the website. Now, when an enquiry comes in, Tradify pulls through their required jobs and automatically sends the customer a follow-up reply. It ensures DryGutts never misses an opportunity to take on new clients.
"The dashboard and notifications help me stay efficient. Nothing is being pushed down as new jobs come in," Davina explains.
Scheduler feature keeps the team organised and motivated
Josh and Davina think that the Scheduling feature could be an entire app on its own — it's that helpful!
"The scheduler gives us a real indication of where we're at in the short term. It motivates us when we don't have a lot of jobs and, at the same time, lets us know when we've got too much on."
DryGutts aims for a two to three-week turnaround, from the time it receives a request to the end of a job. Considering the high volume of jobs they take on each month, Tradify's Scheduling feature has been instrumental in keeping them on track and structured.
"Our calendar would be a disaster without the scheduler. Jobs would 100% be forgotten about."
The team also enjoys receiving automated reminders of upcoming jobs, especially when annual services are due for repeat customers.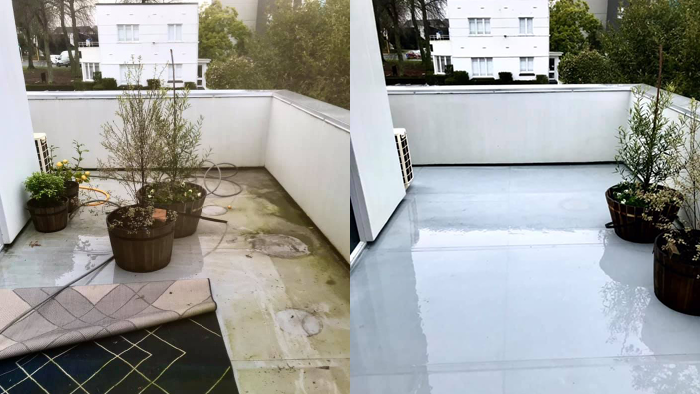 Better connected team with Tradify
The nature of maintenance work means visiting new properties daily. Davina loves that she can easily notify the team of important information instantly through the Tradify app. Using the notes function, she sends gate codes and warnings about dogs and required PPE/gear, so they're always well-equipped and safe at each job.
"Internal communication is the bloodstream of a company and that, for us, is Tradify. It has functions that suit different roles, so we're always connected and flowing," Josh adds.
The DryGutts team also benefits from using timesheets, helping them cost out jobs more thoroughly and charge accordingly.
"Tradify is so cohesive and makes it easy for me as an administrator to know that I have all customer and job information in one place, so nothing is missed," says Davina.
High-powered Tradify gets tick of approval
Simple Scheduler: keeps the high-volume business on track and motivated.
Mobile app: enables better team communication, even while on-site.
Beautiful quotes: makes the business look more professional.
Accurate timesheets: helps with costing future jobs.
Cloud-based:

admin all under one roof so the team has full transparency.
Want to learn more about DryGutts? Check out their website.
Ready to give Tradify a go?
Start your 14-day free trial. No credit card required. No pressure. Or take a look at Tradify in action during one of our weekly 30-min live walkthroughs.


---