After years of working long, tedious hours for somebody else, Clark Johnstone turned his dream of a better work-life balance into a reality.
He started Fitted Joinery Installation Ltd., a company that specialises in high-spec joinery installation. Six years on, Clark and his team work on big projects like kitchen renovations and commercial fit-outs.
In the beginning, it was Clark on the tools and his wife Monique, a professional accountant, in charge of administration. They now have two vans on the road, with a third joining the team soon.
While that keeps their schedule fairly streamlined, it does come with business admin challenges.
1. Laying a good foundation wasn't easy
Clark was on track to have his business well-organised from the start. Monique helped him set up his accounting online using Xero, but the system didn't offer much in terms of job tracking.
Unlike other trades that track hourly rates, their quotes could cover 10 different jobs, and therefore many different labour and material costs. Clark found himself spending far too much time inputting details for each job quote, and with increased demand and work booming, his time was needed elsewhere.
The couple knew they needed a more straightforward solution, one that would streamline their quoting and invoicing process.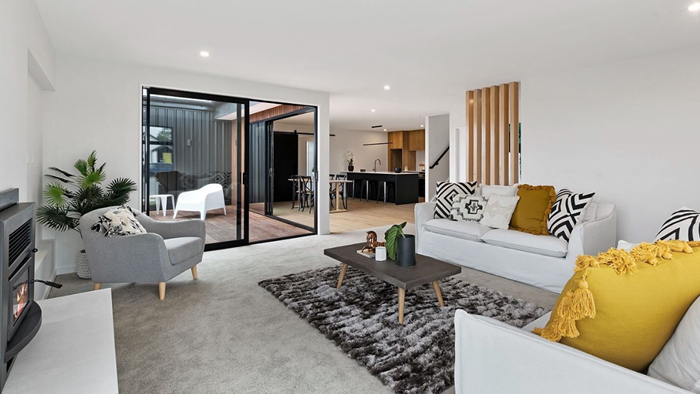 2. Tradify: more for less
Luckily, Monique came home one day with a Tradify advertisement. Clark was immediately impressed by its functionality and could see the value it could add to his business without it costing him an arm and a leg — he could even try it out for free before he made a commitment.
Previously, he'd been spending a lot more money on invoicing out of his accounting system, so he decided to go for it.
3. Kits feature saves Clark 10+ hours a week
Tradify's Kits feature has been the perfect solution for Clark's quoting woes. It's allowed him to create collections of the materials, labour, and other costs needed for specific jobs. All he has to do is drag and drop a kit into a quote, adjust quantities then hit send. Overall, he says, "it's saved me over 10 hours a week."
Once he had set up all his Kits, Clark was able to offload this task to his wife Monique and focus on his joinery.
"It used to take me an hour and a half to work through a quote. Now, with everything set up in kits, we just input the quantities and in 10 minutes, Monique can do our quotes without knowing anything about joinery. That's awesome!"
Clark also loves how easy it is to turn quotes into invoices — making life easier and his business more professional.
He jokes that he used to have to "find the piece of paper that I'd scribbled the quote on and then try to type it up into something pretty to send out."
4. So much more than an accounting solution
Clark quickly realised how much more time and money Tradify could save him if he started taking advantage of all of its features.
He remembers back to his old job where he would sit down at the beginning of each week and write long-winded emails to project managers, letting them know their schedule and details of their plans. The schedule would usually change halfway through the week and he'd then be fielding calls left, right and centre while he tried to update everyone with the new plan.
With Tradify's Scheduler, Clark and his team can track their jobs in real-time. That means everyone knows where they need to be and what they need to do without worrying that they've missed an email.
"If one of the boys asks me where I am or what to do, I just say, 'You need to check the scheduler, my friend.'"
The team can also upload job notes and progress photos to Tradify and attach them to each job. This helps Clark keep his team more organised so they can provide a better customer experience. It also means Clark can update his team right away, so that job info is accessible on the go.
5. Time saved and reliable work processes worth the money
Gone are the days of scribbled notes, lengthy emails, and hours of computer work after a long day on-site. Tradify has helped Clark lay a solid foundation for his joinery business, which keeps things streamlined and allows him to keep up with admin while he's on the tools.
"The reality is, if you're in a trade working on-site, 9 times out of 10 you'll have to scan in on a phone anyway, so why not have all the tools on your phone?"
Clark and Monique are grateful that the app does so much for their business and they no longer have to talk shop at the dinner table.
"We used to have to yarn over dinner about what work is on tomorrow, but with Tradify and all the little things we've been able to change, that doesn't need to happen anymore."
6. Fitted Joinery Installation joins forces with Tradify
Scheduler tracks jobs in real-time, keeping the team on track.
Job info including notes and photos are easily accessible on-site.
Kits help Clark get quotes to clients faster and win more work.
Professional quotes and invoices are good for business reputation.
Less admin equals more time on the tools.
If you want to learn more about Fitted Joinery Installation, check out their website.
Ready to give Tradify a go?
Start your 14-day Free Trial. No credit card required. No pressure. Or take a look at Tradify in action during one of our weekly 30-min live walkthroughs.
---