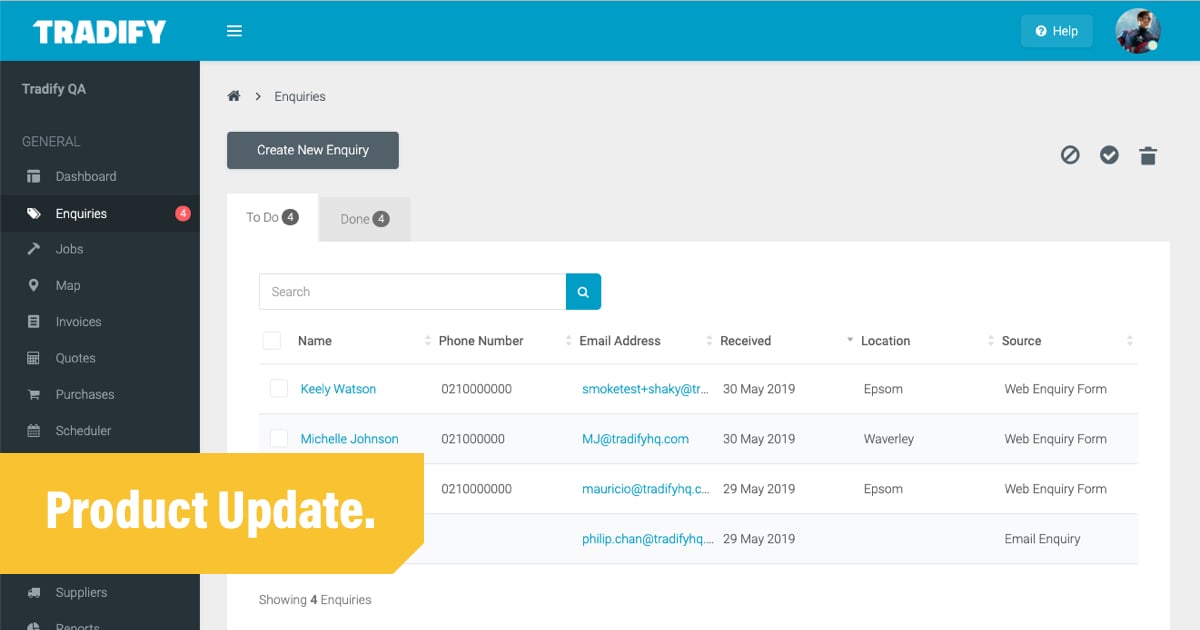 Q&A with Ross Howard, Tradify Chief Experience Officer
Have you heard about our new feature, Tradify Enquiries? It's causing a bit of a stir. We caught up with Ross Howard, Tradify's Chief Experience Officer to learn more about how it's already helping Tradies reduce their admin time even more. Here's the lowdown.
Tell us about Tradify Enquiries? What is it?
The new enquiries feature lets Tradies import work orders, customer enquiries and any other form of work requests into Tradify. Whether it's an enquiry from your website or an email, we've created a place inside of Tradify to keep track of them all.
How does this help trade businesses manage customer enquiries?
The Enquiries feature prevents double handling of customer enquiries. It also keeps everything in one place (email, phone calls, conversations, Facebook messages) helping to reduce response times and improve the organisation of data.
What's the feedback been like from customers who are using Tradify Enquiries?
We spent many months listening to customers, testing prototypes and developing this feature and were confident it would be able to help a lot of trade businesses. Since launch, we've been stoked to see just how many new and existing Tradify customers have been adopting the Enquiries feature into their day-to-day operations.
Here are just a few of the comments we've received from our customers (so far):
"Removes the need for another spreadsheet. Thank You!"
"The new Enquiries feature is brilliant."
And our favourite...
"You beauties. I love you!" (We love you too Deanna from Coastal Concrete Taranaki!)
Why are Tradify customers so excited about this?
Who wouldn't be stoked to use a tool that cuts down the amount of time spent handling information while also improving response time? Set up Enquiries inside your Tradify account today and turn your pipeline into appointments, quotes, jobs or invoices in seconds.
How can I get access to the Enquiries?
If you're already a Tradify customer, it's yours to use! Every Tradify customer now has access to the Enquiries. Get started by heading into the Settings section of your account and tapping on "Enquiries".
How does it work? How do I set it up?
Getting up and running is simple. Watch the 2 minute video below and follow the steps. Still confused? - Send us an email, we're happy to help.
Can I use the Enquiries from my mobile device when I'm out and about?
You sure can. Once your account is setup, new enquiries will appear as notifications in the "Enquiries" tab of the Tradify app. Helpful actions like responding via email, calling someone back or navigating to the address are only a tap away.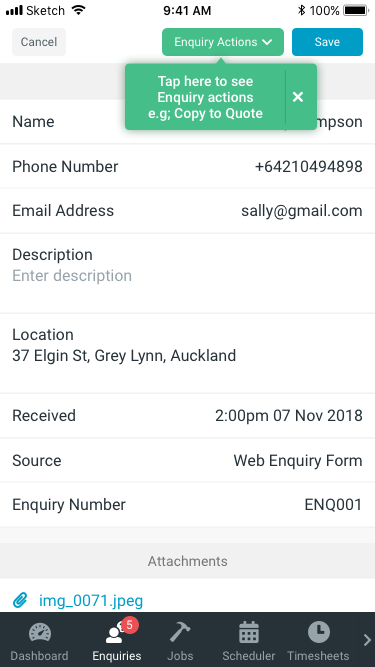 I don't have a website, can I add enquiries myself?
Definitely. Get a phone call from a referral? Need to record that conversation with the neighbour? The enquiries feature allows you to manually add details of any items that don't come through the web. Create as many enquiries as you need and keep on top of your to-do list.
Is there any additional cost to get access to the Enquiries?
No. We try to keep our pricing simple. One price. All features. No volume limits on jobs.
Where can I get more info?
Already a Tradify customer? Check out our knowledge base info or get in touch with our support team so they can give you a hand.
Not yet a Tradify customer?
Jump on one of our weekly demo webinars to see Tradify in action.
Ready to give Tradify a go?
Start your 14-day free trial today.