Construction and demolition waste represents 31% of all waste generated in Europe and 40% in Australia. Up to 80% of that waste – things like concrete, bricks and tiles – could be recycled instead. This could help to reduce the production of new materials (and the impact that process has on the planet) by at least 10%.
Looking to get on top of your cash flow? Try our free cash flow forecast template for tradespeople!
To play their part in fighting the climate crisis, more and more tradespeople are going green. You don't need to do a complete 360 to make a difference. If possible, start by using a few second-hand materials rather than letting them go to landfill.
It's a double win, for the planet and your pocket. Here's what you need to know about using second-hand building materials.
Short on time? Jump ahead:
1. What building materials can safely be used second-hand?
Bricks
Reclaimed bricks are more affordable and can offer more durability than bricks fresh out of the kiln. Older bricks are weathered, have stood the test of time, and will likely continue to do so for new projects. You can also use them for decorative purposes like garden edging.
Reclaimed timber
As a result of over-forestation, there's much less wood available than there used to be, which means reclaimed wood is the obvious choice. You can use reclaimed timber for:
Decks
Countertops
Laminated beams
Truss joists
Hardwood flooring
Inside timber furnishings
Outdoor timber furnishings
Masonry
Concrete is one of the least eco-efficient building materials available. But thankfully, it can be recycled using industrial crushing equipment, and reused in many ways:
Driveways or pavements
Raised garden beds
Paving stones
Retaining walls
Terraced gardens
Old pallets
Old pallets will do more than just save you a few pennies. You'll also create something with a lot of character and quirk. Use old pallets to construct furniture like bed frames, coffee tables, chairs or even a bar.
Windows and doors
Second-hand windows and doors that are still intact are far too valuable to shove off to the landfill. Restore them to add character in your next build or use them in creating a glasshouse.
Steel and metal
Steel is known to be the world's most recyclable material – it can be used over and over with no degradation. Got some second-hand steel lying about? Scrap iron and metals can be used to build roads and bridges or detoxify industrial wastewater.
Around the house, you could recycle old steel for furnishings like benches and tables or plumbing fixtures. If it's not rusted, recycled metal can also be used in roofing.
Paint
Got a bit of leftover paint that's headed for the dump? Some manufacturers or retailers take back unwanted paint and containers. Check with your local retailer to avoid sending yours to the landfill.
If you need paint, ask around your community to see if anyone has some – it'll save you buying it brand new.
Asphalt
This material is easy to recycle and because of its durability, it's a great option for driveways, parking lots, roofing purposes, building exteriors or retaining walls.
Wool carpet
Wool is undeniably a more useful material than its synthetic competitors. As well as being a natural choice, it's easy to clean, more durable and more resistant to wear and tear. If you've got your hands on some second-hand wool carpet, don't let it go to waste – use it in your next home project or sell it on for someone else to use.
Hot water radiators
No need to send a hot water radiator to the landfill – there are a few ways to repurpose one. Turn it into a solar water heater, outdoor fire pit, or woodfire stove.
Cabinetry, sinks and tapware
Doing a house renovation? Old cabinets and fittings can be reused in future builds or around your house in many ways:
Old laundry troughs are a quirky addition to any bathroom.
Second-hand kitchen cabinets will make a great addition to a kitchen.
Old bathtubs can be used as raised planter boxes or as an outdoor bath instead.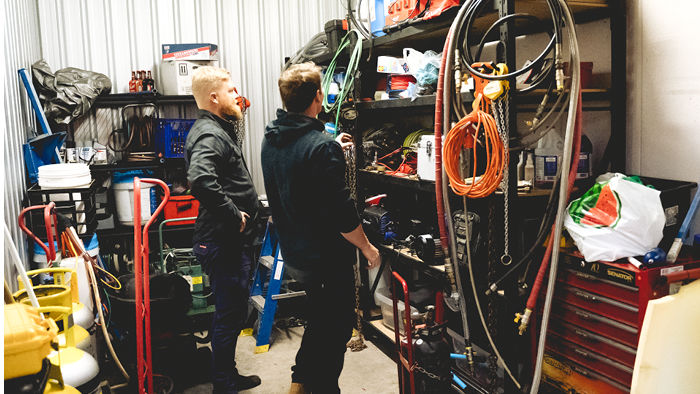 2. Materials to avoid and risks to be aware of
Most second-hand building materials are perfectly safe to use, but some carry risks. The safety of second-hand building materials will come down to how thoroughly you inspect them. With a background check and a bit of common sense, you should be right as rain.
Here's what you need to be wary of to keep yourself and your clients safe:
Asbestos exposure
Asbestos is a common risk in the construction industry, and if you're sourcing older materials or dealing with demolition, you need to be careful. Never use second-hand material that you suspect has asbestos – contact a professional to remove it immediately.
Lead
A lot of lead-based materials are now illegal due to their high toxicity. Materials like paint, bath and basin wastes may contain lead and should not be reused. Lead-based paint may be found on some woods or house fittings. Never use material if you suspect it has lead in it.
Electrical appliances
It's likely these won't be salvageable and don't meet safety regulations. Be cautious when dealing with any second-hand electrical equipment – it may be faulty and hazardous.
Old toilets
Some older toilets use more water than their modern counterparts, meaning they're not an environmentally-friendly solution.
Expired wood gradings
When using second-hand timber, be sure to check that its wood grading is eligible and not expired.
Timber infested by insects
If your timber is riddled with bugs, it could infest the rest of your home or working space. A thorough inspection of the wood before you take it will sort that problem out.
Fluorescent light ballasts
If manufactured before 1978, they'll contain PCBs and therefore shouldn't be used.
Mercury
Mercury can be found in things like fluorescent lights, thermostats and some heating, HVAC and plumbing systems. It's a dangerous substance that should be handled by a professional.
Batteries
Batteries contain lead, mercury and acid, and shouldn't be reused.
General maintenance
With a quick look over any material, you'll want to spot things like cracks, holes and gaps. If it's on its last legs, it's probably better to keep looking. The same goes for rust, which is often unsalvageable. Steer clear if you notice any.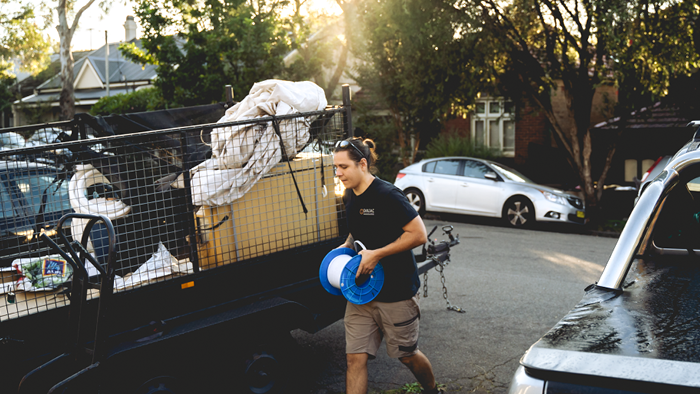 3. Where to find second-hand materials in the UK
In most towns and cities, you'll be able to forage for second-hand materials from recycling centres, old homes, building sites or online. Here's where you're best to go looking.
Find second-hand building materials online
Find second-hand building materials in England
Find second-hand building materials in Scotland
Find second-hand building materials in Wales
Find second-hand building materials in Northern Ireland
4. Where to find second-hand building materials in the US
Suppliers vary by state, but here are some common options for finding second-hand building materials in the US:

Where to find second-hand materials in Australia
Find second-hand building materials online and nationwide
Find second-hand building materials in

Victoria
Find second-hand building materials in

Queensland
Find second-hand building materials in

Western Australia
Find second-hand building materials in

Northern Territories
Find second-hand building materials in

South Australia
Find second-hand building materials in

New South Wales
Find second-hand building materials in

Australian Capital Territories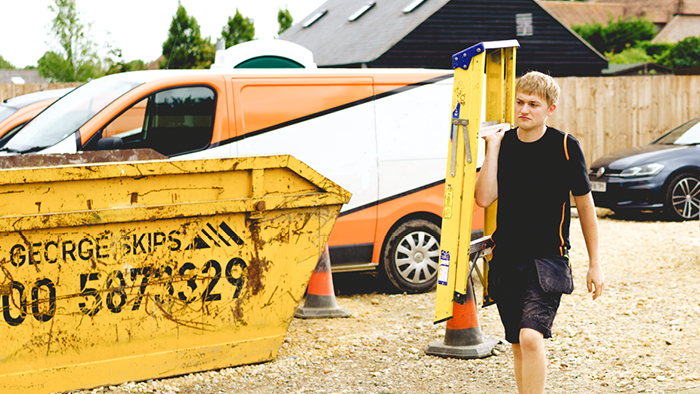 5. Where to find second-hand materials in New Zealand
Find second-hand building materials online
Find second-hand building materials in the

North Island
Find second-hand building materials in the

South Island
6. Salvage second-hand, save the planet
The construction industry is responsible for a huge amount of the world's waste, but that doesn't have to be the case. Sourcing second-hand building materials is a great solution, and you'll achieve a unique project with a lot more character. Next time you need new materials, check out your local salvager and help save the planet, one door frame at a time.
Tradify can help you keep track of material costs. Sign up for a free 14-day trial, or jump into one of our weekly live walkthroughs.
---