App helps company book out two years' worth of work
After years of running his own electrical business, Mike Humphries decided it was time to join forces with a few fellow tradies.
Green Hawk Construction does everything from the ground up – literally. They're one of the few UK-based trades businesses that has more than one trade under one roof, with the team made up of electricians, builders, carpenters, and plumbers. It's a model that seems to be working, with the company booking jobs almost two years in advance.
But behind the scenes, the company was struggling with a system that was slow and hard to navigate – causing admin problems and leaving Mike with a constant headache. "We had rubbish systems before…and it was driving me mad!" Mike says.
Late nights and missing charges
The newly formed company pulled together their different areas of expertise, but it also combined their admin. Their old system couldn't handle the volume of data – it slowed right down and Mike could never trust that the info had been updated. "You'd type in something and then it would disappear. You could spend 10 minutes writing something and
then lose it". "Because we're so busy, the directors and I would have to give up our evenings – and that got frustrating when you're sitting there at 10 at night still working," he says.
The final straw came when the company submitted their VAT return – and it was missing £40,000 worth of invoices. "It was a relatively easy fix, but a mistake that could have been easily avoided" Mike says."That was the beginning of the end for me. It's at that point we knew we needed to get our systems sorted."
The right mix of functionality
Craig says he chose Tradify because it had a mixture of everything. The app could streamline his job tracking and scheduling, and he could integrate his accounting system. This was functionality that would ultimately give Craig what he needed – time!
"For tradesmen, time is money, so the quicker I can do things, the more money I can make and the less time I spend dealing with or worrying about the administration side of my business."
A slicker, faster system.
After speaking to a Tradie friend, Mike decided to give Tradify a crack. The Tradie app was even better than he was expecting. Even though they don't use the job management software to its full potential, it's already helped them to become a smarter business.
He says it loads quicker, inputting data is easy and it saves loads of time.
"We genuinely love it – it's so much faster and slicker, it doesn't claim to be something that it's not,
it just does the job," Mike says.
Quote templates increase job win rate to 90%
Green Hawk's projects often involve large budgets with lots of moving parts. A quote for a renovation job will include several lines of time and materials. Mike says the company likes to keep their quotes detailed so people know exactly what they're in for, but sometimes items would "get lost or forgotten in the number of lines."
Using a pre-set quote template, Mike can turn around a comprehensive quote in minutes. Whether it's for a new kitchen or bathroom reno, he only needs to amend his template slightly before sending it off to the client.
"It makes life easier for both sides of the fence. Our customers are finding the process a lot faster which means we can get them booked in quickly," he says.
The company had also noticed a significant increase in turnover since they started using Tradify. "I think on quoting, what we send out we probably get 90% of the work, which is mental," Mike says.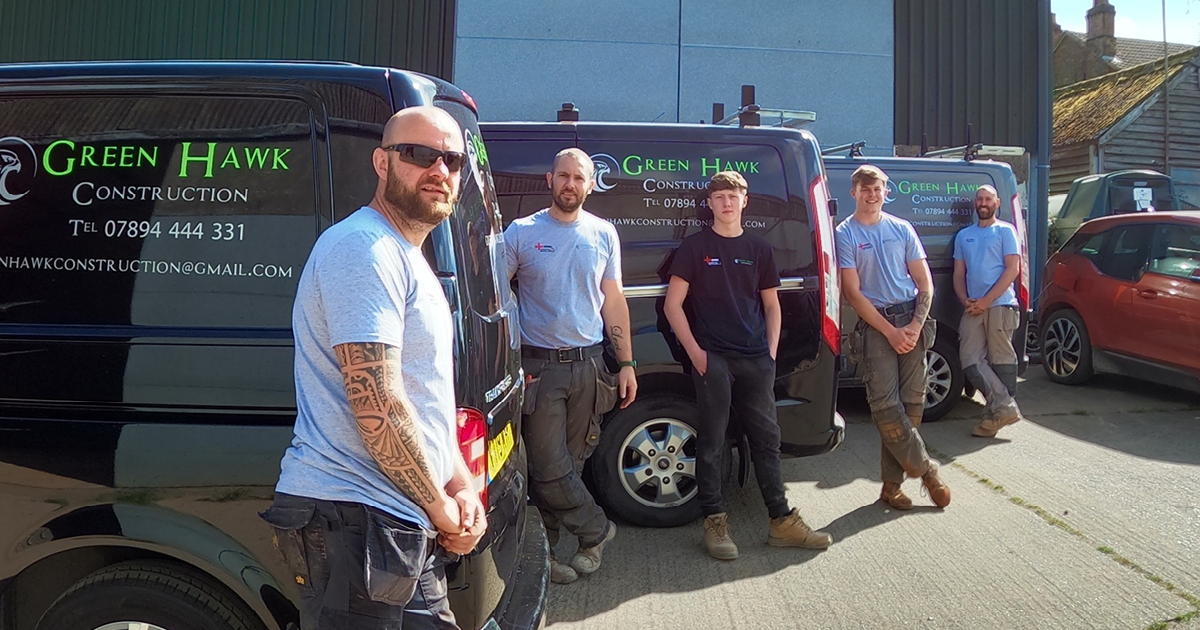 Fast invoices, less admin, more time
When it comes time to send a final invoice, Mike likes that he can automatically transfer his quotes straight into an invoice. If there's anything extra, Tradify makes it super easy and fast to add those bits in. "The less time you're having to spend messing about with stuff like that the better," Mike says.
Because most of Green Hawk's jobs can take anywhere from a couple of weeks to six months, it was important that the system allowed them to make changes whether they were in the office or on the job. "I can do it using my iPad like I am now, literally sitting in my van, or we can smash out our quotes and invoices in the evening without them taking up too much time."
For Mike, that's a big win because it means he can concentrate on other valuable tasks that will help grow their business – like editing content for their YouTube channel which they started during this year's lockdowns. "Most evenings I'm doing YouTube anyway so while I'm uploading videos, I can quickly send out an invoice at the same time." Mike says.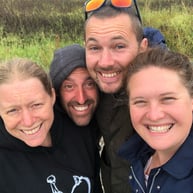 Mike calls Tradify a brilliant Tradie app.
Cloud-based: admin accessible on the go from any device
Quote templates increase job win rate
Automatic transfer from quote to invoice speeds up admin process
Fast invoicing equals quick payment and better cash flow
Less manual data entry, more billable hours
Tradie app: made for tradies by tradies
Watch Green Hawk's YouTube channel or visit their Facebook or Instagram pages for the latest updates.
Interested in giving Tradify a go?
Start a 14-day Free Trial. No credit card required. No pressure. Or jump on one of our weekly 30-min live demos as we show you Tradify in action.