You need the right tools for the job. Most trade business owners use accounting software to help them run their businesses – and for good reason. It reduces the time you spend on manual data entry and automates the financial processes that help keep your books in order. It's a necessary investment for anyone running a trade business.
But it's not the only digital tool tradespeople should be using. Just as you wouldn't use a screwdriver to hammer a nail, even a great accounting system can only get you so far. You might be a little hesitant to add another application into the mix (especially if you don't feel very tech-savvy) but that's exactly why it's important to pick the right tool for the job.
Let us explain why using job management software like Tradify, alongside your accounting software, will help make running your trade business easier and more efficient.
Looking to give your trade business a boost? Download our free trade business plan template!
Short on time? Skip ahead!
1. Accounting systems are made specifically for finances
We're huge fans of cloud-based accounting software. When it comes to tracking your finances, it's a must-have tool. Tradify integrates with some of the most loved systems from all over the world including: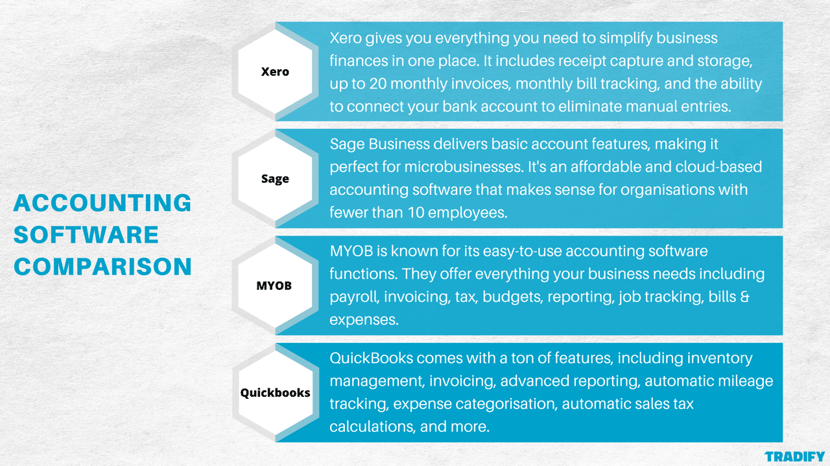 Graphic provided by Crazy Egg.
Accounting software will help you use the time and resources you spend on your accounts more efficiently – and reduce costly bookkeeping mistakes. It'll allow you to process your accounts faster and eliminate manual calculation errors.
It will also increase your efficiency by introducing automation. For example, UK tradespeople may need to keep records of their tax obligations under the Construction Industry Scheme. Accounting software like Sage can be configured to automatically deduct the correct percentage from a subcontractor's bill, ensuring 100% accuracy when it's time to file a return.
But staying on top of your finances is only one piece of the admin puzzle. What about the other areas of your trade business? Dealing with enquiries, quotes, staff and client management — accounting software isn't the right tool for these jobs.
2. Improve your trade business with job management software
Manual, admin-heavy tasks make your trade business inefficient and disorganised. The more hours you spend managing the admin side of your business – digging through paperwork, chasing timesheets, following up unpaid invoices – the less time you have to take on jobs that will actually pay the bills.
Not to mention all the little (but costly) things that start to fall through the cracks – forgetting bookings, undercharging clients, and missed work opportunities because you can't get back to people fast enough.
Here's how job management software can streamline your business even further:
Keeping organised. With everything in one place, there's no need for additional paper copies 'just in case'. From the moment a customer makes an enquiry right through to final invoice payment, you only need to enter the information once – reducing manual data entry.
Get paid quickly. Cash-flow issues often happen because tradies can't get their invoices out fast enough. If you wait until the end of the week, you're already on the back foot. With Tradify, you can invoice on the spot as soon as the job is done.

Stop losing money on jobs. A missed hour here or a few nuts and bolts there – over time, they all add up. You need to know that your jobs are making you money and not costing you more than they're worth. With Tradify, you can record your time and materials accurately to the correct job, and they'll automatically be included in your final invoice. You'll also have real-time profit-and-loss info so you can

send more accurate quotes.

Manage your team better. Taking on staff adds another layer of complexity to running a business. There's keeping track of timesheets, job progression and scheduling work calendars. Tradify makes it easy to grow your team by automating your timesheets and staff scheduling, job information that's easily accessible in the app (digital job sheets) and tracking jobs in real-time – which helps with updating clients too.
3. The advantages of integrated systems
Using the right tool is important for the job, but you don't want to get caught in a complex web of software applications that waste more time than they save. The best-case scenario is to use systems that can speak to each other and share information. This allows you to work with the app that's best for the job at the time, while syncing information between both.
Tradify syncs with most major accounting software providers and here's how it helps you:
One source of information. Keying in the same information into multiple systems slows you down and opens you up to errors. Integrated systems automatically share the information for you, allowing you to make faster, more informed business decisions.
Become even more efficient. Reducing the number of steps it takes to complete a task by removing data entry or adding automation helps you process more jobs faster, giving you better control over your business.
Consistent communication.

Integrating these systems eliminates any confusion that inconsistent information creates. This means you can spend more time growing your business and less time maintaining your records.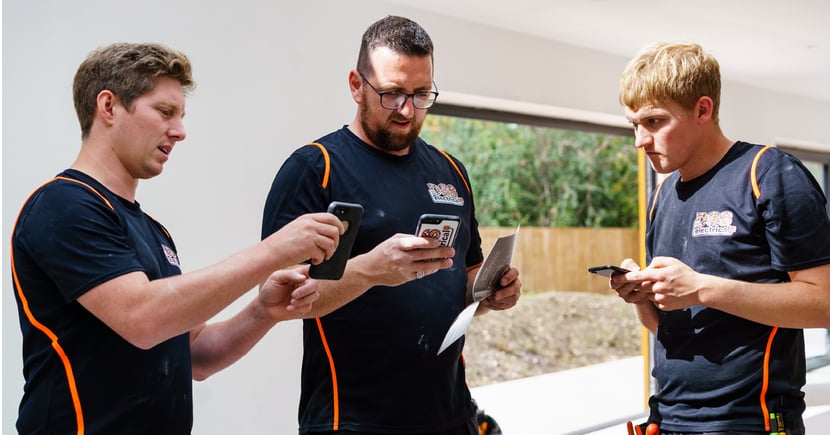 4. Find the right tools that work together
Running a trade business is a busy gig. From one hour to the next, you could be acting as a tradesperson, a manager, or an accountant. Your business relies on how fast you're able to move. One of the first software investments you'll likely make is accounting software. When you do, consider job management software that will work together with it.
The reason is clear: streamlining processes right across your business – not just your finances – will give you the control you need to grow your trade business quickly.
Take Tradify for a free 14-day test-drive or pop over to one of our live demo webinars to see the app in action. Want a chat? Get in touch.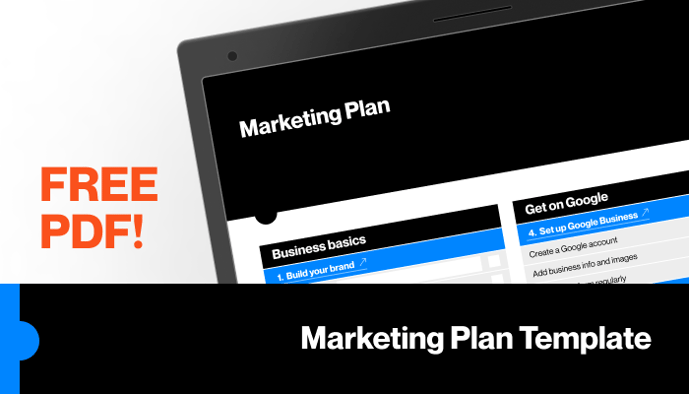 ---