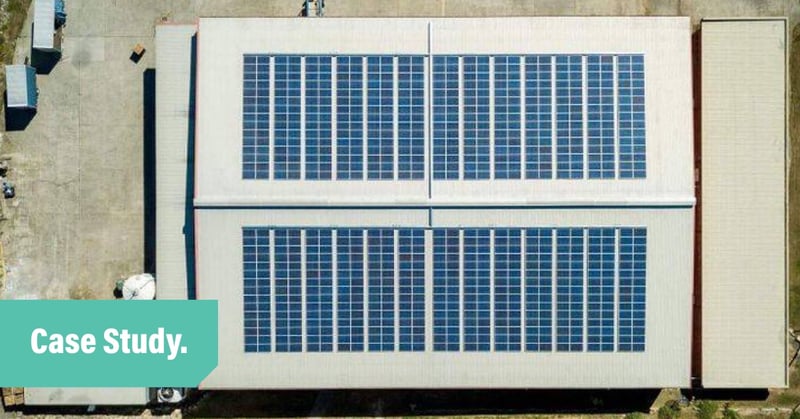 Like a well-oiled machine
For busy Keystones Electrical, no two days are the same. The team of 10 could be spread across any number of projects, from one-off repairs to long-running projects and solar installs.
Keystones has been going three years and GM Dan Walters, who takes care of the quoting, invoicing and scheduling side of things, says he couldn't imagine handling all that complexity on bits of paper.
"I've had experience doing it manually, and it's horrible.There's no way I could run this business without a product like Tradify," he says. "You'd have to bring in another three admin people. It just wouldn't be viable."
Moving to digital simplicity
When Keystones first started out, Dan fell back on a system he'd worked with in a previous role, Workflowmax, to deliver a basic CRM and have somewhere to capture and track projects, quotes and invoicing. He quickly realised that the system was far too complex for a trades business. He knew a winning formula for business of any kind was to keep things simple.
"It's human nature. If you keep something simple and you manage it properly, you make money. That goes for a trades-based business especially.
"I was looking for something that was easy for everyone to use. I needed a reporting system, plus a basic CRM, enough to capture customer details, a funnel of what projects we had coming through, and all the job info."
Tradify: the Goldilocks system
While Workflowmax was too heavy on functionality, ServiceM8 proved to be too light.
Tradify? That was just right, and came with the added reassurance of having been endorsed by Master Electricians Australia. "And it was designed by a bunch of Kiwis – so it's gotta be good!" adds Dan.
Keystones uses Tradify to track projects and create transparency across the business. With many repeat customers already loaded into the system, turning a work order into a new job can be done in minutes.
"We create the job, send it out to staff, allocate it, capture the info and schedule it."
With a new link to his website, some client enquiries are sent straight into Tradify. "That's a really cool feature," says Dan. "It saves you double data-entry."
Dan says he loves that he can send notes to staff via email from within the system.
"That's a nice feature. We allocated everyone to every job at the start, so they can see the whole funnel. I love the transparency – everyone can see what's going on if you want them to. They're not a mushroom in the dark."
Bookkeeping and accounting – the sweetest spot
Using Tradify, Keystones can run its business with just one bookkeeper.
"From an accounting and bookkeeping point of view, that's the sweetest spot. You gain so much efficiency," says Dan.
Keystones employees track their time in the Tradify app, and supplier invoices go straight into the job. Come invoicing time, every hour and every item are easily accounted for.
This, plus a "seamless" link to Xero, saves a lot of time but also means they never miss anything.
"With the volume of equipment going in and out of projects, if you miss 10% of that, it's straight off the bottom line – that's your multiplier, so that's actually losing 30% of your business value. It's a horrific number. We've seen it happen – you'll lose entire invoices from suppliers."
Tradify removes a lot of human-error risk and lets Dan double-check everything before it's sent on to clients.
Lead-tracking wins work
When new leads come in, Dan uses Tradify as a basic CRM allowing him to keep track of the opportunities so he can follow up.
"We enter all their details like it's a job, but label it 'sales'. That means we easily see it in our funnel of jobs," Dan explains.
He says being able to keep a close eye on these leads puts him in prime position to win projects – the proactive sales it lets him do are almost unheard of in the trades industry.
Getting the quoting system slick and seamless is another piece in the sales puzzle.
"With Tradify, it's so easy to quote, so within 10 minutes of the customer ringing you, boom – the quote's done. Emailing it straight back to them – that will win business. It shows you're quick and efficient. If it takes you a week to get back to the customer, they've gone elsewhere."
Dan also particularly likes a new feature that has made quoting even faster.
"One feature that's so nice is where you send out a quote, and can see the customer has opened it. They can then accept it online."
Tradifying out the competition
Dan says without a system like Tradify, the business just wouldn't work.
"If you're a one-man-band and trying to run a business, you will struggle without Tradify. It won't work, especially when businesses like ours are using it – we'll win the business over and over again. I know other electricians and plumbers who still run with a pile of paperwork on their dashboards, and then go home to their wives and say, 'You deal with that.' Could you imagine it?"
With Tradify, Dan also has the business information he needs at his fingertips.
"I can work out our gross profit on every single job at quote and invoice so I know I'm hitting targets. Being able to see where you're at with time, the cost of labour versus sell price – that's a massive advantage," he says. "I'm pretty sure that most businesses wouldn't have easy access to that info. It'd be too hard."
Dan's not-so-secret weapon: Tradify
Totally accurate invoicing and seamless job tracking
Lead tracking and fast quoting makes winning business easier
Fast, easy admin allows for growth without extra cost
Up and running almost instantly
Cloud connection means the team can use Tradify anywhere
Reckon Tradify could help your trade business?
Check out our 14-day free rial or jump on one of our 30-min live demo webinars to see Tradify in action. It's a great way to see if Tradify is the right tool for your business.
---