Growing up in sunny Hawkes Bay, Sam Watson spent many summer days watching his father run the local mechanic shop. But, when it came time to leave school, he headed to the Gold Coast to pursue a career as a chef.
Ten years later, an opportunity to do a telecommunications technician apprenticeship popped up. Sam had been looking to step away from hospitality – so he took the chance, switched careers and got qualified.
At the time, he was living in a quaint Whitsundays town – where very few people had the same expertise. He'd only been in the industry a few years but saw a gap in the market and decided to start his own business.
Seven years later, Lightning Comms – named in honour of his father's shop back home – is now a team of five, and thriving! Providing the Whitsundays region with security and communication services, Sam and his team spend their days installing and maintaining CCTV cameras, alarms, access controls, intercoms, MATV (Master Antenna Television) systems, data and voice services, and wireless solutions.
Right from the start, Lightning Comms had a strong business plan, but Sam admits he was lacking an efficient system. He wasn't sure what the answer was, but he knew something needed to change.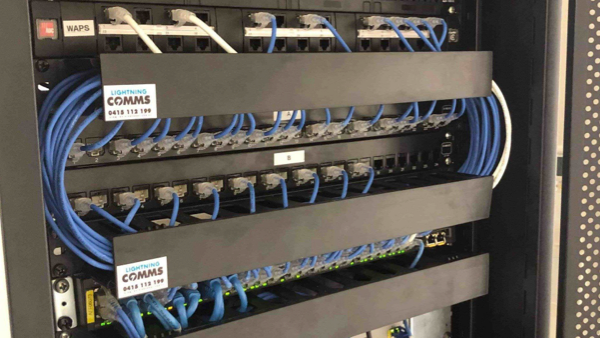 1. Old system slowing down business
When Lightning Comms first launched, Sam says running the business was "very difficult!" There was an overflow of paperwork – printing and filling out job cards and keeping tabs on countless pieces of paper.
Sam's wife Sarah now lends a helping hand. She's in charge of the admin side, managing the bookwork and accounts of the business. In its infancy, materials were easily missed off invoices, resulting in a loss for the business – and a lot of unwanted stress for Sarah.
Sam was also finding it difficult to manage client information.
"If we set up a phone system for a site, we had to keep track of passwords to login to the system for future reviews."
Sam used to write everything down in a diary, but sifting through old paperwork to find a password written down somewhere wasn't a sustainable system.
"You can't do that [search through paperwork] when you're on-site."
2. User-friendly, time-efficient and business-savvy
Sam explains Lightning Comms sits between an IT technician and an electrician. It's a niche industry, so it was going to be a hard task to tick all their boxes. Even though Sam didn't know what tool to use, he did know what he wanted.
Whatever system they used, it needed to be easy and adaptable to help automate any manual admin processes. At first glance, Sam and Sarah could see how Tradify was going to change their business – for the better.
"You don't want anything too complicated or time-consuming to learn," Sam explains. "The user-friendly side of it, that's really good. And it's easy to show the guys how to use it."
3. Easy timesheets mean no paperwork nightmares
Filing timesheets and scheduling jobs by paper were becoming tiresome for everybody, Sam says. But since making the switch to Tradify, Lightning Comms have kissed their timesheet nightmares goodbye.
It's simple – the team can add timesheet entries to jobs while still fresh in their minds and they're on-site. Previously, that might have not been done until the end of the week – and most people would've forgotten how many hours they'd worked by then, Sam explains.
"It's made things so much easier. The Tradify app is great for our industry."
4. Access to job info from anywhere
Another big bonus for Sam is how he can access job information – even months after a job has been completed.
"It's different from being a builder – you build the house and then never have to go back. We have to go back onto sites quite a lot."
Having previous job information easily accessible and stored online has been the greatest thing, he says.
"It's definitely a lot easier now. We can just open up the old job card with all the information that we need."
Tradify's accessibility means the whole Lightning Comms team is on the same page. Technicians can access Tradify on their mobile phones, and Sarah uses Tradify every day – so it benefits the whole crew.
"It helps Sarah make sure that jobs and bills aren't getting missed."
5. Scheduler helps manage on-the-move team
Sometimes, the Lightning Comms team will be working on a big project, with the whole team on the same job. Other times, technicians are all over the show.
Tradify's job scheduler helps Sam keep track of where his staff are and when. It also helps him keep tabs on the logistics of jobs – client information, notes and photos, and creating progress reports for clients. That allows him to focus on what's important – growing his business.
"All of those things have been awesome," Sam says.
6. A lightning reference from the Lightning Comms team
Less time on paperwork, more time for growing the business
Easily retrieved job info improves efficiency for future work
Intuitive, user-friendly app easy for the whole team to learn
Seamless management of all Sam's admin processes
Turning a profit, keeping tabs on materials and outgoings – and charging for them
Check out Lightning Comms' website or follow them on Instagram and Facebook.
Ready to give Tradify a go?
Start a 14-day Free Trial. No credit card required, no pressure. Or jump on one of our weekly 30-min live walkthroughs and we'll show you Tradify in action.
---