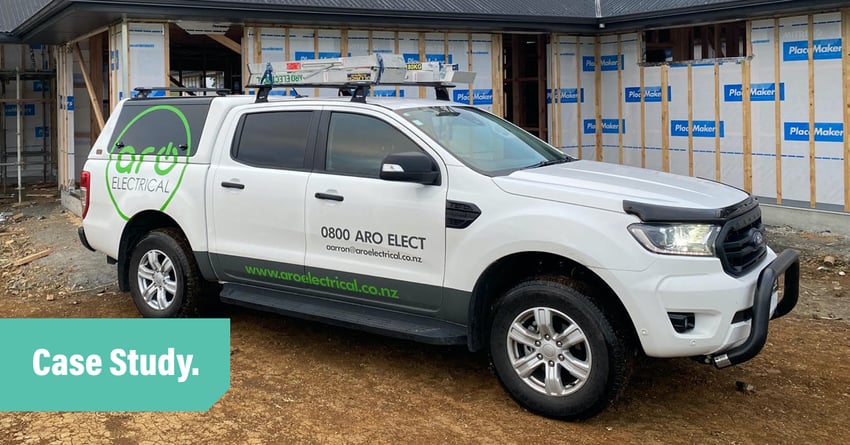 Tracking jobs with Tradify gets Aarron home earlier
Aarron Nichols from Aro Electrical has been in business for four years. Together with his apprentice, he splits his time between serving schools, wiring up new homes and smaller, one-off jobs in Auckland, New Zealand.
Shifting from a paper-based system to Tradify started with a small need – with a new apprentice on board he suddenly needed timesheets.
From there, a whole world of possibilities opened up to make his business even more effective and streamlined.
"I didn't know a different way – ever since I was an apprentice, everything has always been done on paper. I would hear that the industry was moving forward, but I didn't really know what that meant."
Searching out the right tool
When it became clear to Aarron that he probably needed more than just timesheets, he started asking around. Tradify was recommended multiple times by others in the trades industry.
Aarron found Tradify easy to use and well supported.
"Honestly, it's fantastic,"says Aarron. "I don't use the full capability yet, but the parts I do use are seamless. It's a huge timesaver."
Keeping track saves money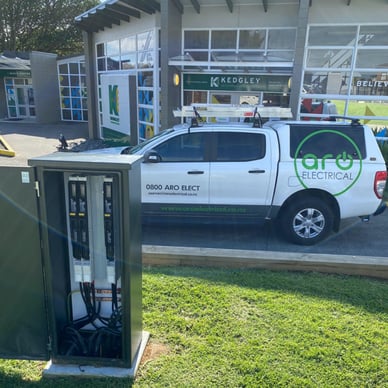 Aarron uses Tradify for job management. He enters time and materials as he goes, and can account for all the gear he has used, so billing is much easier.
He thinks that alone has more than covered the monthly fee for the job management tool.
Recording time, material and job notes in Tradify is also "worth its weight in gold."
"It means I can add what we need for next time, without having to transfer it later," says Aarron.
That pre-planning means Aarron arrives at jobs fully prepared – he can get started right away instead of needing to head back to the wholesaler.
More time on the tools and at home
Bit by bit, Aarron is taking on more of Tradify's features. Next on the list is getting onto the job scheduler.
"That'll be handy soon," he says. "I'm just learning as I go. It's easy to work out."
With less time managing paperwork, he can focus on the work that's bringing in the dollars. And less office work means he's home earlier too.
"I don't have to spend nights working anymore. That takes time away from the family."
Aarron recommends Tradify to anyone he can – he knows what a difference it can make. "I'm obviously a big fan of it."
Learn more about Aro Electrical and follow them on Facebook for their latest news.
Interested in giving Tradify a go?
Start a 14-day free trial (no credit card required). Or jump on one of our weekly live demos to see Tradify in action.