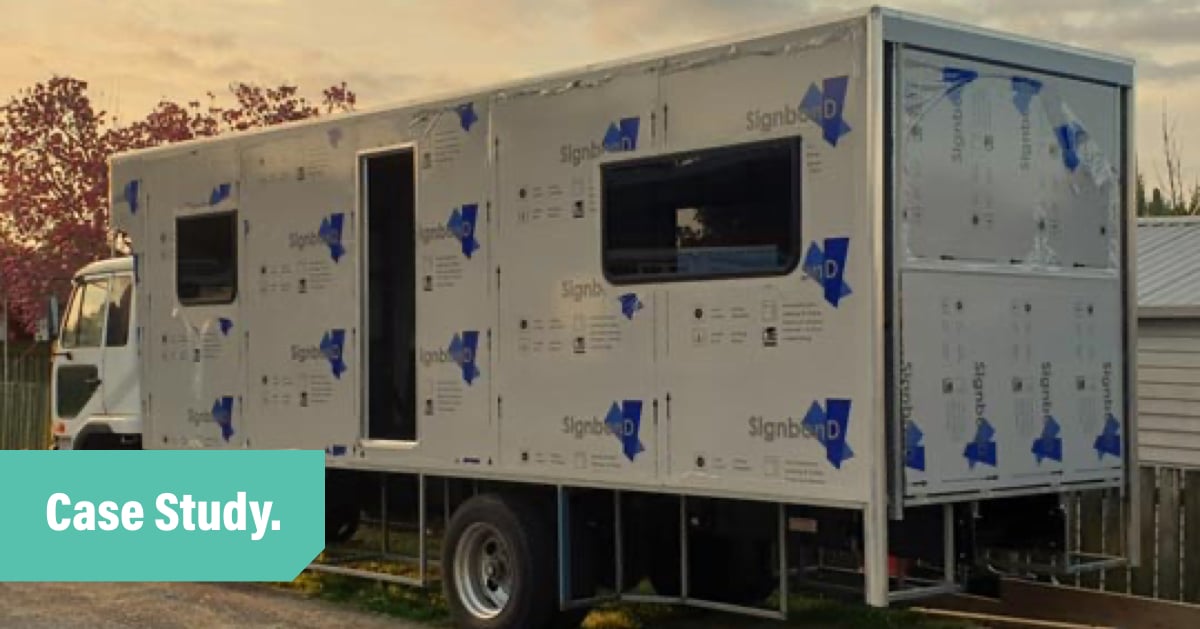 Getting rid of (literal) admin headaches
From simply hanging a picture, to the full renovation of a 100-year-old cottage, Terry O'Sullivan can pretty much do anything. Now he's making a living out of it in his handyman business, covering the Waikato region of New Zealand.
Business is thriving – Terry has more work on his plate than hot dinners, but the first 18 months left a bad taste in his mouth. Terry was spending hours on the computer, getting up early to get his paperwork under control. Some days, it would take him two hours just to get through his emails.
"I'd wake up with a headache because I'd be dreading doing my bookwork. I was having a mental breakdown every morning – in the end, I dug my toes in and said I'm not dealing with this anymore."
If you feel like Terry did, check out our Health & Wellness Tips for Tradespeople.
Multiple systems, too many mistakes
In the beginning, Terry had three computer screens set up in his office. He'd have Bunnings open on one, Excel on another, and his business portal on the third. So much time was wasted bouncing between the three.
"And the systems were always crashing," he says.
To create a quote, Terry would flick between Bunnings for SKU codes, his Excel spreadsheet for his pricing, and then enter all that data manually into his business portal.
"It would take me hours, and 9 times out of 10 I'd forget something that was of big value. I just got to the point where I'd say, 'Stuff it, I'm over it' and send it, but I had no idea if I was breaking even or making a profit."
Tradify saves the day
Terry's business portal was linked with Xero to manage invoices. Customers would get payment reminders from Xero for invoices that they hadn't received from the business portal, and Terry had no way of knowing if an invoice had bounced back.
"If an email didn't exist or I typed it in wrong, I wouldn't know, and people would fall through the gaps."
One day, when he got sick of doing quotes, Terry started scrolling through Xero's App Store.
"I tried Tradify's 14-day free trial and within an hour, I'd signed up."
One screen, increased profits
In his first couple of years, Terry was working 90-hour weeks, and he estimates 30 of those were taken up with paperwork – almost a full-time job in itself. He's now down to 2 hrs max a day on book work.
He couldn't see whether his business was making a profit. At times, he would question why he was putting himself through the pain. Terry now chooses the hours he wants to work – no more working on weekends – and that's because he has a more efficient way of managing his entire business – all on one screen.
"I'm pretty tech-savvy, but the best thing about Tradify is its simplicity. The layout, the support, everything about it. I'd mostly sorted it within the first hour of using it."
Simplicity has been the key to Terry achieving twice as much in one day and his profit increasing, even though he's trying to take on less work so he can focus on his passion project – building a motorhome.
"This business was meant to be my semi-retirement but its booming," Terry laughs.
Quotes and invoices take minutes not hours
What used to take Terry hours can now be done with the click of a few buttons.
He uses Tradify's 'Kits' feature to speed up the quoting process by making it easy to group material, labour and miscellaneous costs by job or customer. For his regular customers, he uses quote templates that are pre-populated with the relevant information and pricing.
Terry would often second-guess how much he was charging. He's now more confident than ever in his pricing because he always has everything in front of him, and it's easy to import supplier price lists.
"I can quote a full kitchen renovation in under half an hour. I open my kits, go through my list, change quantities, and done."
Tradify also syncs well with Xero, meaning Terry's wife can still manage his invoices through their accounting software.
Easy enquiries – keeping track of 40 new jobs
Terry has a couple of regular customers who can send him up to 40 jobs a week. The enquiry form makes it easier for him to manage them all.
Beforehand, those customers would send Terry a repair and maintenance form for each job by email. Now, they can fill out his web enquiry form which he's pre-loaded with their details, and the information goes straight into Tradify – without him having to download anything.
"All they need to do is put the house number (three-digit code) on the form so I know which site and house the job is for, and then I can create a job under the main customer, and schedule it. All the notes are downloaded – all the information is there."
It also helps him keep track of any new enquiries. People would often text him job information, which he'd have to transfer from his phone to his system. Now all he does is send them a link to his enquiry form.
"If I get customers ringing me, I've saved a link on my phone, so I copy it and send it to them straight away. The enquiry stays unread until I do something about it."
Using Tradify on the job
Terry used to use a paper job sheet on-site that he'd have to copy into Excel when he got home: "It was a frigging nightmare!" That's all changed – now if he's on a job and needs to add a charge to an invoice, like a new tube of silicone or nails, he can do it on the spot.
"I'll open up Tradify on my phone, type in the product – the search engine on Tradify is amazing, you can spell something wrong and it'll still bring the item up."
Terry says Tradify is the best thing he's done for business
One system to manage enquiries, quotes, invoices and job tracking.
Seamless connection with accounting software.
Mobile-friendly means Terry can add to invoices while on the job.
Kits speed up quoting process for new and regular customers.
New enquiries go straight into Tradify, no one falls through the gaps.
Saves time, makes more money, super-easy to use.
Is Tradify the admin spark your business needs? Check out our 14-day free trial or jump on one of our 30-min live demo webinars to see Tradify in action.
---