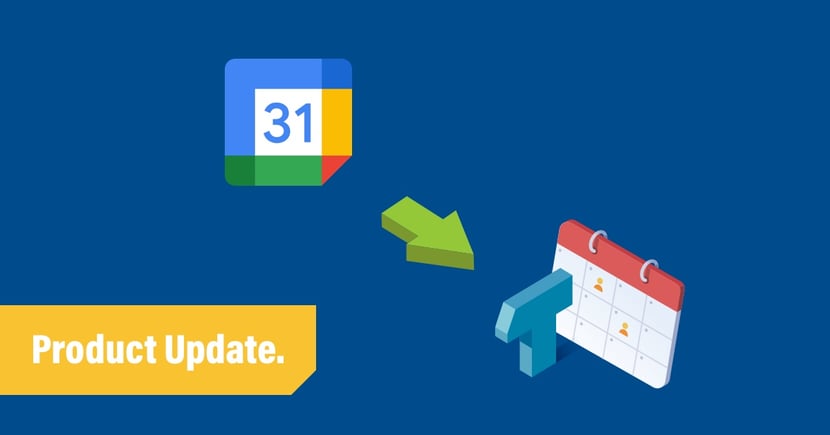 Book jobs simply and easily with complete oversight across all appointments. Connecting Google Calendar to Tradify allows you to view external events directly in the Scheduler. By connecting staff calendars, you'll also be able to check your employees' availability based on their individual appointments. Privacy settings allow you to specify the level of detail that Tradify pulls through, so appointments can just show as 'Busy', rather than 'Out Fishing'.
Schedule jobs with more confidence than ever and save time by avoiding calendar clashes. Let's get started with Tradify's calendar management.
How to connect Google Calendar
Connecting your Google Calendar to Tradify is easy. Follow the steps below and if you have any trouble, feel free to get in touch with our friendly support team.
Log in to Tradify and open your Staff Member Information screen by clicking on the company name at the top of the main navigation.
When the popup opens, click on the 'Connect Google Calendar' button.
If you haven't already, you'll be asked to log in to your email account. Log in to the Google account associated with the Calendar you'd like to see displayed in Tradify.
You'll then need to allow permission for Tradify to connect with your Google account.
Once permissions are allowed, your Staff Member Information popup will refresh and you'll then see new under External Calendars.
Change privacy settings
When sharing external appointments in Tradify, you might not want other users to see every single detail. Fair enough! To change what external appointment information is shown to other company users, first open your Staff Member Information screen by clicking on the company name at the top of the main navigation.
In the popup, under 'External Calendars' you'll see the 'Visibility To Others' dropdown. Click it to see your options. You can choose to:
Show all appointment details.
Have all your external appointments show as 'Busy'.
Once you have connected your Google Calendar to Tradify, you will also be able to:
Change which Google Calendar shows in the Scheduler.
Check which staff members have connected their Google Calendar to Tradify.
Easily toggle between hiding or showing Google Calendar appointments in the Scheduler.

Tradify has been designed to help tradespeople manage and run their business in the easiest and most efficient way possible. Being able to view external calendars in the Scheduler is a helpful way to see what's going on at a glance. Avoid double-booking and easily identify gaps in your schedule by connecting your Google Calendar to Tradify today.
For more information on connecting Google Calendar to Tradify, check out our help article.
Not using Tradify yet? Start your free 14 day trial.
---