Automated job management means no job is ever missed
When James Whelan and his business partner moved to the Isle of Wight, they expected to find new employment quickly. Turns out, there wasn't as much work as they'd hoped for. Rather than wallowing in self-pity, the hands-on duo put their heads together and decided to start their own business.
WightStream was originally an external cleaning company specialising in residential driveway restorations. After a year, they expanded across the Solent into Hampshire and the South East. Today, the company predominantly works with housing associations and local councils, providing external cleaning services for commercial properties across the South Coast of the UK.
Despite how quickly the business has flourished, this two-man-band does everything themselves, sharing the work and admin load between them. But with more jobs comes more paperwork, and the pair knew they needed a better system for keeping track of their jobs.
"Anybody who runs a business will know it is 24/7. The last thing you want to do is get a phone call from a customer to say that you haven't turned up to a job," James says.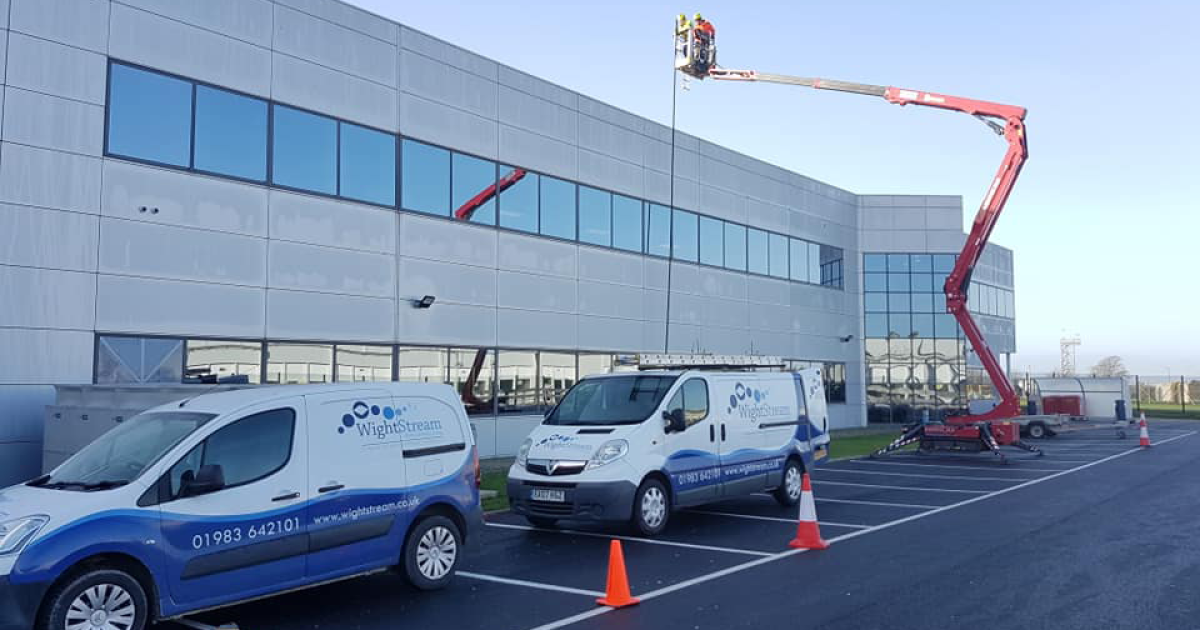 Little jobs all over the place
James has no idea how they managed to keep on top of tracking their jobs before Tradify – "I've blanked it out," he laughs. Their biggest issue was the sheer number of jobs they had all over the place. In a short time, they had a lot more work and a lot more ground to cover.
It was at this point they realised they needed to get their job tracking out of Excel before the lack of control over admin compromised their reputation. It's the worst feeling in the world [missing a job]," James says. "You've let that customer down and they could potentially then tell others that you're not reliable and won't show up."

New system compatible and cost effective
James says they'd been looking at job management software for a while, but nothing matched their expectations – until they found Tradify.
Whatever system they used had to adapt to the changing needs of their growing business. But they didn't want to spend ten thousand pounds on a system that wasn't necessary for the scale of their company. Additionally, they required a system that was compatible with their trade and still cost-effective for a small business.
"Tradify fits us perfectly – we're able to do all the work we need to do with the system."
Running a tight ship with easy scheduling
The duo mostly uses Tradify to book in jobs and plan their week.
Previously they used a journal to write down each job, the address and when it was scheduled. They'd also send themselves an email with the same details. James says they knew they had a certain number of jobs to do, but they would waste precious time scrolling through their emails to find the information they needed.
"I can just load a job up and not have to think about it again until I'm there – it's done and dusted. It saves a lot of thinking time."
Now, using the scheduler function, they can plan visits to multiple properties or customers in real-time. They're confident that they won't miss a job or accidentally make a double-booking. They've noticed other improvements too. With maps, they plot the most direct route to the next job, so they don't waste time travelling between jobs.

Streamlined admin processes, better customer service
By integrating all their paperwork into a single, cloud-based app, the guys can access everything they need to know about any one of their jobs at the touch of a button. James doesn't have to remember addresses or search through emails to find them.
"If I need to bring up a job for some reason, it's there on hand with a job number"
Using job numbers has significantly cut admin time. They use the same number for their risk assessments and method statements, and all these compliance documents get logged in Tradify under the corresponding job.
Working with social housing, this has helped them stay on top of everything their clients need in terms of compliance. If there are any issues, they can leave a note in Tradify for future reference.
Second business, same great results
James was so impressed with the app that when he started a second business in pest control he knew immediately he needed Tradify for that venture too.
"Pest control is a little different because each job requires multiple visits, and Tradify works brilliantly with the repeat visits," James says.
To any tradies still using a paper-based system, "I would say to that person, 'You're a nutter'," James laughs.
"Save yourself some time, get organised and before you know it, you'll be wondering how you ever managed to run things in the first place without Tradify."
James says Tradify worth every single penny
All key job info is accessible in one place.
Electronic records make tracking job progress simple.
No-fuss scheduling means no job is ever missed.
Less guesswork saves time, which means more time to make money.
Streamlined admin helps with customer service.
Pick and choose functionalities to suit business needs.
Find WightStream External Cleaning and follow their latest updates on their Website, Facebook and Instagram.
Interested in giving Tradify a go?
Start a 14-day Free Trial. No credit card required. No pressure. Or jump on one of our weekly live demos to see Tradify in action.
---