Get your life back
Find out how Tradify can save you time and reduce the stress of running a business.
Invoices, quotes & estimates made easy
Add your logo, brand colours, and company information.
Create templated documents for similar jobs and groups of materials.
Use automated reminders to win jobs and get paid faster.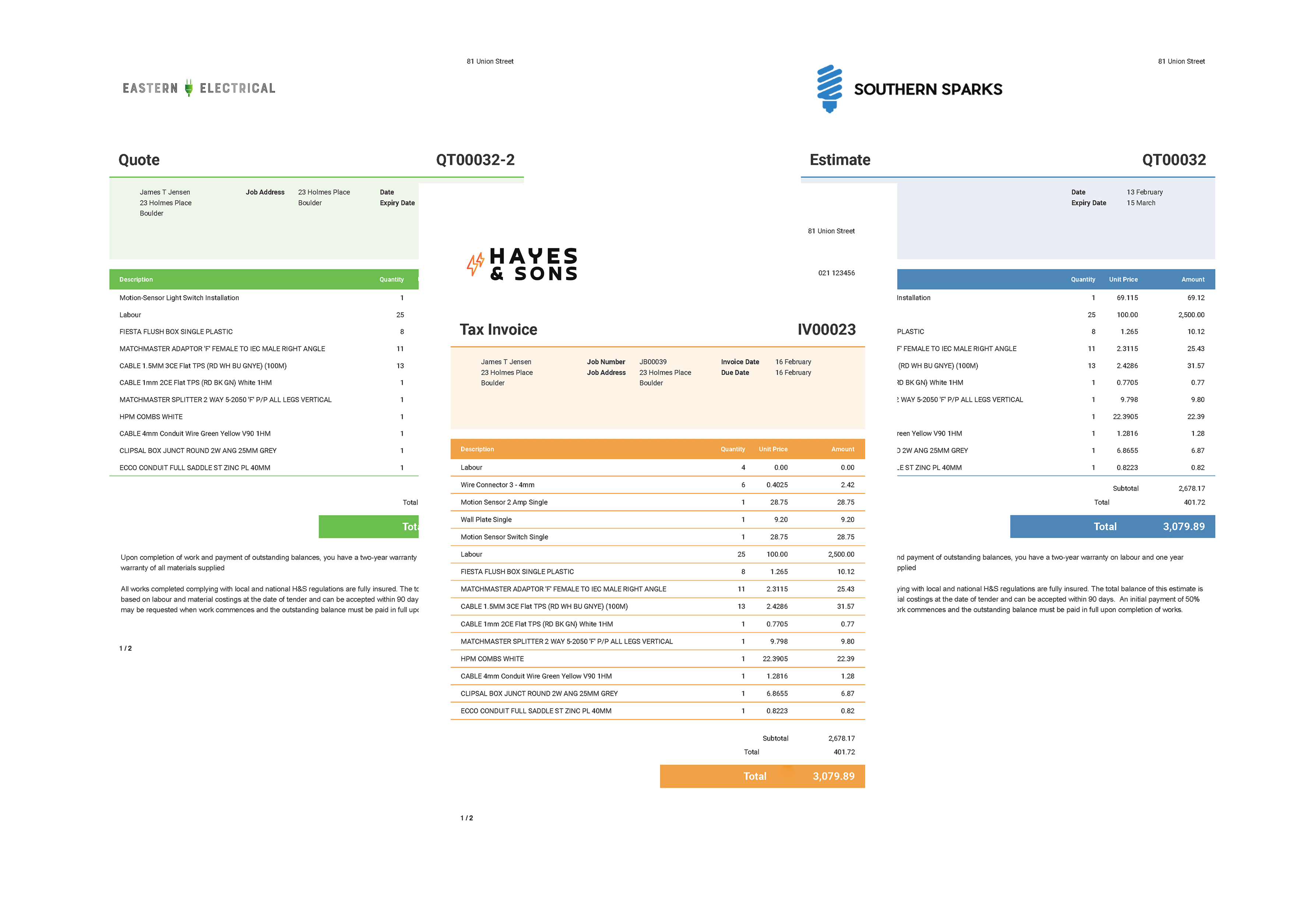 HVAC software for your small business
Quote, schedule, manage jobs, and issue invoices — faster than ever before. Feature-rich cloud software for your HVAC company.
Take it from the experts - Tradify customers
Try Tradify for free.
Instant access for 14 days.
No obligation, no credit card required.
"Our business literally doubled in the past two years and Tradify is a big part of that."
Brad Kuhlmey
Say goodbye to double-entry
Tradify works seamlessly with Xero, MYOB, and QuickBooks Online accounting systems.
Tradify talks to your favourite accounting software:
Questions about using Tradify HVAC software for your small business?
How much does Tradify cost per user?
Tradify costs per user, per month. You can also talk to us about team pricing options or find more details on our Pricing Page.
Tradify is a powerful job management platform on desktop, and can also be downloaded as an app on your iPhone, iPad, or Android mobile device. Start your free 14-day trial today!
Am I locked into an HVAC software contract?
Nope, we keep things simple by following a month-to-month payment model. No contracts, no commitments, cancel anytime.
How will Tradify help with faster invoice payment?
Tradify's software solution for HVAC services includes customer management features designed to help your trade business get paid faster. Start by adding automated payment reminders to reduce admin around unpaid invoices. Tradify also includes a feature to help you see if your customer has viewed your invoice as well as offers people the ability to pay invoices securely online.
Create more professional invoices with Tradify.
What kind of customisation can I add to invoices?
Tradify's cloud-based solution allows for seamless invoice creation, including custom document themes, logos, contact details, alignment, and itemised vs summary. Just choose which document theme to use as you're doing the invoice. Basic invoicing, and even progress invoicing, is a breeze with Tradify's invoicing software.
What kind of HVAC scheduling capabilities does Tradify offer?
Tradify offers user-friendly scheduling to help your HVAC business reduce scheduling errors and run like clockwork. Advanced time tracking functionality allows staff to generate digital timesheets. Learn more about job scheduling.
Can I email my customers the appointment details?
Yes, our cloud-based solution means you can email the appointment details for a job directly to your clients. Online booking is easy with Tradify. Avoid double booking jobs ever again!
Will my staff get notified if I schedule an appointment for them?
Your staff will get notified as soon as an appointment is scheduled for them. Communication is easy as they will receive notifications via the mobile app and directly to their email inbox. Delegate tasks, keep track of task assignments, and track daily tasks with Tradify.
Can my staff enter their timesheets on the mobile app?
Yes, your staff can record their timesheets on the mobile app. Find out about our other helpful features for staff in your free trial.
Can I set up and save pricing lists?
Yes. Tradify 's HVAC business software allows you to not only create your own price list, but also import your supplier's price list into the system. In order to import the price list it must be a CSV file. This helps speed up the process of creating quotes.
Can my customers accept quotes online?
Tradify's quoting tool allows customers to accept quotes online straight from the email you send them. They will have the ability to accept and comment on the quote online. Once accepted you will receive an email to inform you that the quote has been accepted. Customer communication is easy with Tradify.
Can I set up quote templates?
One of Tradify's key features allows you to set up quote templates and help speed up your quoting process.

You can add a preloaded description and line items to your templates, to save you re-entering information. These can be edited and personalised for each quote.
Take your business operations to the next level!
Can Tradify be used as real-time field service software?
Yes, the business owner can manage staff and contractor schedules through Tradify. With support for staff and subcontractors, Tradify is your simple field management solution to help you complete projects on time. Make trade business processes a breeze with our contractor software for HVAC specialists.
Does Tradify offer automated real-time reporting?
Yes, all billable hours will be recorded against a particular job. We don't like complicated reporting tools, but you can still easily see how long your staff are spending on each job, and how much it is costing your business. You can also produce timesheet reports for particular jobs and generate job service reports to keep an eye on your business margins.
Does Tradify have accounting software integrations?
Yes, Tradify's accounting solution has MYOB and Quickbooks integration, as well as 2-way sync with Xero. Take your business to new heights with our cloud-based field service management solution and accounting features!
Does Tradify offer any business marketing features?
Yes! Tradify offers the popular Instant Website feature.
Easily create a beautiful, affordable, and professional website in minutes. We can automatically pull your business details from Tradify into a shiny new website.
Attract more customers and pull jobs straight from your website into Tradify — the HVAC business management software for you.
Does Tradify offer free customer service, support, or training?
Yes, our Tradify Experts will guide you through the setup of your account, train you on the core features of the app, and answer any of your questions.