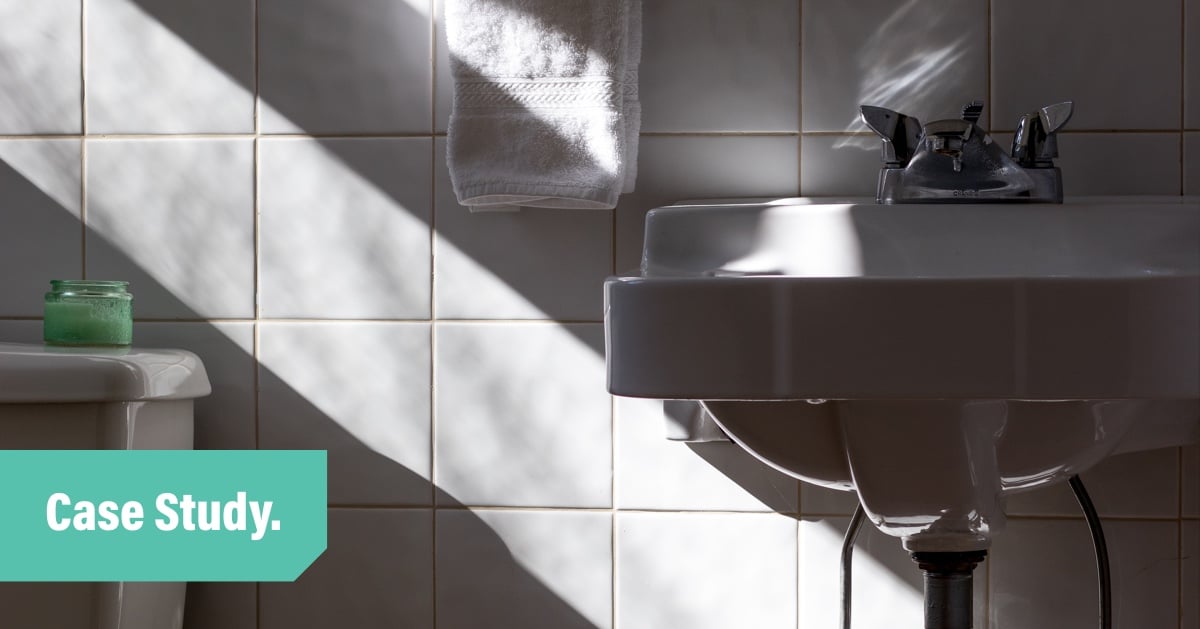 Ben Dawes Plumbing specialises in residential plumbing service and maintenance. Ben and his small team of 2-3 employees and subcontractors service their local area of Manly, New South Wales. When Ben first started working with Elevate, an accounting firm specialising in trade businesses, the day-to-day running of his business looked a lot different from the way it does now. Think paper – lots of it – and the stress that comes with that.
Owner Ben Dawes says the manual approach made life difficult, to say the least.
"I was used to the manual system. I had been doing it that way for years, and it's how I was taught, years ago. But as the business grew, and the more guys and vans I had to manage, the pain of the manual system intensified, I think exponentially, so any growth in the business didn't feel like it was worth that increased pain and stress of the extra load of paperwork. It really restricted my enthusiasm to grow the business."
Ryan Addinsall, Elevate's founder, says that had a very real impact on the business.
"Ben was spending so much time doing the book work and chasing his tail, he couldn't do any growing," he says.
Filing job cards under V for "van seat cushion"
Manual job cards have their place – but often that place ends up being the back of a van or tucked into the glove box.
"Things would fall through the cracks, quite literally," says Ryan.
It meant that before he could even start on invoicing, Ben would have to physically collect up all the job cards – from wherever they'd been 'filed'.
"Because we would mostly be filling in the manual job cards between and after jobs, when we would have an especially busy day or week, it was always the first thing to get neglected."
"We would be rushing to a client's emergency burst pipe, and quickly scribble down the last job's outcome, and materials used etc onto the job card, and then stash it in the van (somewhere) to be reviewed that night to draft up invoices. When you're in a rush and it's pissing down rain, it's not easy to read what was jotted down at the time when you're looking at it later that night. It's easy to forget some materials used on that job, so you can undercharge, and some ended up lost in the van forever!"
Out of his head, into Tradify
Job scheduling – or lack thereof – also made things tricky.
"The day's schedule was always very clear in Ben's head, but with a handful of employees and subbies, scheduling their day and making adjustments as the day went on was all very ad hoc and manual, taking up a lot of Ben's time in the mornings, on the phone just sorting out where everyone is supposed to be" explains Ryan.
That made it difficult to give clients a clear idea of where they'd be and when, and left way too much room for errors and inefficiencies.
"Too often we would have changes pop up throughout the day - a client was no longer available to open their property at a certain time, or we were waiting on materials to finalise a job, which meant that we had to shuffle and reschedule jobs for the arvo. It would require a series of phone calls and text messages to update the schedule, and every now and then that system would break down. We would turn up to jobs that we couldn't complete, make a few calls, and then have to drive back to the new job, wasting time and losing money. With Tradify, we can just update the system, it syncs and everyone knows what job's next and we can change that anytime without any dramas."
Easy scheduling with Tradify has made things more efficient. Ben can now schedule jobs ahead of time so all team members know where they need to be and when – no more 7am meetings, no more clients left in the lurch.
"It's pretty much all automated. Ben gets a work order and schedules in the right tradespeople. The jobs are all tracked and recorded automatically," says Ryan.
Getting his nights back
Now all of the manual stuff is handled in Tradify. The automation alone has given Ben a chunk of time back. Instead of spending nights and weekends putting together quotes, and working out what needs to go on which invoice, Ben can focus on things he'd rather be doing – like heading out for a surf, surfboat rowing, or spending time with his wife and 3 young boys.
"The time it's given back to me has been unbelievable. Instead of getting home from being on the tools all day, and spending another 2-3 hours catching up on invoicing, that work's almost all already been done on the iPad throughout the day. I can then spend quality time with the family before the kids go to bed, and I can actually get some sleep myself. I don't have to stay up till all hours getting paperwork done."
Invoices out, money in
Team members use the Tradify app on their phones to start and stop timers for each job. Then, when they finish, it's all finalised in the system before they head to the next job. They can add notes and photos about the jobs, which takes a massive load off Ben's shoulders. At the end of every day, Ben logs on, goes through the jobs and flicks invoices out.
"Our ability to get jobs invoiced with complete accuracy in terms of hours and materials has improved greatly, but what our clients and accountant like the most, is the improvement in the speed with which we can invoice the jobs now. It has led to far less queries and questioning of invoices from clients that cannot remember exact details of the job due to the time lag between job completion and receiving the invoice, and has improved cash flow through reduced WIP (jobs done but yet to be invoiced), faster collecting, and reduced bad debts."
Faster, tidier invoicing means Ben gets paid faster and has to chase people less often, so he can spend more time on the tools, and on growing his business.
Having that automated information trail for each job also saves him time and money if there's ever a problem that crops up later.
"Even though client questions have reduced a lot since we made the change, if a client does question a job, or there's a misunderstanding about what was done, the ability to take and save photos and add notes has really improved our resolution process. We had a few instances recently where we had tenants of a client dispute that something we fixed was ever broken, but fortunately we had before and after photos captured of the job, saved in Tradify, so we could easily prove our position without getting into a lengthy back and forth".
Reports that grow the business
Using data from Tradify, Ryan's team can deliver Ben business reporting that has real practical benefits.
"We can investigate areas where he can improve. We just didn't have the data before – it was hidden on cardboard," says Ryan.
For example, if a staff member is charging out 30 hours a week to clients, but posting 40 hours on Payroll, Ryan can pick that up quickly.
"Before, it could go a long time before we got to the bottom of any inefficiencies like this, if ever," explains Ryan.
Making more, doing less
Ryan says Tradify is his preferred tool because it connects the dots for his clients.
"Our clients find bookkeeping and accounting is the first major difference between being a great tradesperson and a great business owner. Tradify works well with that," he explains.
While for his clients the difference they see is about getting their nights (and fishing weekends) back, Ryan can see what that looks like in hard numbers.
"Once our clients get used to it, which doesn't take long, you see instant productivity gains. There are far less data-entry errors so they're charging customers the full rate – for Ben, we're seeing increasing dollar amounts," says Ryan
All that means the same amount of work, but more money – win.
"I love my work, and I love my clients, but admin and paperwork have always been that necessary evil of running your own business. Tradify has reduced that burden significantly, and has had a real tangible positive effect on my business, and on my personal life as a result."
Ben and Ryan give Tradify quadruple thumbs up
Getting paid faster – and billing more – with more accurate job tracking and invoicing
Fast, easy quoting takes admin pain away
Access to valuable business data sets the scene for growth
Up and running almost instantly
Paperwork and manual processes almost totally gone
Job notes save unnecessary do-overs
Set yourself free, for free!
Curious about how Tradify can improve your trade business's processes? Check out our 14-day free trial or jump on one of our 30-min live demo webinars to see Tradify in action.
Try our FREE Charge-Out Rate Calculator
When was the last time you reviewed your charge-out rate? Use our Charge-Out Rate Calculator to check your charge-out rate will cover your annual overheads while also hitting your income goals.
---