There's a rule of thumb when it comes to purchasing any kind of product. If you're going to use it every day, buy the best quality you can afford. For electricians, this might be your tool belt. If you're doing different kinds of jobs every day and using different electrical tools, your tool belt might be the one thing you use most consistently.
Running your own electrical business? Download our free business plan template and prepare yourself for success.
Do I need suspenders for my electrical tool belt?
If you're planning on wearing your tool belt every day, make sure to use suspenders, shoulder straps, or other compatible suspension systems. One thing all veteran electricians agree on is that you can't put a price on your health. While you might not notice the strain on your back in your first few weeks or months as an apprentice, over time you will eventually wear yourself out.
Save yourself the time and money spent on doctor's visits, physio, and sick days by avoiding injury. As an electrician, you rely on being physically able to work. Don't put your livelihood at risk by ignoring health & safety. Prevention is always better than a cure — save your spine with suspenders!
Below you'll find six of the best tool belts for electricians:
Recommended by all good electricians and other tradespeople around the world, Occidental Leather manufacture some of the best belts and tool pouches you can buy. They're renowned for their high-quality construction and longevity, outlasting every other tool belt on the market. Buy Occidental Leather and you won't be disappointed!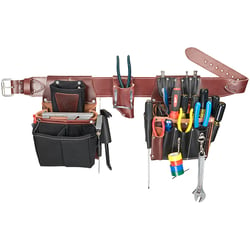 Pros:
High-quality long-lasting nylon and leather construction.
Hand-specific, adjustable tool holders.
Cons:
Pricey (but worth it!).
Leather will need time to break in.
Comfortable and light, the Gatorback is everything an electrician needs. Ample pockets allow for plenty of storage and quality materials provide the required durability. Tape measure and hammer holders come standard.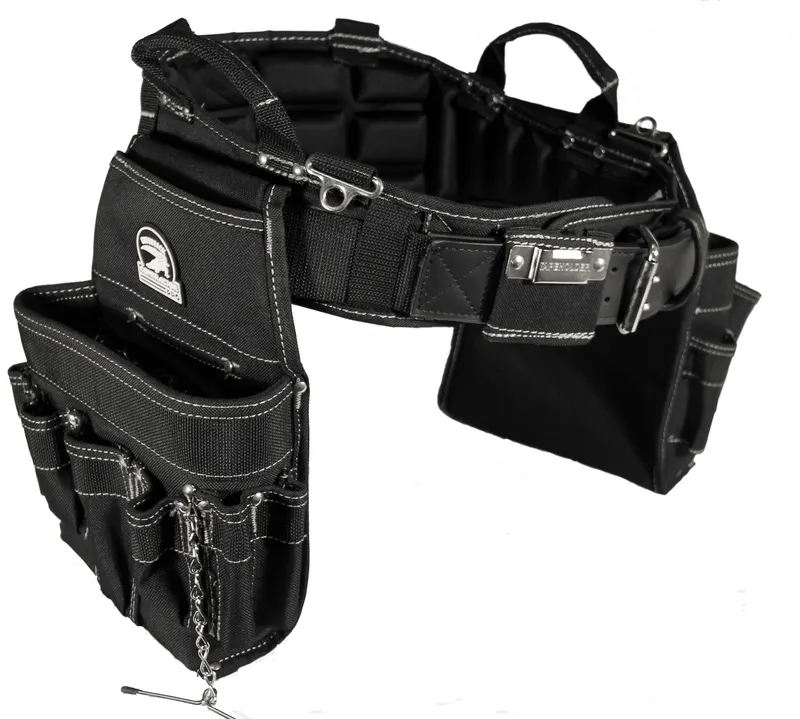 Pros:
Very comfortable and easily adjustable, according to reviews.
Large storage capacity.
Cons:
The Hammer clip location at the back might not be ideal for some.
May find some pockets too shallow for longer tools.
Looking for something a little more lightweight and compact? This ToughBuilt pouch might be the perfect fit. Featuring 21 pockets and loops, you'll have plenty of space for your tools. As the brand name suggests, this pouch has been constructed with rugged materials and is built to last.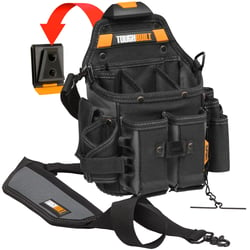 Pros:
Stand included for staying upright when placed on the ground.
Belt clip for ease of use.
Cons:
No carry handle.
Interchangeable pouch clip system may be vulnerable to wear.
This tool belt from CLC is the big daddy of tool belts. If you need to carry a large number of tools, you can't beat this one for size. Carry handles and a dedicated cordless drill pocket add extra convenience. Also includes a tape strap, tool snap, and metal hammer holder.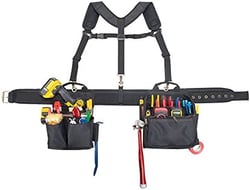 Pros:
Included suspenders.
One zippered pouch.
Cons:
May be too big for some electricians.
Bulkiness may restrict movement.
Despite not being made of leather, the Rack-A-Tiers tool belt is built to last. With a bunch of pockets to hold all your gear, you won't be left at a loss for space. "Super comfortable" according to reviews, with a tape measure holder and flashlight loop.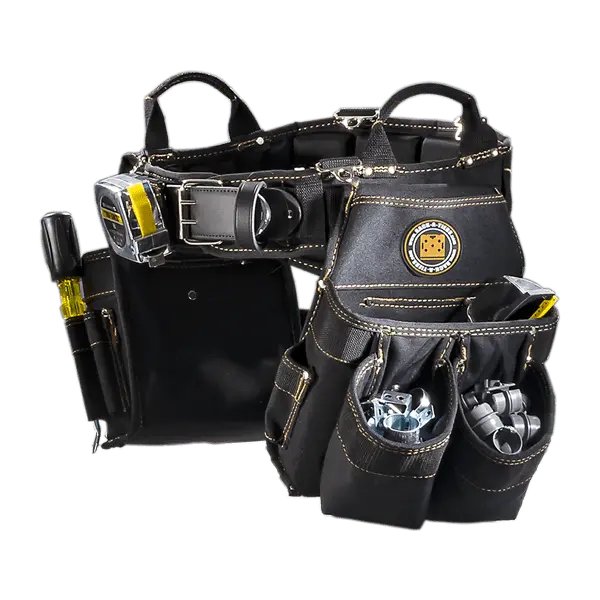 Pros:
Double-layered DuraTek fabric construction and reinforced stitching.
Double metal buckles.
Cons:
Velcro may not last.
Smaller sizing may not suit larger electricians.
6. Fasten your tool belts -
Tradify
The right toolbelt can be an electrician's greatest assistant. It keeps your tools organised, supports your work throughout the day, and can save you time going back and forth to the van. Once you've got your tool belt, you'll also want to make sure you have the best electrical tools to go with it.
Looking for the perfect product to run your electrical business? Sign up for a 14-day free trial of Tradify, it's trusted by tens of thousands of tradespeople. Or pop over to one of our live walkthrough webinars to see the electrical job management app in action!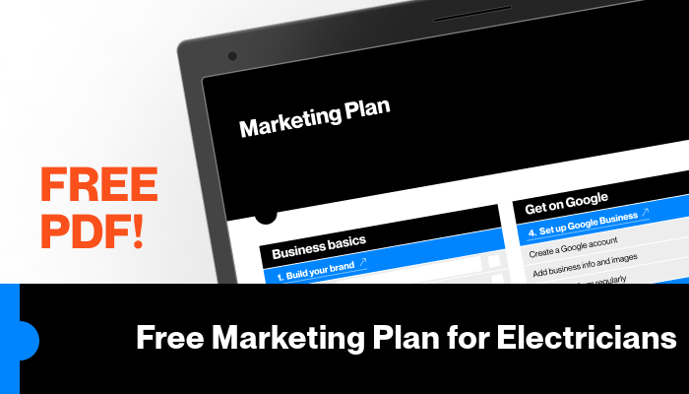 ---