Whether you're a seasoned professional or just getting started, business insurance can seem like a complicated product and another admin task that gets in the way of you doing what you do best.
Understanding what your business needs covered, how much to spend, and where you go about getting it, doesn't need to be a headache. This comprehensive guide will explain all you need to know about getting your business insured whether you are an independent tradesperson or larger trade business owner.
Want to get a handle on your finances? Try downloading our free Cash Flow Forecast Template!
Jump ahead:
1. The importance of insurance for small businesses
As a business owner or sole trader you're responsible for ensuring your business has the right insurance in place. In some cases insurance can be a legal requirement, in others it may be a contractual obligation. What's always true is that having the right cover will protect your business should you need to make a claim, or have a claim made against you.
The importance of business insurance is best summarised by asking yourself this question:
Could you afford the cost of a claim against your business?
Depending on the complexity of your business and the services it offers, getting covered can be a quick and easy process — and worth getting done. Many sole-operators or small businesses could not afford the potential financial loss arising from a claim without having the right cover in place.
2. Why you need business insurance
There are three main reasons you should consider getting business insurance in place.
The cost of any potential claim will most likely outweigh the cost of purchasing insurance.
If you have staff, insurance is a legal requirement and you could be fined if you don't have it in place, with a certificate to prove it.
Trade associations and clients often require adequate insurance to enter into a relationship with your business.
3. What insurance do tradespeople need?
Your trade will impact the cover you require and how much you'll expect to pay. Riskier trades typically pay more for their cover as the likelihood of a claim is estimated to be higher. If you have expensive tools to insure this may also impact your premium.
There are many types of cover to consider. To ensure you get the right cover for your needs, we've summarised the insurances most relevant to tradespeople below.
Public liability insurance
This is the most common cover for businesses whose operations involve contact with members of the public (as many trades do). The product is designed to cover any claims made against you for injury or property damage as a direct result of your work.
As an experienced tradesperson, you'll likely have no problem operating your tools and working on a building site that throws up a few obstacles. But this certainly isn't the case for members of the public, for whom your tools and work may present a number of dangers.
You may even find that some clients expect that you have public liability as a requirement to enter into a contract with you. In addition, trade associations often require it as a prerequisite to membership.
Employers liability insurance
If you hire any employees at all, including apprentices, part-time, or even temporary workers, employers' liability insurance becomes a legal requirement for tradespeople in the UK. In addition to getting covered you'll need to make sure you have an employers' liability insurance certificate as proof. Not having your certificate, not being able to produce it when prompted can result in a fine of up to £2,500 per day for each uninsured day.
It's important to look out for your cover limit with liability policies. You should review your policy whenever you hire new staff to make sure they are registered and if you are likely to hire lots of short term workers or apprentices you may also want to look out for covers that include a set level of days' cover for temporary employees, who do not need to be registered.
Contract works cover
Contract works cover is there for when things don't go to plan. This cover insures you for things like fire, theft, water damage, wind damage, and accidental mishaps that occur while on a job. Again, it's important to make sure your cover limits are adequate. Cover up to £500,000 is usually sufficient.
Tools & equipment insurance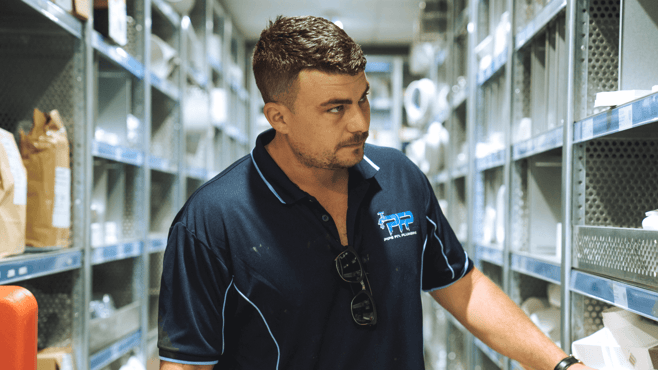 One of the biggest concerns for tradespeople is taking care of the tools that allow you to do your job, with tool theft being one of the key considerations for getting insured. Tool and equipment cover takes care of damaged, lost or stolen specialist equipment which can be expensive and difficult to replace. Check out 10 Tips to Keep Your Tools Safe from Theft.
When buying tool and equipment cover you should look out for:
Cover limits for portable tools and equipment, ensuring the maximum value is sufficient to cover your equipment. Often there will be a value limit per item so that's important to check.
If you own construction plant and machinery it's important to check the limit adequately covers your stock and be sure to keep everything in a securely locked building or compound when not in use.
Cover for tools stored in vehicles overnight is often an additional purchase so this is important to check.
If you purchase new tools or equipment it's worth reviewing your policy to make sure they're covered under your policy.
Stock cover insurance
In addition to tools and equipment, you can't get a job done without the right materials either. Stock cover is there to protect building materials such as wood, paint, tiles, etc.
Again you should look out for the cover limits to ensure they are sufficient to cover the stock you hold. In addition, stock should be securely stored at your business premises, or in securely locked conditions elsewhere - even when in transit - to ensure your cover isn't invalidated if a claim is made.
Personal accident insurance
Working in a trade often involves physical demands and manual labour. Unfortunately that means if you get injured, you may find yourself unable to work in the same capacity for some time - perhaps even permanently. Personal accident cover can provide a cash benefit if this happens.
Other covers such as cyber liability
Depending on your trade there may be other covers that are worth considering. Whilst the need to take out cyber insurance may not seem immediately apparent, if you deal with any customer data online or rely on computer systems to do your job, cyber liability could be a sensible investment.
4. How much cover do trades need?
How much cover you need and in turn, the cost of your cover, will vary depending on the work you carry out.
Generally the higher the risk, the more expensive the premium. Jobs that could more easily cause harm to the public, or tools of high value, present more risk and represent a bigger potential payout in the event of a claim.
It's best to speak with an authorised business insurance broker to find the best cover for your specific situation.
5. How do you get covered?
There are many different ways to purchase your cover including purchasing directly via an insurer, more broadly via a comparison site, or via a broker or financial advisor. Cover may also be provided as part of another service such as a business bank account.
What's important is to do your research and make sure your cover is fit for purpose and tailored to the unique needs of your business. This may also be more cost effective as you'll only be purchasing what you need. In addition, the flexibility of being able to update your policy online as your business grows or changes will make the associated admin a lot easier.
Once you're covered it's important that you review your policy regularly. Make sure you're always appropriately covered should you need to make a claim at any point.
This article was written in partnership with our friends at Superscript. Superscript offers flexible, affordable business insurance for tradespeople as a monthly subscription.
---