When you first started your trade business it was likely just you, your tools and your favourite radio station to keep you company. As you take on more jobs, you might find yourself needing more staff. Becoming a fully-fledged small business means there's a lot on your plate, but there's something that should take priority above everything else: health & safety.
The most effective way to manage risk in the workplace is for all tradies to get involved in proactive health & safety. To make things easier for you, we've put together a one-page H&S survey that you can get your team to fill out. Find out how effective your current H&S processes are — or if there are gaps that need filling.
Health & Safety requirements in Australia
Work health and safety (WHS) or occupational health and safety (OHS) involves managing risk in the workplace so everyone stays safe. As a trade business owner operating in Australia, you're legally required to meet certain health and safety obligations.
The red tape can get a little overwhelming, but don't panic – we've got you covered. Here's everything you need to know about your health and safety requirements as a small trade business in Australia – and how you can improve your policies and procedures to ensure you meet your duty of care.

Note that health & safety policy requirements may differ by industry and region. Make sure you look into your individual obligations in order to remain compliant and consult a lawyer for legal advice.

Jump ahead:
1. Why health and safety is important
Of course, the most important reason for health and safety is to keep your staff safe on site. But there's more to it than that – it could also save you money and help grow your business. Here's how:
Keep your staff
No one wants to work for someone who doesn't care about their safety and wellbeing. If people know you have your work health and safety down to a T, you're much more likely to attract good staff – and keep them.
Win more work
Large companies have very comprehensive health & safety policies to remain compliant with the law. Often they will only subcontract work to small businesses and sole-operators who have a similar commitment to health & safety.
Save money
Initially, it can take a bit of time to set up your health and safety systems. In the long run, however, it could save you thousands in fines or workers' compensation if someone gets injured due to a lack of preparation on your part. Doing things right from the start saves money long-term.
Build productivity
Staff who feel respected and safe in the workplace have proven to be more engaged at work, more committed to their jobs and perform better overall.
Get peace of mind
With a good health and safety plan in place, you can relax knowing your staff are safe. This gives you more time to focus on other aspects of the business.
2. SafeWork Australia: your health and safety go-to
Safe Work Australia (SWA) is a government statutory body that oversees all health and safety in Australia. Its main responsibility is to improve health and safety agreements in the workplace across the country.
Each state or territory has its own laws, a regulator to enforce them and its own framework to follow. Each must have legislation under these categories:
Act - this outlines broad health and safety responsibilities.
Regulations - specific requirements for certain hazards and risks, such as manual handling, noise, and machinery.
Codes of Practice - outlining information on how business owners can meet the Act and Regulations requirements.
Regulator - each state has its regulator who administers and enforces work health and safety laws, inspects workplaces and provides advice. Some states also have a separate workers' compensation regulator.
3. Legislation by state or territory
Health and safety requirements differ between industry and region. Make sure to check on your local requirements so that you can stay compliant.
New South Wales
Australian Capital Territory
Western Australia
Queensland
South Australia
Tasmania
Victoria
Northern Territory
4. Your obligations as a small trade business owner
Under workplace health and safety law, Australian business owners are responsible for ensuring the health and safety of their workers. As an employer you're legally obligated to:
Provide a safe work environment.
Provide and maintain safe machinery and structures.
Provide safe ways of working.
Ensure safe use, handling and storage of machinery, structures and substances.
Provide and maintain adequate facilities.
Provide any information, training, instruction or supervision needed for safety.
Monitor the health of workers and conditions at the workplace.
5. Creating a health and safety policy for your trade business
A good health and safety policy needs to be regularly reviewed and updated. Note that requirements may differ by industry and region. Be sure to check the legislation most relevant to your business.
Assess – identify the risks and hazards in your business. As a tradie, you'll encounter many potential hazards every day. Get your team to collectively identify the hazards on your job sites using a risk assessment template – then figure out how to manage them.

Think about things like:

Social hazards – overwork, work-related stress, long hours, alcohol at work events, workplace bullying or inadequate breaks. These may be less obvious initially, but they can still affect health and safety.
Physical hazards – lifting heavy objects, moving machinery or people falling from height. As a tradie, these will be your most dangerous hazards.

Learn about the most common injuries for tradespeople.


Environmental hazards – poor lighting, uneven surfaces, exposure to sun, smoking, second-hand smoke or temperatures that are too hot or cold.
Hazardous substances – harsh chemicals or other substances that could cause serious illness or infertility.

Commit – develop a health and safety plan. Once you've established your plan, stick to it. Get your staff involved so they're up to speed with the new guidelines. Your plan will also need to be regularly monitored and improved – ask your team for their continuous input.
Act – make your plan part of your day-to-day business. It's your job to lead by example. Set clear targets to ensure your team are all on the same page and keep a log of health and safety to avoid any confusion. Make sure your policy covers temporary workers, visitors, fixed-term employees and contractors too.
6. Workplace hazards: they're different for every tradie
Identifying health and safety risks in your workplace is one of the steps to compliance. There are numerous trade-specific hazards to think about. The list below should help you get started.
Electricians
Contact with exposed live leads
Electrical equipment coming into contact with metal surfaces
Electric shock or burns
Working close to power lines
Plumbers
Working at height
Exposure to bacteria
Loud noises in surroundings
Gas Engineers
Gas explosions
Repairs following a notable incident
Alteration to an existing installation
Working close to a high-risk area
Working in a building higher than three storeys
HVAC
Electrical hazards
Exposure to harsh chemicals
Exposure to bacteria
Extreme weather conditions
Bricklayers
Insufficient lighting
Slipping or falling
Working at height
Inadequate ventilation
Builders
Working at height
Loud noises in construction
Working with machinery
Working with vehicles
Using sharp tools
7. What to do in a worst-case scenario
Even with the best-laid plans, things can go wrong. There's always going to be risk involved working as a tradie, so all you can do is be prepared. In a worst-case scenario, there are strict SafeWork guidelines you must follow:
You must notify your state regulator of notifiable workplace incidents. A notifiable incident includes:

A serious illness or injury.
A dangerous incident that exposes any person to a serious risk, even if no one has been injured.
The death of a person, whether an employee, contractor or a member of the public who was on site.

If one of the above occurs, you must immediately notify your state regulator. The regulator will request written notification of the incident, which you must supply within 48 hours of the request.
In the event of an incident, the site must be preserved until an inspector arrives or directs otherwise. You must not interfere with the site unless it's to help an injured person or make the site safe.
If there is a life-threatening situation, call 000 immediately. For any concerns or inquires, you should contact your state or territory work health and safety authority.
A huge part of health and safety is being prepared for an accident or emergency in your workplace. Here's more on how to prepare an emergency management plan.
8. Professional help and guidance
There's a lot to wrap your head around when it comes to workplace health and safety. To make sure that doesn't happen, here are some more helpful resources to keep you on the right track:
Protect your staff – and your trade business too
Creating a safe working environment for your staff is a legal requirement under Australian law. Aside from the obvious benefit of keeping everyone safe, reducing illness and injury in your workplace by implementing a strong workplace health and safety plan could eventually save you thousands in worker compensation and fines. But the benefits extend well beyond just the financial too. Good health and safety can improve workplace relationships, increase staff productivity and help you build a great rep for your business too.

Tradify is a job management app made for tradies, by tradies. Book a live walkthrough to see the app in action, or start your free 14-day trial today.
Find out how your staff feel about health & safety by downloading our free Health & Safety Survey Questions!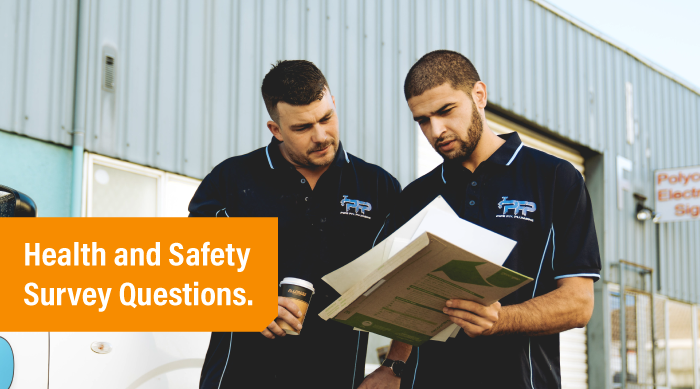 ---