Running your own trade business can be tough. Between managing staff, coordinating jobs and sorting tax, you've got a lot of responsibility. But all of this is wasted energy unless you've got the most important thing sorted: health and safety.
The most effective way to reduce risk in the workplace is to get your whole team involved in proactive health & safety. To make things easier, we've put together a one-page H&S survey that you can get your team to fill out. Find out how effective your current H&S processes are — or if there are gaps that need filling.
UK health & safety requirements
In the UK, construction-related trades are known as the most dangerous industries. Between 2019-2020, 40 construction workers died on the job – that means at least three people were involved in fatal accidents or incidents every month.
Below is everything you need to know about UK health and safety requirements for trade businesses, and what you need to do to get your workplace health and safety sussed. Remember, nobody has to get hurt for an offence to be committed under HSWA — the risk of harm is bad enough.

Paperwork alone does not prove that you're complying with the law. The most important thing is being able to demonstrate that you're doing everything you can to manage and control risk in the workplace. Note that health & safety policy requirements may differ by industry and region. Make sure you look into your individual obligations in order to remain compliant and consult a lawyer for legal advice.

Jump ahead:
1. Why health & safety is important
Ensuring the health and safety of your staff is important for many reasons. Everyone wants to get home safely at the end of the day, but the benefits often stem far beyond just the physical health and safety of your team.
Retain your staff
Safety is security. Businesses who care for their staff are much more likely to attract good workers – and experience lower staff turnover.
Win more work
Large companies have very comprehensive health & safety policies to remain compliant with the law. Often they will only subcontract work to small businesses and sole-operators who have a similar commitment to health & safety.
Build a positive environment
Staff who feel cared for also feel happy and respected in their jobs, which can lead to increased productivity and engagement.
Rest assured you're covered
You don't want the risk of staff injuring themselves hanging over your head. Becoming compliant with health & safety laws gives you confidence that you're covered if the worst does happen.
Keep costs down
If your staff are injured at work, you could face huge, unexpected costs – medical treatment, lost wages or damage to equipment or stock. Proper health & safety protocols will save you money in the long run.
2. Creating a health and safety plan for your trade business
The Health and Safety Executive (HSE) is the UK's primary workplace health and safety regulator, boosting workers' productivity, supporting the economy and contributing to a fairer society. It oversees a range of work health and safety laws to ensure everyone gets home from work safely.
For trade business owners, the HSE acts as a reference guide for all health and safety concerns – and offers free guidance and advice on creating a workplace health and safety plan.
Your health and safety policy
To comply with HSE regulations, you must have a clearly written health and safety policy if you have five or more employees. It's recommended you do this anyway though, even if your team is fewer than five people. Ideally, you'll be compliant before you become liable.
Your HSE policy should clearly state who is responsible for what in your business, when they're responsible and how they should carry out those responsibilities.
Note that paperwork alone does not make your business compliant. Your main priority should be to actively control the risks in the workplace.

Here's a helpful three-step checklist to assess general health and safety in your workplace.
1. Assess – identify the risks and hazards in your business.
Tradespeople encounter many potential hazards every day. You need to identify the hazards on your job sites using a risk assessment template – then figure out how to manage them.
Think about things like:
Social hazards – overwork, work-related stress, long hours, alcohol at work events, workplace bullying or inadequate breaks. These may be less obvious initially, but they can affect health and safety.
Physical hazards – lifting heavy objects, moving machinery or someone falling from height. As a tradesperson, these will be your most dangerous hazards.
Environmental hazards – poor lighting, uneven surfaces, exposure to sun, smoking, second-hand smoke or temperatures that are too hot or cold.
Hazardous substances – harsh chemicals or other substances that could cause serious illness or infertility.
2. Commit – develop a health and safety plan.
Once you've established your plan, stick to it. Get your staff involved so they're up to speed with the new guidelines. Your plan will also need to be regularly monitored and improved – ask your team for their continuous input.
3. Act – make your plan part of your day-to-day business.
As a trade business owner, it's your job to lead by example. Set clear targets to ensure your workers are all on the same page and keep health and safety records to avoid any confusion. Make sure your policy covers temporary workers, visitors, fixed-term employees and contractors too.
If something goes wrong, stick to the plan
You've done the hard work – you've planned for as many scenarios as you can think of and you feel like you've got your health and safety down pat. But even then, things can go wrong. If there's an incident or accident on-site, RIDDOR legislation guides you through what you need to do.
By law, you're required to report and keep records of:
Work-related accidents causing serious injury.
Diagnosed cases of certain industrial diseases.
Dangerous occurrences – incidents with the potential to cause harm.
Work-related accidents causing death.
Only employers, the self-employed and people in control of work premises should submit reports under RIDDOR. There are specific instructions for submitting a RIDDOR report online.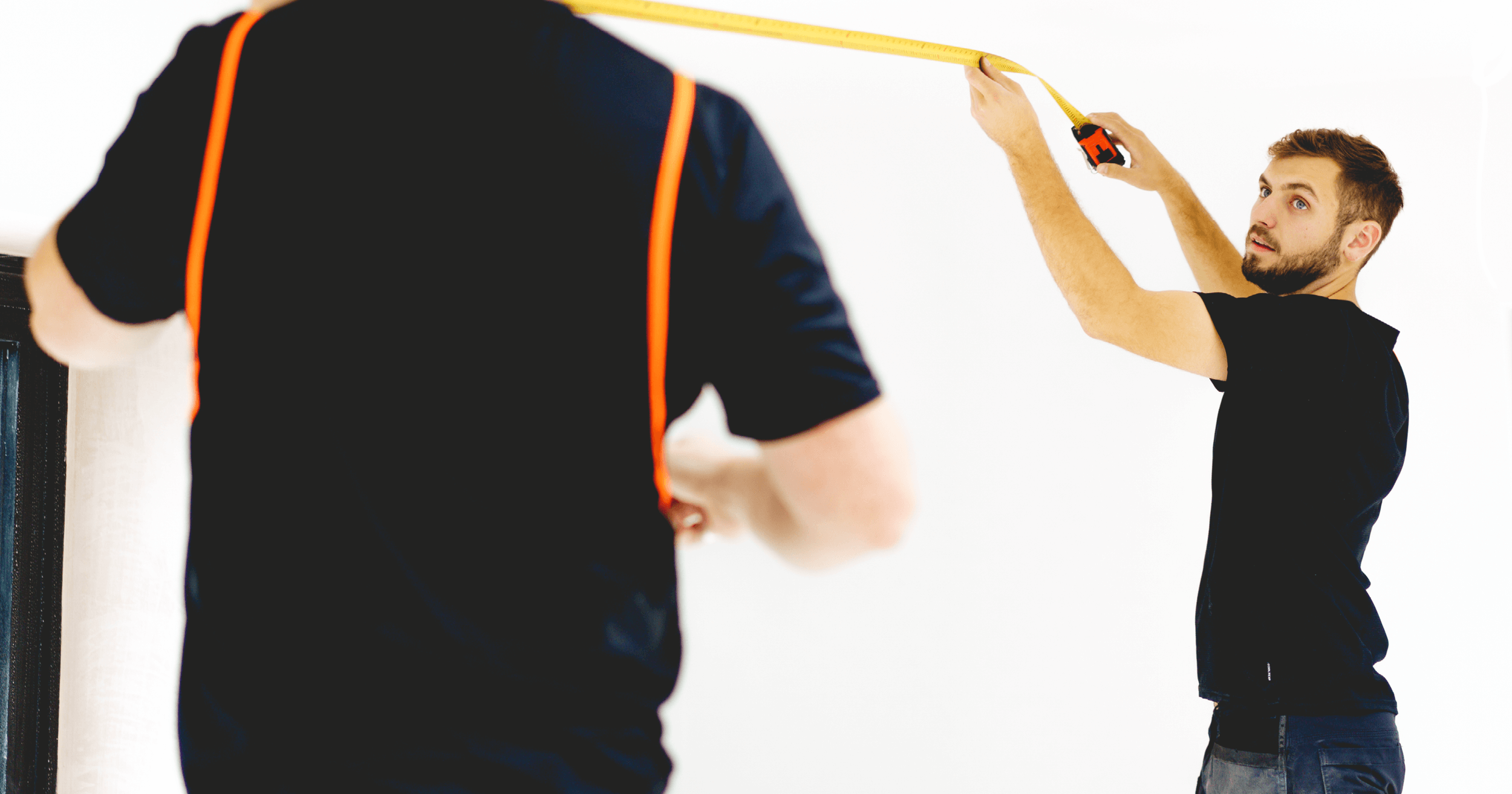 3. Carrying out a risk assessment
Under the Management of Health and Safety at Work Regulations 1999, employers in the UK must carry out regular risk assessments. As a trade business owner, you're required by law to protect your employees, and others, from harm.
The Management of Health and Safety at Work Regulations 1999 state that the minimum you must do is:
Identify what could cause injury or illness in your business (hazards).
Decide how likely it is that someone could be harmed and how seriously (the risk).
Take action to eliminate the hazard, or if this isn't possible, control the risk.
For most small, low-risk businesses, the steps you need to take are straightforward. Remember, however, assessing risk is just one part of an overall health and safety plan for your trade business. Paperwork by itself does not make your business compliant — your main responsibility is to actively control workplace risks to health and safety.
Note that requirements may differ by industry and region. Be sure to check all legislation relevant to your individual business.
Here's what's involved in a risk assessment:
Identifying hazards
Make a list of all the health and safety risks you can think of. Check equipment manufacturer instructions, refer to your accident and ill-health records and think about non-routine operations and long-term hazards to health (such as exposure to noise levels or harmful substances).
Walk the talk
Just doing the paperwork isn't going to cut the mustard – you need to practise what you preach to abide by the law. Your policy alone doesn't prove you're complying with regulations – make sure you're following through with your policy and managing risks to protect your staff.
Complete a risk assessment template
Use a risk assessment template to keep a simple record of your workplace risks, who might be harmed, what you're doing to control those risks, who is responsible, and what action is needed if or when something does go wrong.
Consider who might be harmed
Before starting your risk assessment, identify groups of people to consider. You should take every possible person into account. Don't forget visitors, property owners, contractors or maintenance workers.
Industry-specific risks to watch out for
Not all trades involve the same risks. Make sure you look into your individual obligations in order to remain compliant and consult a lawyer for legal advice. Here are some trade-specific hazards to think about as you inspect your worksites:
Electricians
Contact with exposed live leads.
Electrical equipment coming into contact with metal surfaces.
Electric shock or burns.
Working close to power lines.
Plumbers
Working at height.
Exposure to bacteria.
Loud noises in surroundings.
Gasfitters
Gas explosions.
Repairs following a notable incident.
Alteration to an existing installation.
Working close to a high-risk area.
Working in a building higher than three storeys.
HVAC
Electrocution hazards.
Exposure to harsh chemicals.
Exposure to bacteria.
Extreme weather conditions.
Builders
Working at height.
Loud noises in construction.
Working with machinery.
Working with vehicles.
Using sharp tools.
Bricklayers
Insufficient lighting.
Slipping or falling.
Working at height.
Inadequate ventilation.
Evaluate the risks
While it might not be possible to eliminate it, HSE suggests prevention steps to reduce risk as much as possible:
Try the option with less risk.
Prevent access to any hazards.
Organise work to reduce exposure to any hazards.
Issue protective equipment to your staff.
Provide first aid and washing facilities.
Consult with and involve your staff in health and safety planning.
Record significant information
According to HSE, your documentation should show:
A proper check was made.
You asked who might be affected.
You reduced the threat of any possible hazards.
Precautions were reasonable and the remaining risk is low.
You involved your employees in the process.
Regularly review your risk assessment
As your workplace is constantly changing with new equipment and new job sites, you should regularly check your risk assessment – and refresh it when necessary. Ask yourself these questions:
Have there been any significant changes to your work sites?
Are there improvements you could make?
Have your staff pointed out a problem?
Have there been any recent injuries or incidents – and what can you learn from them?
Once a risk assessment has been done, you must implement any necessary changes. While health and safety is your primary responsibility as a trade business owner, staff take on some responsibility too. Appoint competent people to assist in implementing the changes, organising emergency procedures and providing employees with clear information and training so everyone is on the same page.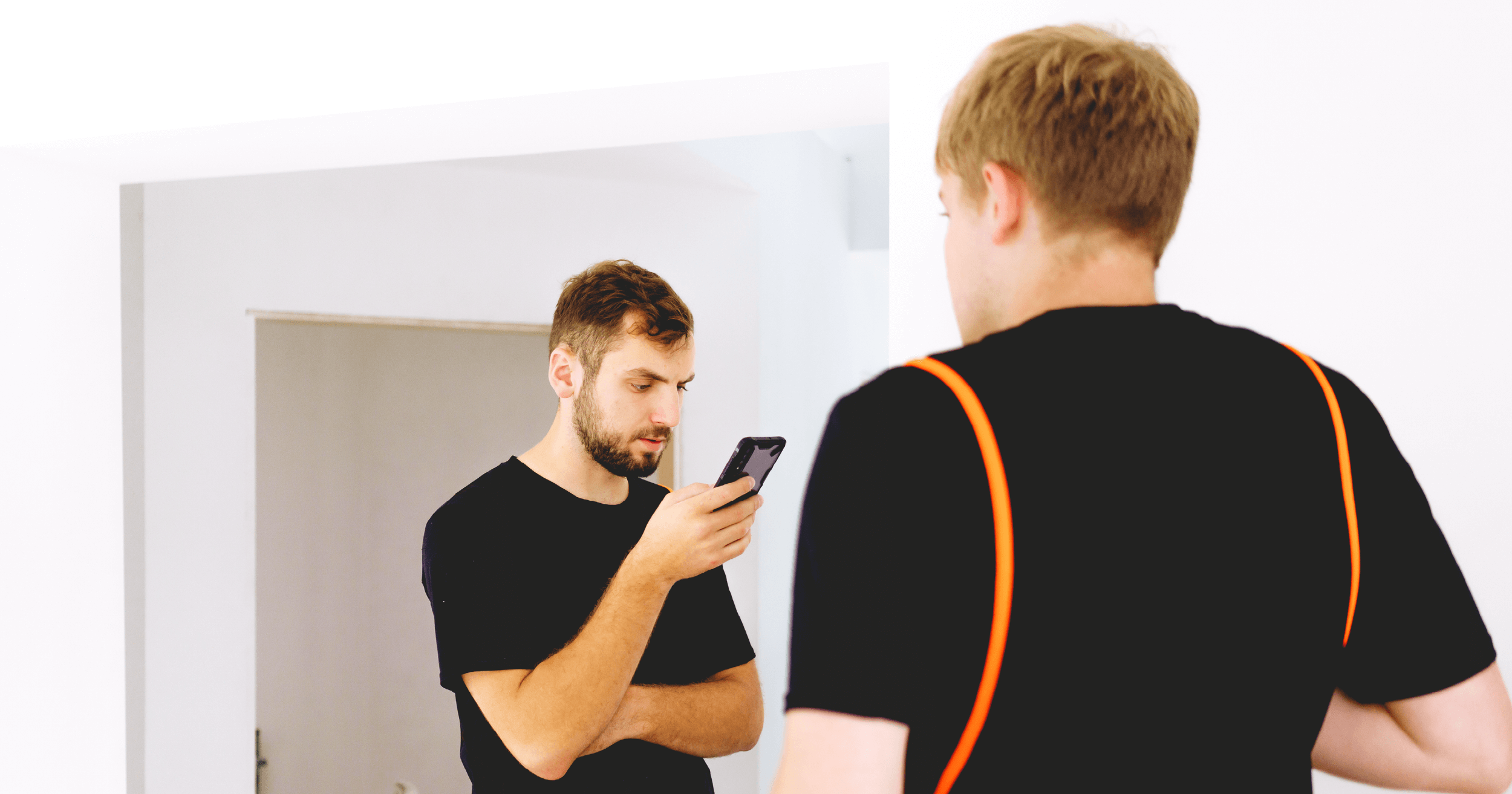 4. Further legislation & guidelines for UK trade business owners
For large businesses or high-risk work environments, detailed guidance is available on the HSE website. You can also find specific requirements for more at-risk industries in the HSE Health & Safety Toolbox.

Some trade-specific requirements:
The Health & Safety at Work Act 1974 (HSWA)
The Health & Safety at Work Act (HSWA) is the UK's primary legislation on health and safety. It outlines an employer's responsibilities towards employees, the public and themselves, such as:
Making a workplace safe.
Keeping dust and fumes to a minimum.
Ensuring machinery and equipment meet safety standards.
Training staff on how to use the equipment safely.
Making staff aware of health and safety policies.
Ensuring the work environment does not pose any health risks e.g. second-hand smoke or stress.
Even if no one has been harmed, any risk of harm is considered to be a committed offence under the HSWA.


Work at Height Regulations 2015 (WAHR)
The Work at Height Regulations were implemented to prevent injury and death caused by a fall from height. They lay out the responsibilities of employers to assess risks, properly plan out work, supervise and ensure the work is carried out with the appropriate equipment – and by a trained and competent person.
The Construction (Design and Management) Regulations 2015 (CDM)
These regulations outline the responsibilities of employers in construction including:
The rules that apply to the whole construction process on all projects – from concept to completion.
What each duty holder must do to ensure projects comply with health and safety laws.
The Building Safety Bill (2020)
Following the Grenfell Tower disaster in 2017, the UK government requested a new building safety regulator to oversee the safe design and construction of high-rise buildings.
The Building Safety Bill serves as a reference on advice for the construction industry, to ensure everyone stays safe – from construction staff to property residents.
Electricity at Work Regulations 1989
The Electricity at Work Regulations protects workers in trade industries from electrical danger. They ensure that electrics are safe in environments where they could be hazardous.
The Provision and Use of Work Equipment Regulations 1992 (PUWER)
The Provision and Use of Work Equipment Regulations ensure that any equipment or machinery provided for use at work is safe to use.
Reporting of Injuries, Diseases and Dangerous Occurrences Regulations 1995 (RIDDOR)
RIDDOR put duties on you as an employer to report any significant incidents and accidents that have happened in your workplace.
Noise at Work Regulations 1989
Excessive noise could lead to hearing loss or a tinnitus condition. The Noise at Work Regulations ensure that workers' hearing is protected at work.
Control of Substances Hazardous to Health Regulations 2002 (COSHH)
As a tradesperson, you're often exposed to hazardous substances – fumes, gases, dust, mist and products containing chemicals. Long-term exposure to these could be detrimental to your health. COSHH requires employers to control substances that could be hazardous to workers' health.
Gas Safety (Installation and Use) Regulations 1994 (GSIUR)
The GSIUR affects any person who installs, services, maintains or repairs gas appliances and fittings, and lays out safety rules for performing these tasks.
5. Protect your people and your business
As a UK trade business owner, it's your legal responsibility to keep your staff safe. Your next steps are to follow the HSE guidelines, regularly review risks in your workplace and update your work health and safety plan.
One way to ensure compliance with health and safety standards is to gain accreditation through a third party. Accreditation schemes originated in the construction sector, but are now used more widely. The law does not require accreditation, it's just a way of meeting certain industry standards. You'll often find that larger construction companies will require subcontractors to have a certain level of accreditation before they commission work from them.
Learn more about health and safety accreditation through the SSIP.
When you nail health and safety at work, you'll find it not only keeps your staff safer while they work but also helps boost productivity, lowers staff turnaround and could even make you more money in the long run.

Tradify is a job management app made specifically for tradespeople. Book a live walkthrough to see the app in action, or start your free 14-day trial today.
Find out how your staff feel about health & safety by downloading our free Health & Safety Survey Questions!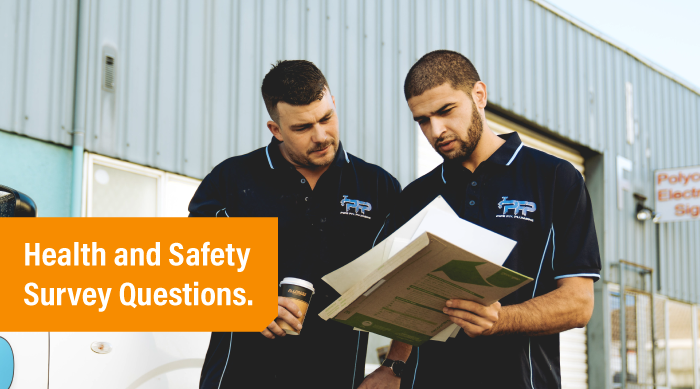 ---