When completing certain electrical work in New Zealand and Australia's Northern Territory, you'll need to issue a Certificate of Compliance (COC) to prove that you can carry out your work safely.
COCs are necessary to show that your work is legal and safe. It also shows that you've tested your work to a sufficient standard.
In New Zealand, this proves that you're a registered electrician with the Electrical Workers Registration Board (EWRB). To carry out any paid electrical work in New Zealand, you must be licensed.
In Australia's Northern Territory, the customer must have a CoC within 30 days of the installation's certification. Additionally, the network operator needs to sign off the CoC if the installation involves a connection or re-connection. The electrician must keep a copy on file for at least five years.
We make it easy to fill and store your electrical safety certificates with digital COC templates on Tradify. Take the hassle out of managing your jobs by signing up for a free 14-day trial today.
Jump ahead:
1. Watch Australian electrical forms in action
2. Watch the NZ electrical forms in action
3. When do you need to use a COC?
As an electrician, you'll need to issue a COC for any fixed wiring work, which includes fitting new power points.
You don't need to issue a COC for maintenance work, such as replacing sockets, light fittings, or repairing appliances. Additionally, some electrical work may be carried out by homeowners.
The following legal regulations cover electrical work in New Zealand:
4. How to fill out a COC
Filling out a COC through Tradify is simple and the forms follow all legal requirements. You can easily fill out a template with the necessary information and it'll be automatically saved to your Tradify system — meaning you can access the COC at any time.
You can also send out the COC to your customers straight from Tradify.
For specific instructions on how to fill out the COC forms in Tradify, check out our help article.
The basics of an NZ COC
In New Zealand, COC forms are only available online. On these forms, you'll need to declare the following:
The client or site address and their contact details.
Your details, including your name, phone number, registration/licence number, and the name and registration number of those you're supervising.
After adding your business and customer details, you'll then need to declare the electrical worker details (this could be you or a staff member). This section includes the worker's:
Name
Registration/Practising Licence Number
Phone Number
Email address
Name of person(s) supervised
Registration/Practising Licence Number of person(s) supervised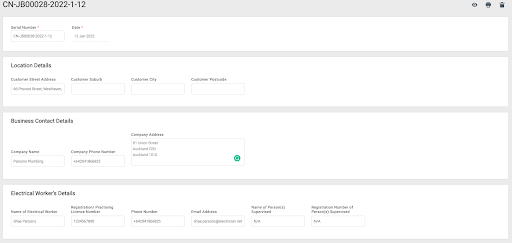 The basic details of a COC within Tradify.
Certifying your work in a COC
It's important to fill out a COC step-by-step to ensure that it follows the law and covers everything you, the client, and any other relevant parties (such as prospective home buyers or property inspectors) need to know.
Select what type of work you're doing. You'll choose from either:
Additional: this covers any extra work to any existing electrical systems.
Alteration: when you're changing any electrical aspects on site.
New Work: for any new works.
For any installation work, you'll also need to complete an Electrical Safety Certificate.
The next sections of the COC are more in-depth and help to specify the risks of the work you're undertaking, and prove the safety of the work by specifying how the work will be carried out.
Firstly, you'll identify the risk of the prescribed electrical work. This means you'll need to evaluate the on-site risks and how they'll affect the safe completion of the work you're undertaking.
Tradify offers Job Safety Analysis and Safe Work Method Statement forms to cover all your site safety needs. Using these forms in tandem with your COC and ESC forms can give you a better understanding of your site hazards and what you can do to manage these.
You'll need to also declare which part of the Australian/New Zealand wiring rules the work complies with. Standards New Zealand explains what these rules mean and how your work fits into the regulations.
You'll also need to declare what other additional standards or codes of practice are relevant for the work in question. In Tradify, you'll have a declaration checkbox and space to outline what the codes are. From here, you'll specify the dates of when the work will be completed.
Certifying your work requires you to answer the following questions, in reasonable detail:
Does the work contain fittings that are safe to connect to a power supply? If so, what type of supply system are you working with?
Does your installation have an earthing system that is correctly rated? Only answer this question if it applies to your work.
Are there parts of the installation to which the certificate relates that are safe to connect to a power supply? This question needs to be answered for all parts of the work that are applicable.
Does this work rely on manufacturers instructions? If so, you'll need to specify who the manufacturer is, and provide a link to their website.
Has the work been completed in accordance with a certified design? Like the manufacturer instructions, you'll also need to provide the details of the certified design and a link to the relevant website.
Does your work rely on a Supplier Declaration of Conformity (SDoC)? If so, provide details on the SDoC and a link to the relevant website. Worksafe New Zealand has a

guide

on what an SDoC is and where it may apply to your electrical work.
After filling in these fields, you'll need to declare whether the work falls within the Electrical (Safety) Regulations 2010, the law that underpins electrical safety certification in New Zealand. In Tradify, this will appear as a Yes/No checkbox.
Following your declaration, describe the work you're doing. Provide as much detail as necessary.

What your COC's declaration looks like in the Tradify system.
From there, you'll need to show evidence that your work is safe by entering in test results. If your work has miscellaneous measures, use the Other field to capture this information.
Now, all you need to do is sign off, enter in your details, and include the date of issue. Within Tradify, this form is securely saved to the Job you're working on. This means you'll never need to worry about losing papers or hard drives!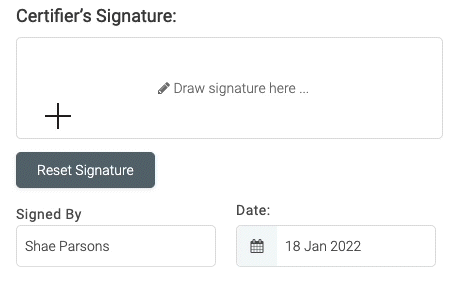 Signing off your COC form in Tradify.
---