Sure, every tradie loves to scoff a Mrs Macs sausage roll and chug down a Choc Chill every now and then. But this August, we're calling on tradies to be a little more aware when it comes to their health. Yep, it's officially Tradies National Health Month, and we couldn't be happier about it.

The legends at the Australian Physiotherapy Association (APA) are behind the movement, which aims to "raise awareness of the risks posed to those who work in trade occupations." Not just among individual tradies, but also their families, employers and the wider community as a whole.
So what have they got to say about the situation? After compiling a snapshot, the APA confirmed that Australia's trade industry suffers from the highest health and safety issues of any sector.
Who's bearing the brunt? According to Safe Work Australia data, labourers, technicians, and machinery operators/drivers account for the biggest number of serious injury claims. As for their troubles… Here's a glimpse at the primary causes wreaking havoc on tradies across Australia.
The primary causes of serious claims

Muscular stress while lifting or handling objects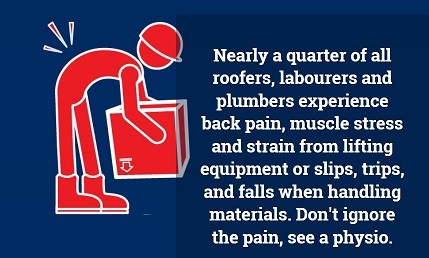 If you've ever popped a shoulder while lifting a wheelbarrow full of bricks or done your back in while moving a beam from A to B, you'll know what we're talking about. A huge 33% of all tradie injuries are muscular stress related, with upper and lower back cases accounting for almost half of these. Upper limbs are another victim at 32.4%, while abdomen and pelvic region injuries (God forbid) are 6%.
Falls, trips and slips

We don't like to throw the words 'clumsy' and 'careless' around, but falls, trips and slips account for 22% of all tradie injuries. Come on now lads! Ankles, backs, knees and shoulders suffer the most, while repetitive strain is a big cause of Lateral Epicondylalgia (LE), aka tennis elbow.
The BIG picture

Tradies, watch your backs! 90% of serious claims from all trade occupations are a direct result of injuries and musculoskeletal disorders, a category that covers traumatic join, ligament, muscle and tendon injuries.
Fatalities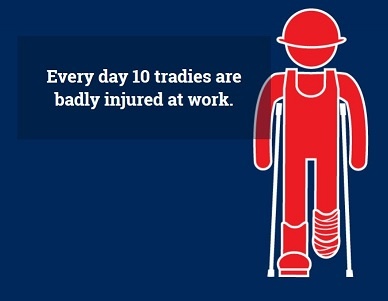 As of August 5, 109 Australian workers have been killed at work in 2016. Not cool. Transport, warehousing, construction and mining are all big contributors, which comes as no surprise given the constant contact with heavy machinery and equipment.
Diseases
Believe it or not, diseases are also a big cause of tradie injuries across all sectors. Mental disorders are the biggest liability at 5.9%, but there are also a host of other unorthodox ailments to factor in. We're talking digestive system diseases, nervous system/sense organ diseases, skin/subcutaneous tissue diseases, respiratory system diseases, circulatory system diseases and our personal favourite, infectious and parasitic diseases. Wash those hands after hitting the port-a-loo boys and girls!
Tradies and mental health
We could joke around for days about twisting ankles and busting backs, but there's one thing we're dead serious about, and that's mental health. Over the past few years Aussie tradies have endured what the media refers to as a 'suicide scourge' that's been bought on by backbreaking physical labour, dwindling job security and a 'macho' culture that tends to slam signs of weakness and vulnerability. There's no denying there's a stigma surrounding mental health, particularly within the trades industries. We're doing our bit to break down barriers, raise awareness and help tradies across Australia stay healthy, and happy. Major kudos to Mates in Construction (1300 642 111) and Lifeline (13 11 14) for the incredible work.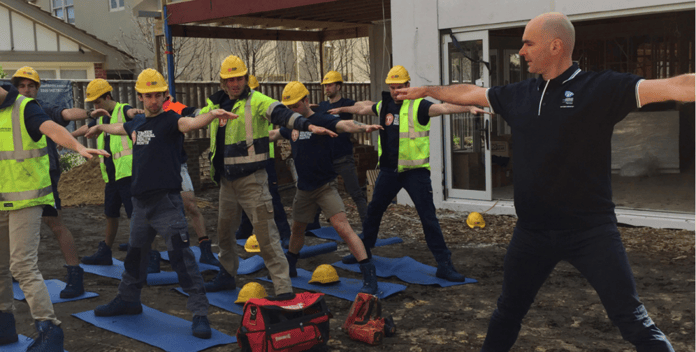 From major downers like workplace fatalities to temporary hurdles like twisted ankles, there's definite room for improvement when it comes to health, safety and overall wellbeing within Australian trades industries. Not only do work-related injuries and diseases put the lives and livelihoods of tradies at risk, but they also cost the industry a massive $60.6 billion a year.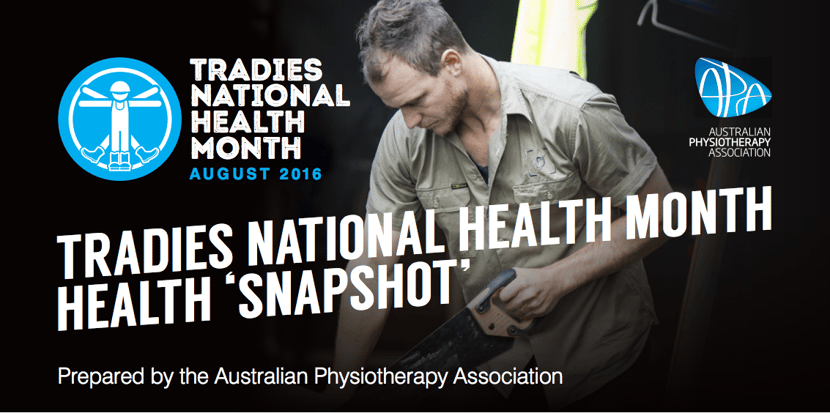 You can read the full report by the APA here.
So this August, we're calling on all tradies to step up their games and make an effort to stay safe, work smart and of course, watch their backs.