Good news for Sage Business Cloud Accounting users — Tradify and Sage sync together seamlessly! Connect with Tradify job management software and run your whole business from one app.
Are you charging enough? Work out your optimal rate with our free Charge-Out Rate Calculator!
Sage is designed for accounting, not managing your jobs. Tradify, on the other hand, is designed specifically for job management.
Learn why you need more than just accounting software.
Tradify integrates with Sage in addition to Xero, QuickBooks, and MYOB. Sync invoices, bills, payments, suppliers & customers directly to Sage from Tradify. Linking Tradify with your accounting software will reduce the chances of human error caused by manual double-entry, as well as cut down on admin time.

An accounting system is usually the first piece of software that a trade business owner invests in. Anything to make dealing with finances and tax time easier! So why not extend this efficiency across your whole business? Tradify handles enquiries, quotes, job tracking, staff management, and more. Run your business with Tradify while your accounts sync up with Sage.
Skip ahead to:
Using something other than Sage? Tradify also integrates with: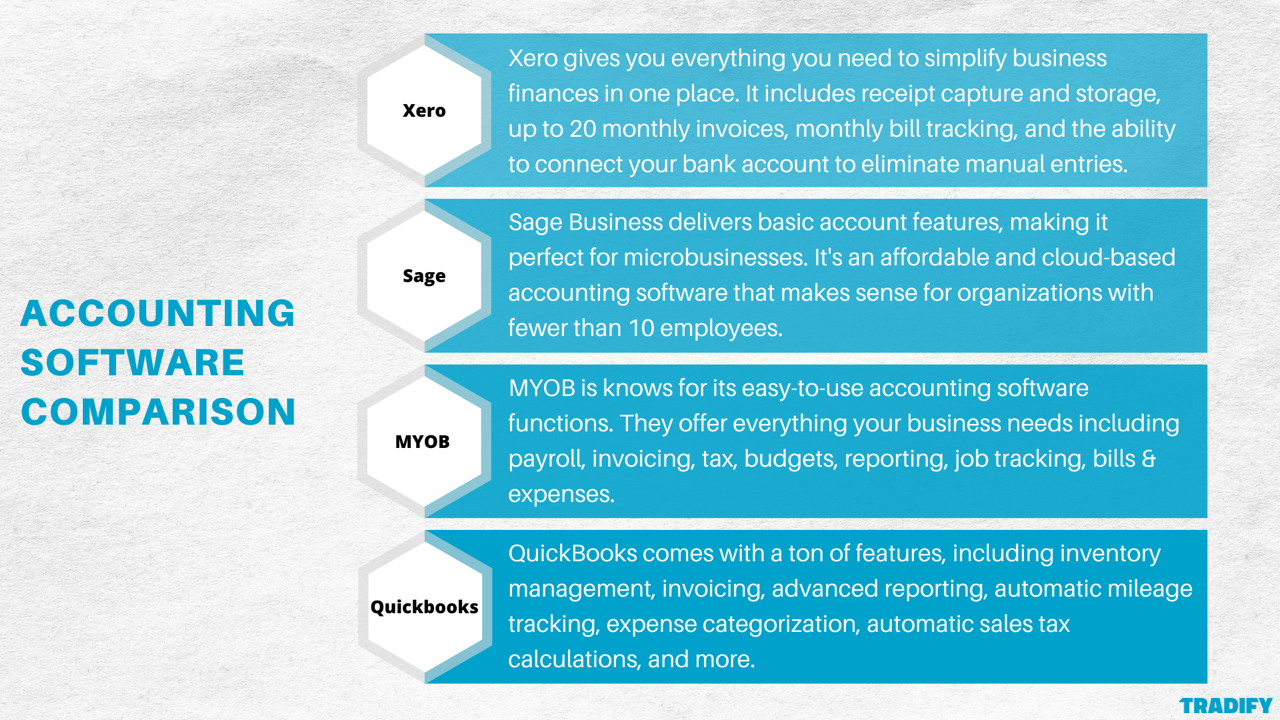 Graphic provided by Crazy Egg.
1. How does this help me?
When it comes to sorting out business finances, accounting software is a must-have tool — but it's not the best tool for the day-to-day running of your trade business. Linking your accounting software to a job management app like Tradify lets you run every part of your daily business from one platform, without having to manually input the data into your accounting software as well.
Bills, payments, and invoices can now be imported from Sage into Tradify's reports to help you understand your true cash flow.
Manage suppliers & customers by syncing contacts between Sage and Tradify. Changes you make to customer information in Tradify will automatically update in Sage.
Get real data by connecting Sage with Tradify — it won't change any Sage data unless you tell it to.

Create

Construction Industry Scheme

(CIS)

compatible invoices

and send them straight through to Sage.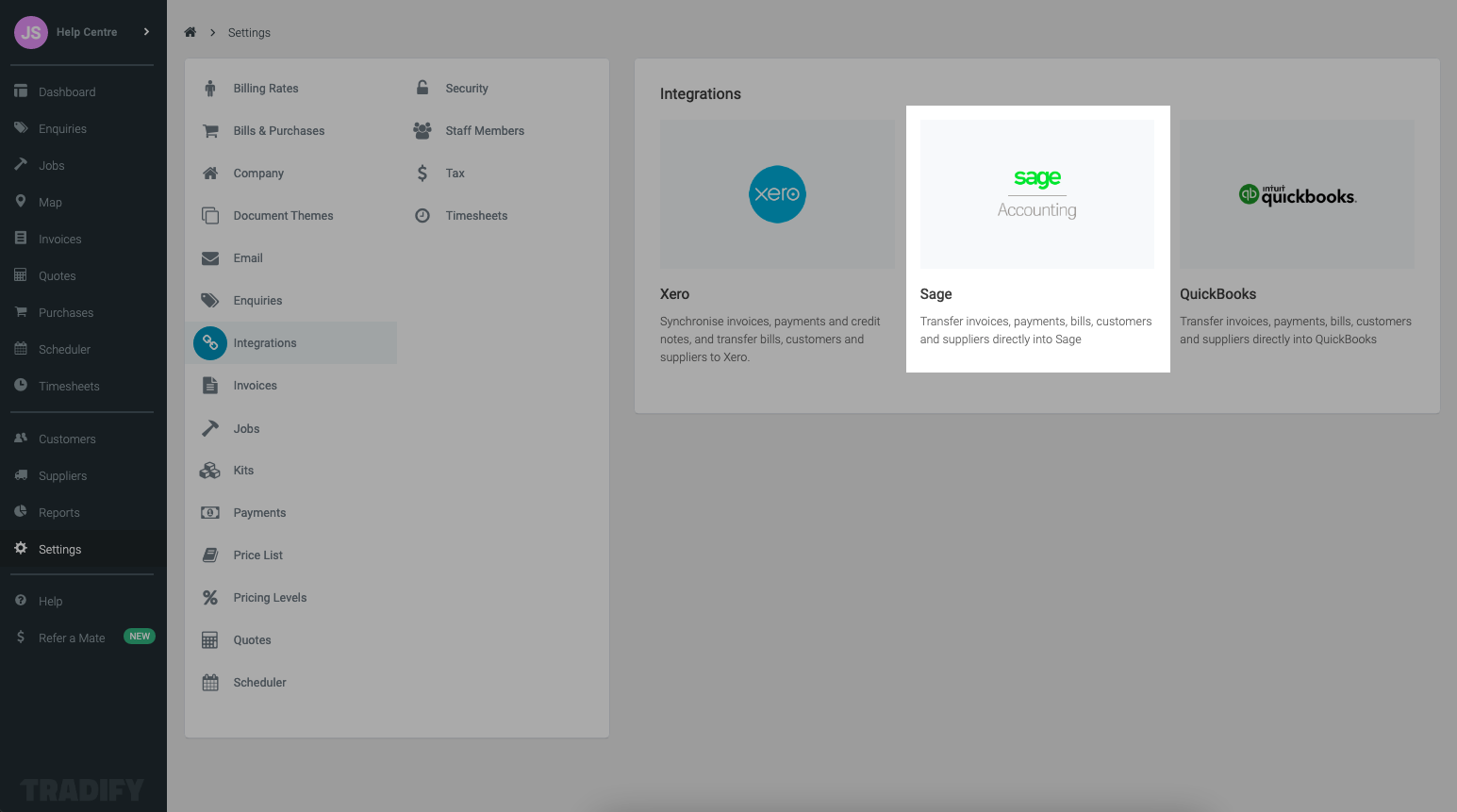 2. VAT reverse charge with Tradify & Sage
To utilise the Reverse VAT function with your Tradify-Sage integration, you'll first need to enable Reverse VAT in your Sage account. To achieve this (and to learn more about Reverse VAT), read this article.
Enabling Reverse VAT for a customer
When creating a new invoice, Tradify will first check to see if the customer has Reverse VAT enabled in Sage. If they do, the customer record in Tradify will be updated to match (as show below).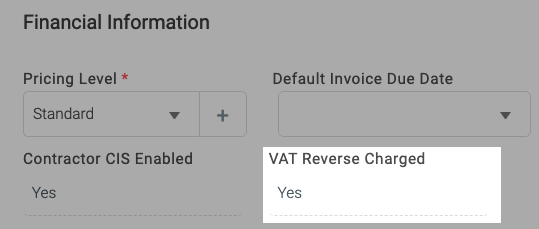 To learn about invoicing customers with VAT reverse charges, read our Reverse VAT & Sage help article.
3. CIS with Tradify & Sage
To use the CIS function with Tradify and Sage, first you'll need to enable CIS in your Sage account.
Connecting Sage to Tradify will help you manage number of CIS requirements, including:
Mapping CIS Account Codes
Viewing your CIS VAT Settings
Creating Invoices with CIS
Creating Bills with CIS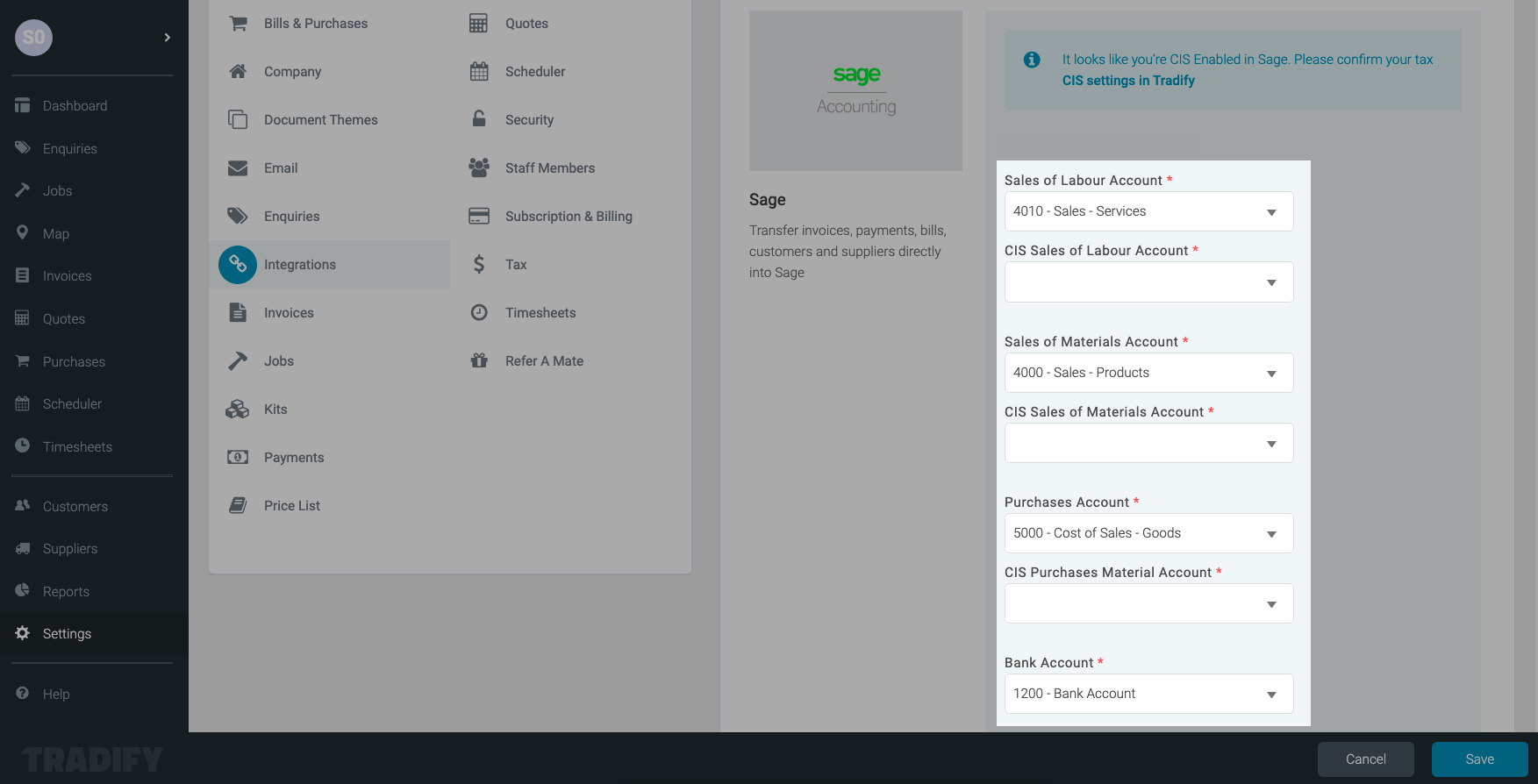 Learn more about complying with CIS requirements using Tradify & Sage.
4. Sage requirements & details
Different Sage plans allow for different features and access. This may affect integration with Tradify. Check if your Sage Business Cloud Accounting plan is supported below:
Start - not supported due to Sage feature restrictions
Standard - fully supported
Plus - fully supported
Getting two different systems to talk to each other is complicated. Here are a few tips to keep in mind when integrating Tradify and Sage.
User access - In order to be able to integrate the two platforms, you must have full access permissions within your Sage account.
Postal Addresses - Please ensure your contacts in Tradify have a valid postal address. If you try and post an invoice for a customer who doesn't have a postal address, an error message will appear.
Decimal rounding - Sage only supports rounding to 2 decimal places, whereas, Tradify supports rounding to 4 decimals. Due to this, you may encounter small rounding discrepancies when comparing the invoice totals between the two platforms.
Non VAT/Tax registered - For customers who are not VAT/Tax registered, Sage will only accept line item tax rates of 0%.
Instructions for connecting Sage to Tradify.
If you have any questions, you can contact us at any time at support@tradifyhq.com. You can also check out our Help Centre.
6. Sage & Tradify sync to make life easy
As a business owner, it's easy to feel overwhelmed by admin. It doesn't have to be like this though! Tradify can handle it all, with tools to help with:

Plus, you can use Tradify anywhere, from any device. Get your admin sorted on the go!
7. Make the end-of-tax-year a breeze
With Tradify connected to Sage, you'll have smart software doing the hard yards for you. All the important financial data you need – income and expenses, tax, payroll – will have all been sent from Tradify to your Sage account, making it easy to access and export the info you need to submit.
Check out our End of Tax Year Checklist for UK Tradespeople.

Price lists, suppliers, and customer profiles can all be imported directly into Sage with the click of a button. Best of all, any changes you make in Tradify will automatically update in Sage.

Accounting apps and job management software are designed to make your life easier. By using them both together, you'll be able to stop worrying about business admin and focus on what you do best.
Sign up for Tradify's 14-day free trial. No credit card required. No commitment. Or pop over to one of our live demo webinars to see Tradify in action.
---