It should be easy, right? A customer requests that you do a job. You do the job. You invoice the customer. You get paid. On time. Unfortunately, that's often not the way it works. We know that many trade businesses spend way too much time chasing customers for payment which can really impact cash flow. And waste a lot of time that could be spent doing better things.
That's why we're introducing automated payment reminders, to help Tradify customers get paid faster.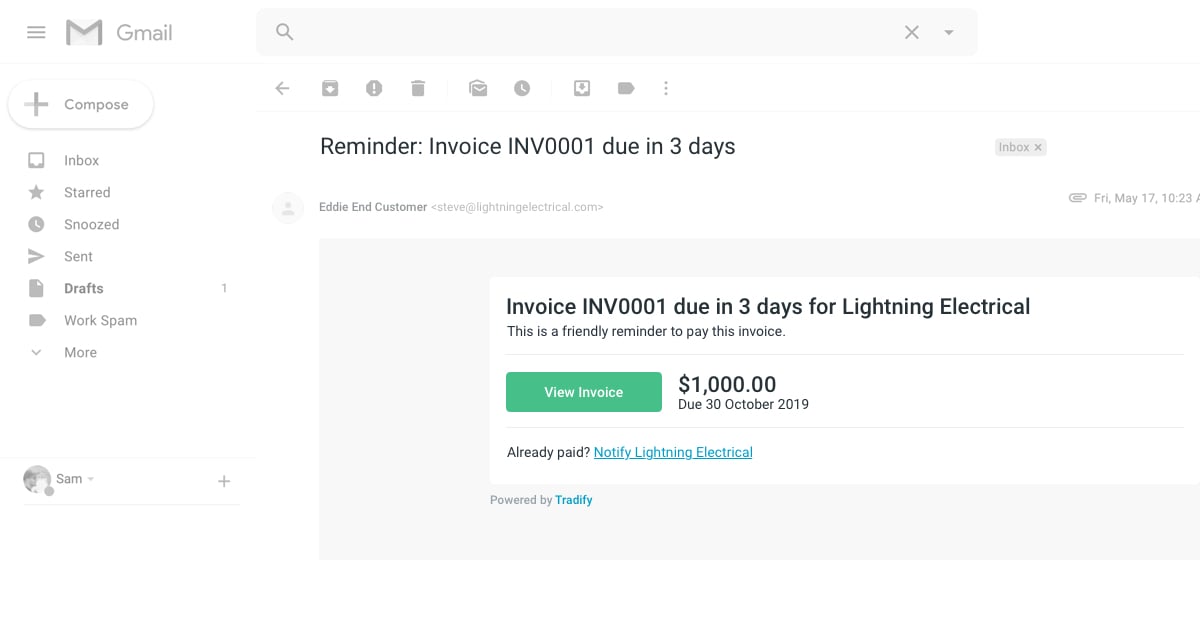 How does it work?
Enable the payment reminder setting within your Tradify account to send automated payment reminders for any invoice sent out of Tradify. This means no more manual follow-ups. Customise your reminder message to add a personal touch. For example, you might want to include your company values.
Save admin time, get paid faster and let us send automated reminders to your customers:
3 days before invoice due date
On invoice due date
3 days after the invoice due date
7 days after the invoice due date
To stop receiving payment reminders, customers can confirm they have paid with their invoice link containing a messaging space to mark the payment.
Tradify users can also indicate payment has been made (eg: cash/cheque) in their account, themselves.
See the bigger picture...
Use payment reminders together with our new X-Ray vision feature which allows you to track when your customers receive, view and take action on your quotes and invoices.
Check out this video to learn how to switch payment reminders ON.
Do I need to pay extra to get access to this feature?
No. We like to keep our pricing simple with one price and all the features. There are no volume limits on jobs.
Not yet a Tradify customer?
Join one of our weekly walkthrough webinars to see Tradify in action. If you think that you're ready to give Tradify a go, start your 14-day FREE trial today.
Access our free Charge-Out Rate Calculator & Guide
Unsure what to be charging per hour? Use our Charge-Out Rate Calculator to help you establish your optimal charge out rate.