For a small business or tradesperson, marketing often takes a back seat to simply getting the job done. Knowing where to start can be tricky, but with most of us spending half the day on our mobiles (often not work-related), text message marketing is underrated. It's an affordable marketing method and a winner for busy, on-the-go tradespeople.
Need more help with marketing? Download our free Marketing Plan for Tradespeople!
Pushed for time? Jump ahead:
1. Why you should jump on the SMS wagon
Mobile phones have become a fifth limb. Most of us find it difficult to function without them and 62% of us can't even part with them at bedtime. While it's clear that we're obsessed, how does this help when it comes to marketing your trade or small business? Just look at this research:
98% of marketing texts are opened compared to just 20% for email marketing campaigns.
75% of people don't mind receiving texts from a business when they've opted-in.
Texts are read, on average, in under five seconds, with 90% opened in that same time frame.
45% of marketing texts are responded to. This number is just 6% for email marketing.
Beyond the stats, text message marketing has plenty of other advantages for your business including:
It's spam-proof – unlike email marketing, your text won't wind up in the spam folder, never to be seen.
It's relatively cost-effective – it only costs you the price of an SMS, which, depending on your phone plan, may already be included.
You're forced to be concise – with a character limit, you'll have to get to the point quickly. Unlike emails, there's no space to be wordy.
Customers are genuinely interested – customers you're contacting have had to 'opt-in' to receive your messages. So instead of casting the net wide as with other types of marketing, you're engaging with customers who have a genuine interest in your business.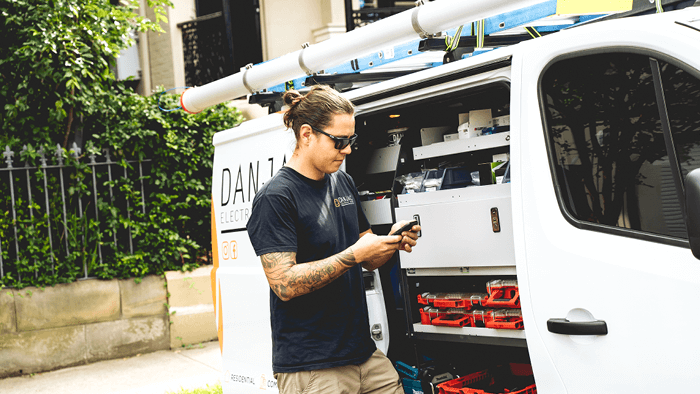 2. Implementing text messaging in your trade business
It's second nature to grab a customer's contact number and plug it into some form of database (like Tradify). Once you've got this data, you can use it for communicating things like:
Appointment reminders – software like Tradify can be used to send

automatic text reminders

via SMS. Have Tradify send a text the day of, the day before, or two days before your scheduled visit.
Reminders to leave feedback – feedback and reviews are worth their weight in gold for small businesses and tradespeople. Once a job is complete, send a brief text to thank customers for their business – and ask for their feedback. Include a link to your chosen platform to make it super-easy. Here are some more tips for getting 5-star reviews.
Letting customers know you're in the neighbourhood – if you're using a software tool like Tradify to store customer data, it's easy to filter customers by location. If you've got a job in a specific area and are looking to drum up business, try sending other customers a brief text message to let them know you're in the neighbourhood and can stop by for quotes or small jobs.
Sending useful tips or reminders – handy tips relevant to your industry are usually welcomed. For example, if you're in the HVAC trade, you might let customers know their filters are due to be cleaned. If you're in the roofing trade, you could remind customers to check tiles or clear their gutters before winter.
Discounts and special offers – if things are a little quiet, texting a special offer that existing customers can share or forward to their friends is a great way to ramp things up. This could be something as simple as a discount on any jobs booked in a certain month.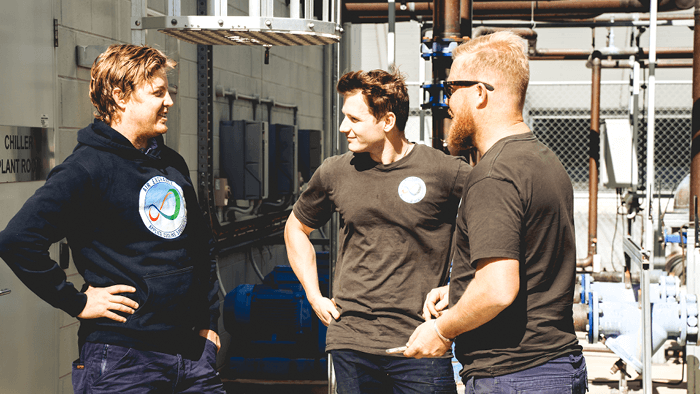 3. Getting it right (legally)
Are you communicating or marketing?
Remember, your customers have given you their phone numbers so they can communicate with you about booked jobs. That isn't the same as agreeing to their details being used for marketing purposes.
It's important to be aware of the difference between the two and follow the right protocol for marketing messages including:
Identifying your business as the sender
Including your contact details
Giving customers an easy way to unsubscribe via text message.
Check out obligations specific to your region below:
Legal obligations aside, there are several things you should know before jumping into texting your customers:
Avoid text language – you're communicating with customers, not friends, so it's important to be professional. Leave out unnecessary abbreviations and keep the message clear.
Keep to business hours unless it's urgent – you shouldn't be firing off texts to your customers at 10 pm on a Sunday just because that's when you've gotten around to it. Generally, Monday to Friday within business hours are best, unless it's urgent.
Stick to one form of communication per message – for example, if you've sent a reminder via email, don't send that same reminder in a text message. Doubling up can annoy customers and decrease the effectiveness.
Start your message with your name and business name – remember, unless you're programmed into their contacts, customers won't know who you are. Something as simple as "Hi, it's x from x" is all you need.
Don't forget your manners – while text messaging lends itself to being brief, an intro and a thank you at the end of your message comes across as professional and courteous.
Proofread your communications – just like a business email, spelling errors and typos don't look great. Re-read all messages before you send them.
Don't overdo it – before you send that text, think about whether you need to. Sending the occasional reminder or special offer is fine, but if there are too many – you'll risk them being spam and a negative impact on your business.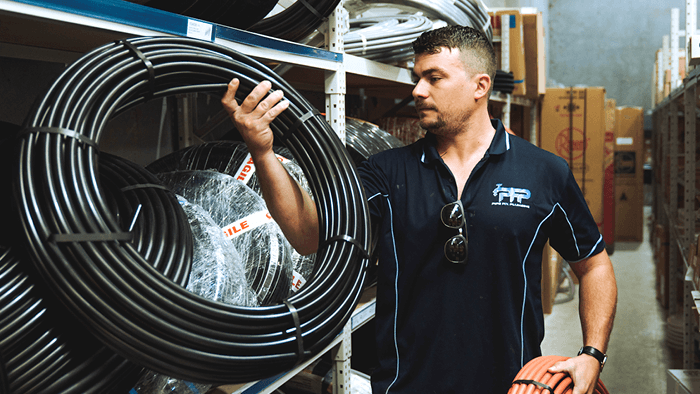 4. Embrace text messaging
Text messaging is an effective and simple way to communicate with and market to your customers. By keeping your communications professional and useful, you'll be providing your customers with an added level of service that will keep them coming back, showering you with positive reviews and best of all, recommending you to others. It won't feel like marketing at all.
Send customers automatic appointment reminders and much more with the Tradify app. Start your free 14-day trial today.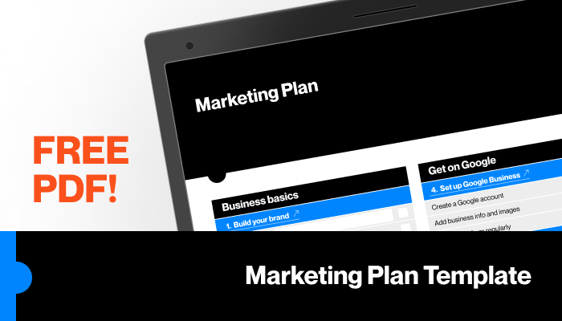 ---