Let's talk tool bags. They're an essential part of any electrician's arsenal and a fail-safe way to make sure your tools don't go walkabout. When it's time to invest in a sturdy, well-constructed tool bag, sparkies are spoilt for choice, from backpacks to shoulder straps and everything in between. So how do you choose the best option for you, and what features do you need?
We've researched for you, pulling together the top 5 tool bags for electricians, so you can get the most bang (or bag) for your buck.
Our top five best electrician tool bags in 2022 (in no particular order):
1. Custom LeatherCraft 1539 50-Pocket Tool Bag
The CLC 1539 bag is made for carrying lots of tools. With 50 zippered pockets to hold everything from small wires to large power tools and a brand reputation for quality and durability, this bag will last for years.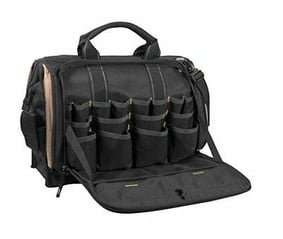 Pros:
50 pockets
Large weight capacity
Durable design to withstand tough working conditions
Padded handles and shoulder straps
External straps for hammers and quick reach tools
Cons:
Heavy material can be a drag after a long day
Not water-resistant
2. DeWALT DG5582 23-Pocket Tool Bag
Comfortable to carry, the DeWalt DG5582 is a compact tool bag that's great for dividing your tools by size. The centre compartment has three chambers, making organising a cinch for busy electricians.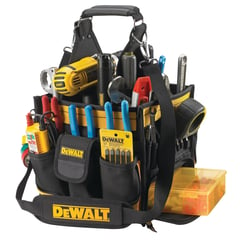 Pros:
23 pockets, sleeves and slots
The central compartment divided into three chambers
Upright standing — easily reach your tools on the go
Concealed tray for extra storage
Cons:
The shoulder strap can tend to break down over time
There's currently just one size option
3. DeWALT DGL573 Lighted Technician's Tool Bag
If quality and durability take priority, then the DeWalt DGL573 is your bag. Versatile and durable, it's complete with 41 pockets of varying sizes to hold and organise your tools. This bag also comes with an LED light so you can easily find your tools – even when working in dark spaces or at night/early morning.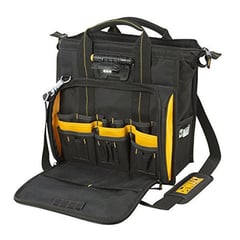 Pros:
Versatility
Durability
Built-in base pad feet – protects the bag and surfaces from damage
3-setting LED light
Vertical pocket design – stand tools upright
Rugged handles, abrasion-resistant base protects against wear and tear
Cons:
The shoulder strap isn't as durable as the rest of the bag
4. Carhartt Legacy Tool Bag
The sturdy, water-repellent Carhartt Legacy tool bag caught our eye not only because of its durability but also the scratch-resistant fabric means sharp-edged tools won't be a problem.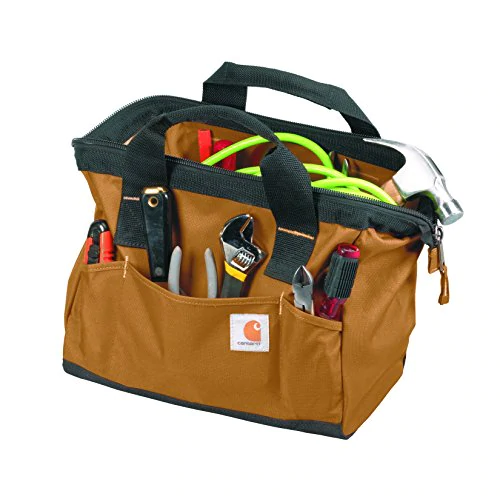 Pros:
Water and scratch-resistant fabric
Durability
Available in a range of sizes
Comfortable padded straps
Cons:
No zipped pockets
Smaller capacity means fewer storage options
5. Klein Tools 55421BP-14 Backpack Electrician Tool Bag
If you're in the market for a hands-free tool bag with plenty of storage, then look no further than the Klein Tools 55421BP-14 backpack. With a tall design, long pockets for screwdrivers and plenty of storage for various tools, this backpack is a great investment.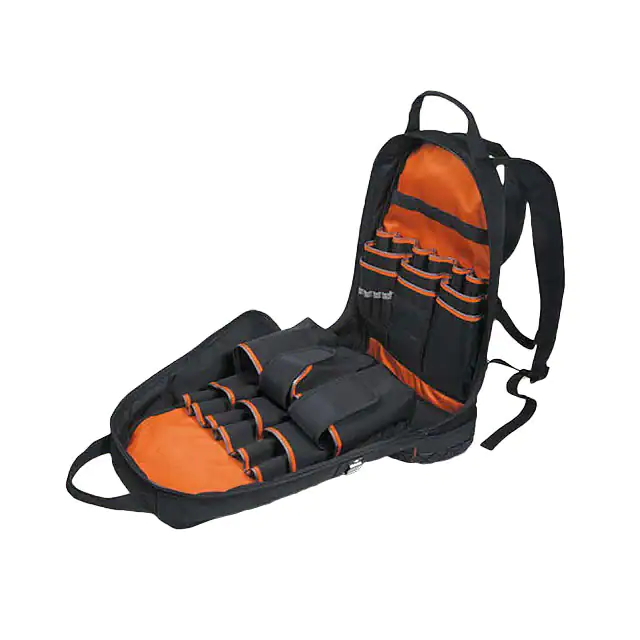 Pros:
39 different pockets
Long pockets for screwdrivers
Durable material and base
Easy access to tools
Hard, moulded front pocket to protect fragile items
Cons:
Heavy material means it's less maneuverable
Weak tape measure strap
Time to go tool bag shopping
Electricians, take your pick. There are tool bags galore, all claiming to be the next best thing since sliced bread. Most of them will keep your tools safe and in one place, but if you want something to stand the test of time, you need it to be well-constructed and durable with enough room for all your tools. Now you have your bag sorted, make sure you get the best tools to fill it.
Tradespeople who want to be prepared use Tradify. Start your 14-day free trial. No credit card required, no pressure. Or take a look at Tradify in action during one of our weekly 30-min live walkthroughs.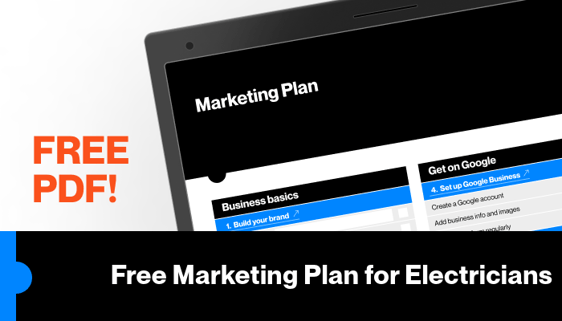 ---