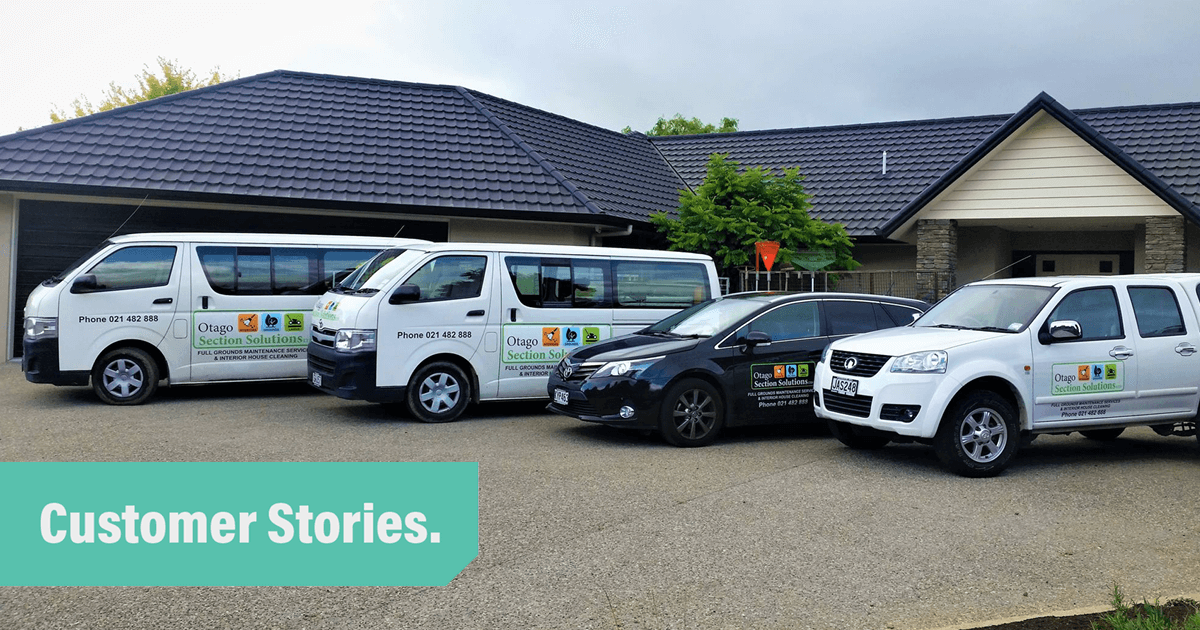 Almost 10 years ago, Shelley Bennett's parents founded their ground maintenance and cleaning business, Otago Section Solutions.
Since its inception, the business has had a contract with Dunedin Housing Maintenance Contractors and worked with some big names like Kāinga Ora and Otago University.
Today, the small family-run business is still going strong, but there was one thing they needed help with — their admin. Luckily, Shelley had plenty of experience so she joined the team. As her parents neared retirement in August 2020, Shelley and her husband decided to carry on the family legacy — and take over the reins.
Ambitious and armed with a fresh perspective, Shelley wanted to build up the company's reputation in the domestic market too. It was a smart move and business ramped up.
However, it quickly became clear that the old system couldn't support the new business model. Shelley sought the help of a business coach to get things in order, and that involved finding a new system that could keep up with the workload.
"We were thinking of how we could make things easier for me. My business coach said, 'We need to find a programme to help you manage all your jobs.'"
1. Old system time-consuming and stressful
Between juggling admin, an influx of jobs and raising four children (not to mention the other family business on the side!) Shelley and her husband take 'busy' to a new level. Otago Section Solutions admin was costing Shelley time she didn't have, stress – and business profit.
She used Excel spreadsheets to keep track of upcoming jobs for the week. She'd print copies and put them into her team's vans. This had to be done a week in advance, making it challenging for the team to adapt to any last-minute changes or urgent work.
Reshuffling jobs in Excel was messy and confusing. Sometimes she'd have to start the whole thing from scratch – just because one extra job had come in.
"The old system was just so time-consuming. I thought, 'This isn't working!'"
2. Tradify's scheduler was what Shelley needed
Shelley and her business coach looked at a few options before discovering Tradify – and she hasn't looked back since.
"It seemed to have everything we were looking for," she says.
The best thing is how much time Shelley has saved, especially scheduling jobs. In the past, Shelley would have to track her team down to let them know about a change – which isn't easy when they're already out on a job. Other times, she'd have to manually re-do the entire job schedule for the week. That's all changed with Tradify's Scheduler.
"Now, it's just so much easier. If you need to make a change, you just do it in Tradify and the guys will see it on their tablets straight away."
3. Notes feature helps streamline business processes
Previously, job notes consisted of scrap paper floating around in work vans. It was Shelley's job to retrieve them, then load the info into her computer. For almost every single invoice, she'd waste time going back and forth, then spend her evenings manually transferring the numbers into Xero.
Now, all it takes is a copy and paste, meaning an invoice can be done and sent within minutes.
"It's so simple!" Shelley says.
The notes feature is invaluable for health and safety too. In the past, Shelley had to produce a risk analysis for every job. These days, her team can carry out the risk assessment and quickly add their findings into Tradify before starting a job.
"Tradify has even streamlined our health and safety as well."
4. Before-and-after photos mean no profit lost
For some business contracts, before-and-after photos are essential for getting paid – without proof, the job can't be ticked off as done. Pre-Tradify, this process involved manually downloading photos from phones. If this step was missed, they'd lose 100% of the profit. "I would waste so much time – downloading the photos and then uploading them to the system to invoice with. It was just ridiculous."
With Tradify, Shelley's team can take photos via the app and immediately save them to the corresponding job. For good measure, Shelley also adds a reminder, eliminating any forgetfulness and lost profit.
"Now, I just drag and drop the photos into the client's system, do the invoice, then hit send."
Since using Tradify, Shelley can spend time with her family or on growing the business – and she recommends others get on board too.
"There's not one fault I've found with it," she says.
5. Tradify the best solution for Otago Section Solutions
Simple scheduling: Shelley can book jobs in advance.
Saves time: automation removes manual-heavy admin tasks.
Photos feature: no profit lost over forgotten photos.
Easy notes: enables a quicker invoicing process.
Cloud-based: updated job info available on the go.
Ready to give Tradify a go?
Start your 14-day Free Trial. No credit card required. No pressure. Or take a look at Tradify in action during one of our weekly 30-min live walkthroughs.
---