Carrying your electrical tools around all day can be a real hassle and cause some serious frustration. While a tool pouch won't hold as many tools as a tool belt or bag, they're lighter, less likely to limit your movement, and much more convenient.
Here are our recommendations for the best tool pouches for electricians!
Looking to grow your electrical business? Download our free Business Plan Template for Electricians and plan your way to the top!
Short on time? Skip ahead!
The Occidental Leather Pocket Caddy is the ultimate combination of quality, durability, and functionality. With 5 pockets, the Pocket Caddy is on the larger side compared to some of the other pouches on our list.
Pros:
4 small to medium-sized pockets, perfect for holding smaller bits and pieces like a screwdriver or spanner.
1 large pocket for holding larger tools like a voltage tester.
Sturdy leather construction.
Recommended by electricians.
Cons:
Leather construction means pockets might be rigid and hard to fill at first.
Heavier than other pouches that are more compact and use synthetic materials.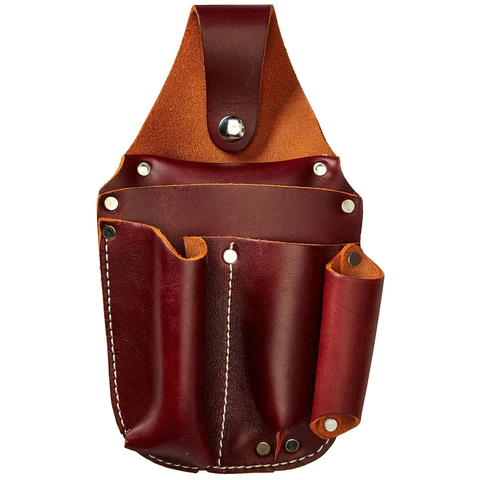 Vet Pro Pac uses both leather and synthetic materials to create their tool pouch, making it a great all-rounder for those who want durability and the quality feel of leather, while still getting the added forgiveness of synthetics. The MP1 also has the most pockets of any pouch on this list, which is why it's beloved by so many veteran electricians.
Pros:
11 vertical pockets for maximal storage capacity.
Electrical tape strap.
2 D-rings.
Leather and synthetic material hybrid design.
A strap that fits into your pocket, stopping the pouch from tugging on your trousers.
Cons:
Some electricians say that the pockets are too small for their tools.
The most expensive pouch on our list.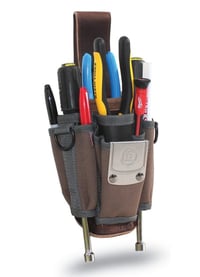 Despite the brand's name, this pouch is brilliant value for money. Coming in as the cheapest pouch on our list, this is a great entry-level option for an apprentice or newer electrician who has other tools and accessories that they want to save money for.
Pros:
Great price.
Made from durable materials and built to last.
Lightweight and compact.
Cons:
Limited storage capacity with only 4 small pockets.
Held onto trousers by a single steel clip which could cause the pouch to slide around or wear on your clothing.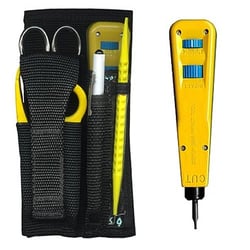 This pouch from Klein Tools is definitely on the more compact side. But what it lacks in storage capacity, it makes up for in durability — this thing is a beast! Made from 100% leather and constructed using a slightly ridiculous amount of rivets, this tool pouch won't give up without a fight.
Pros:
Extremely durable construction.
100% Leather design.
A belt can be looped through the pouch, so broken clips won't be an issue.
Cons:
Limited storage capacity
Heavy for its size due to the thick leather and riveted construction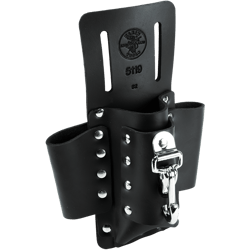 5. A way to keep all your admin in one place
Tradify is a job management app used by tens of thousands of electricians and other tradespeople, building better lives and businesses all over the world. It gives you all the features needed to manage and grow a successful trade business, including:
Start your 14-day free trial today. No credit card required. No pressure. Or take a look at Tradify in action during one of our weekly 30-min live walkthroughs.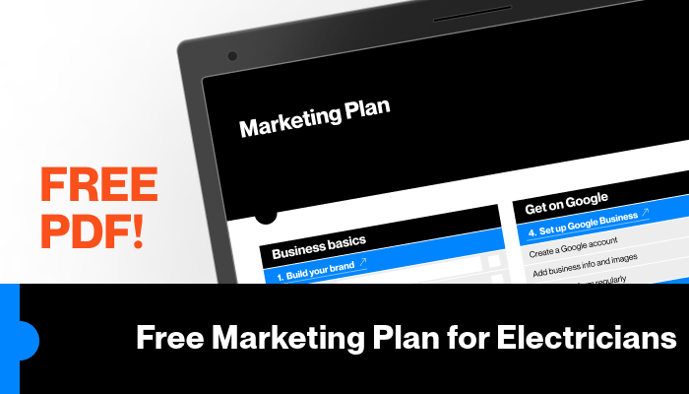 ---