If you've been umming and ahhing about whether you need a website for your plumbing business, there's no need to keep procrastinating. With Tradify's Instant Website Builder, you'll have a unique and user-friendly plumbing website in just a few clicks. With your business online, your customers can find you and reach out 24/7. You'll never miss an opportunity again.
Here's a step-by-step guide on how to get started:
Short on time? Skip ahead:
1. Pick your platform
Luckily for those who are a little less tech-savvy, building a plumbing website doesn't require an in-depth knowledge of computing or anything remotely that complex. There are plenty of amazing platforms with pre-made website templates you can add your content to, and integrate easily with other apps to ensure your customers have a seamless online experience.
Tradify's Instant Website is one such platform. Not only does it have an array of different website templates that are designed with trade businesses in mind, but it also integrates seamlessly with the Tradify app, making it easier than ever to stay organised.
2. Getting started


Templates designed for trade businesses
Your plumbing business deserves a beautiful website that caters specifically to your business needs. Avoid the stress of creating your website from scratch by using Tradify's Instant Website. All you need to do is customise the template with your brand colours, imagery, descriptions, and testimonials. It even pulls all your information directly from Tradify.
Professional plumbing photography
High-quality photos of your plumbing work will show customers your expertise. Uploading photos with Tradify's Instant Website is super-easy too – just pick an image that fits our pre-formatted layouts.
If you want to get some great shots of your latest work, check out our guide to taking good work photos.
Help is here
If you get stuck, click the help button and we can guide you through the set-up.
3. Secure your domain
Your domain name is an address for your website, unique to your business. It's what your customers will type into the search bar to find you online.
If possible, you should try to match your domain to your business name. This will make it much easier for customers to find you. For example, if your business name is 'Emergency Plumbers' then you want your domain name to be 'emergencyplumbers.com'.
If your domain name has already been used by a plumbing company somewhere else in the world, try adding your location – emergencyplumbers.co.uk or emergencyplumbersuk.com.
Make sure to register on a domain hosting server and then add it to your Tradify Instant Website. Another option is to host your Instant Website on our subdomain for free.
4. Create a logo
Upload a plumbing logo that people won't forget. Whatever you choose should represent who you are and what your company is best at.
Time for a new or revamped logo?
Get in touch with a local designer.
Create one online with

Canva

.
Then, simply upload it to your Instant Website.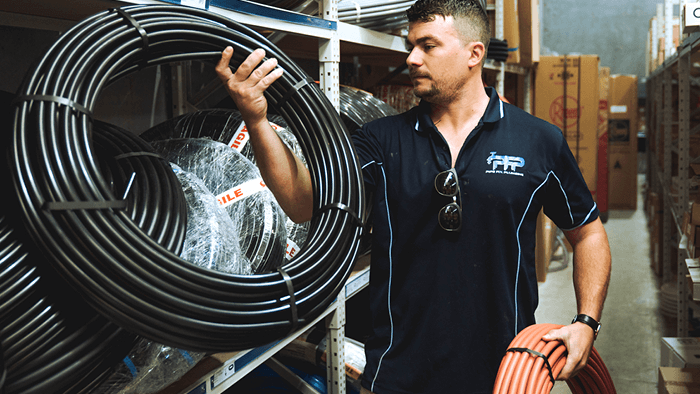 5. Write copy that answers FAQs
When it comes to new customer enquiries, you're probably answering the same questions over and over again: what plumbing services you offer, how to get a quote, where you're located and when you're available. So, lay it out clearly on your website with concise descriptions. This way you won't have to keep repeating yourself!
Make sure your descriptions:
List all the services you provide.
Are short, simple, and easy to understand.
Easy to find on your website.
Explains your business ethos.
Explain why you're better than the competition.
6. Search engine optimisation
When someone needs a plumber in your area, you want to make sure customers find your website first. Ranking near the top of Google's search results has nothing to do with how long you've been in business.
Link your website to your social media, register with Google Business and add reviews or testimonials. These steps will boost your website ranking and help you become the number-one local plumbing business online.
7. Register with Google Business
Google Business is the online equivalent of a phonebook. It's an essential tool that online users have come to expect and a great way for people searching for 'plumbers near me' to discover your key business information – phone number, business hours, website.
If you're not sure how to register with Google Business, here's how to do it.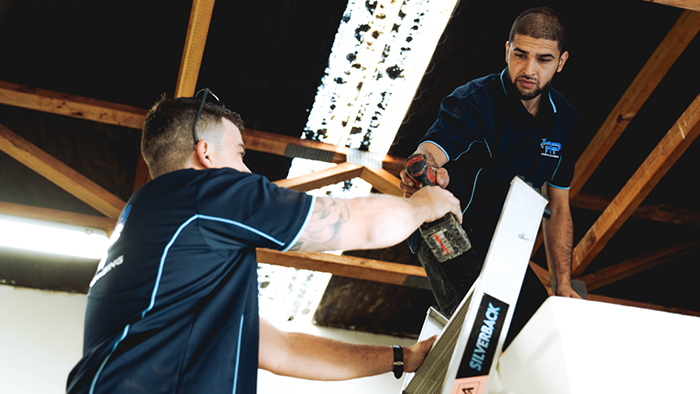 8. Make it mobile-friendly
Most people are on the go, using their phones to search for what they need when they need it. That's why it's important your website looks and works great on every device. Luckily, Tradify's Instant Website is mobile-responsive by default, so you don't have to worry about it.
9. Manage new enquiries
Having a good enquiries system is one great way to set yourself up for success and reduce the amount of time in the office. With Tradify's Instant Website, you can seamlessly link your job enquiries with your Tradify account. This means that Tradify will pull enquiries from your website and send out automated email responses while you're on the job, so you never miss anything or forget to do it yourself.
10. Testimonials build trust
Customers trust real experiences more than any other form of marketing. By including good testimonials and reviews, you can show off all your best plumbing work in an extremely palatable way. Tradify's Instant Website has the option to include a testimonial section.
11. Get your business seen
Every plumbing business with ambitions to grow requires a good website. If you're not online, do you even exist? Sounds dramatic, but it's what customers have come to expect. Luckily, it's easier than ever to build your own with Tradify's Instant Website. That way, customers can find and contact you around the clock.
Ready to build your plumbing website? Sign up for a 14-day free trial of Tradify or watch our live demo webinars to see the trade business management app in action.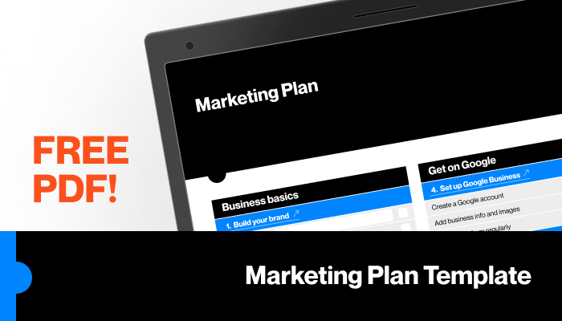 ---