For many years, Google My Business (GMB) was one of the most under-used tools for businesses. Perhaps it's because a Google business listing used to be like adding your phone number to the Yellow Pages – a set-and-forget scenario.
But over the last couple of years, Google has invested heavily in the platform, and many trade businesses are discovering that the tool can do so much more. Now a part of Google Maps, creating a Business Profile is essential if you want people to find your business on Google, and crucial for driving new potential customers your way.
Need more help with marketing? Download our free Marketing Plan for Tradespeople!
Below we explore how you can make the most of Google's features to help you win more business online.
Short on time? Skip ahead:
1. Getting started with Google Business
Follow this step-by-step guide to set up your Business Profile:
Step 1: Create a Google account
If you already have a Google account, sign in.
Don't have one? You'll need to create one.
Step 2: Create your listing
Go to business.google.com/create and follow the set-up prompts.

Even if you've never created a listing before, your business may already exist in Google Search with your details ready to be checked. If the business already exists you'll need to Request Ownership.

Click 'Finish' and choose an option to verify your business.

Postcard is the most popular option, but can take weeks to show up. Other options may be available but unfortunately, none are 100% reliable. It may take a few goes for one to stick.
Step 3: Download the Google Business App
Everything's better when you can do it on the go. Download the app to your Apple or Android device. Keep an eye on the metrics to see how you're reaching your audience. Respond to questions and learn how to get regular 5-star reviews.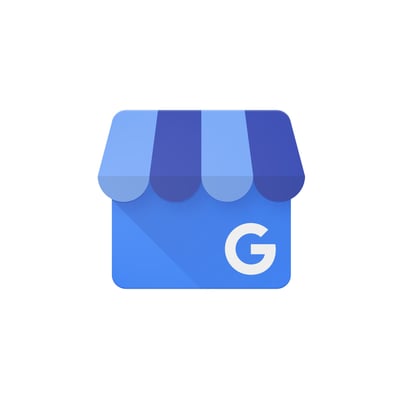 2. 10 tips for optimising your Google Business profile
Now that you're all set up and ready to go, here are a few tips for optimising your listing:
1. Your business name should be the same as your website. Don't add in keywords thinking it'll help you rank higher. Doing this goes against Google's guidelines.
2. Business categories are key to reaching the right audience Review this regularly as Google can change its categories.
3. Business location – is important if you service a certain area, and it's a good idea to specify the areas or suburbs your business operates in.
4. Opening hours must be accurate, so when customers call, they don't reach you out of hours. Make sure to add public holidays and seasonal holiday hours as well. The app will also prompt you to do this.
5. Adding photos brings your profile to life while showing potential customers the level of workmanship they can expect from you. Load your best photos for each service category, photos of your business vehicle, your team, and completed jobs (with permission).
Check out our photography tips for tradespeople.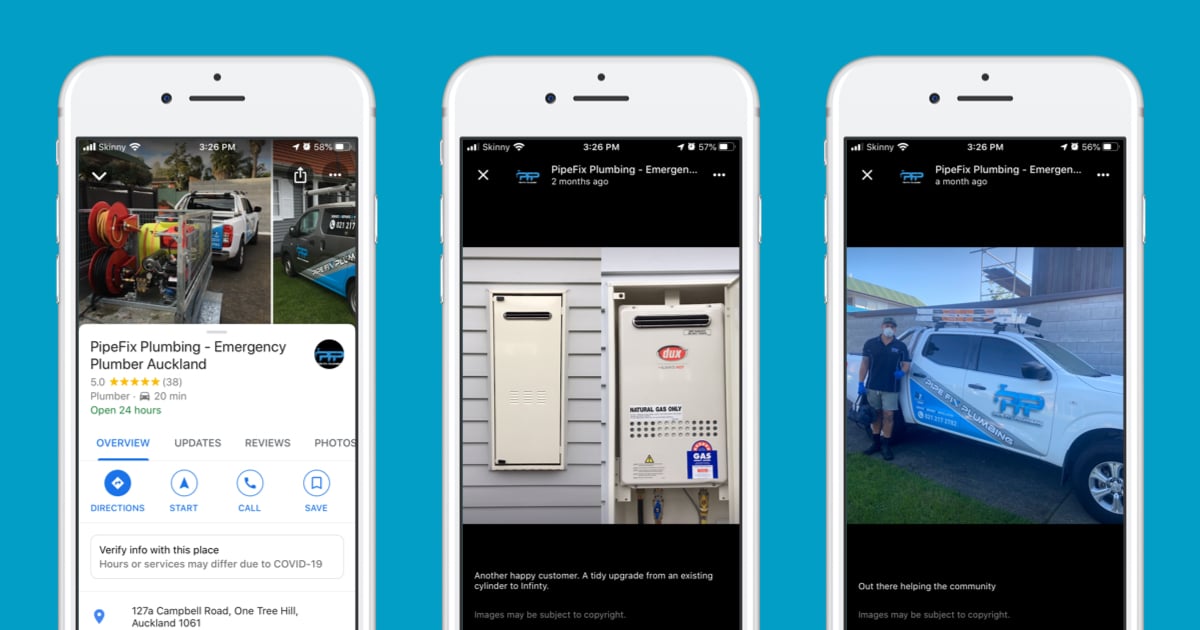 6. Create a short link that sends visitors to your Google listing on Maps. This makes it easy to share your profile with potential customers. You can add this link to your email signature or send it to customers to ask for a review.
7. Add messaging to help generate more leads. This functionality allows visitors to message you from your Google Business Profile.
8. Use Google Posts to stand out from the competition and extend the size of your listing. This lets you show news, events or offers with a short post and image. This will also appear in your local search and Google Maps listings. Google says 70% of local searchers look at multiple businesses before choosing which one to deal with – and these posts can help tip the balance in your favour.
9. Answer questions before they've been asked. Take note of the questions you're asked most by new leads, and load them, along with the answers, to the Q&A section of your listing. But make sure you monitor them regularly – other people can ask and also answer questions about your business.
10. Publish reviews

Google Business is one of the many ways you can generate customer reviews. Make sure you respond to every review, good or bad – it'll go a long way to giving your business credibility. Learn how to get regular 5-star reviews.
3. 5 ways your business benefits from Google Business
Google Business is a free tool that helps small businesses create and manage their Google listings. These listings appear when customers search for businesses using Google platforms like Search and Maps. Not only does it help customers find you, but it's also a great way to share basic information about your business to attract, engage and convert new customers.
Even if you get most of your new leads through word of mouth, setting yourself up on Google Business is important – after all, those leads probably looked you up on Google before contacting you.
1. Make it easy for customers to reach you
As a customer, there's nothing more frustrating than being recommended a great trade business, and not being able to track them down. Google Business removes that hassle. Add your website and phone number to your listing so it's super-simple to reach you. If your contact details do change, it's easy to edit your listing – you can just log in to your Google Business account to make changes at any time.
2. Get discovered by local customers
In an emergency, people often find local tradespeople on Google Maps. Say someone is urgently looking for a plumber to fix a burst pipe. If you're a plumber, and you have your business listed on Google My Business, Google will pull your business profile through to Maps when the potential customer searches 'plumber' or 'plumber near me'. If your business location is listed in the customer's immediate area, there's a good chance you'll be one of the first results to appear.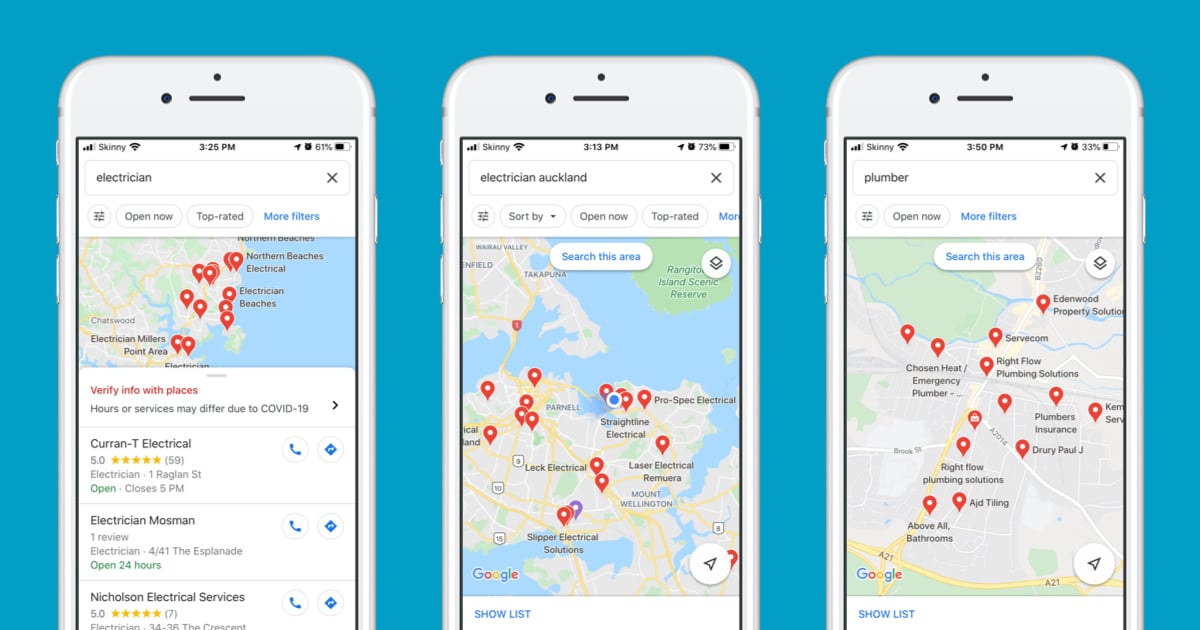 3. Generate new leads
If you're experiencing a shortage of enquiries, Google Business is another channel to help fill your job pipeline. Add a link to your website enquiries form so you can keep track of new leads right in Tradify.
4. Give prospective customers a reason to hire you
Use the platform to tell new visitors what your business is all about and add a list of your services. This won't affect your Google ranking, but it will help with customer experience.
5. Charge what you're worth
Lastly, having a Google Business listing gives your trade business a certain level of credibility. You can use its many features to prove you provide a quality service – and are well worth the rate you charge. Not sure what you should be charging? Check out our Free Charge-Out Rate Calculator.
4. More quick ways to up your marketing game
Even if your trade business runs well on word of mouth recommendations, you may still be missing out on new leads. Google Business costs you nothing but your time. Stay active to keep it up to date, add information and photos, and remember to ask for and respond to customer reviews.
Ready for more digital marketing? Download our free marketing toolkit and checklist, designed specifically for busy tradespeople on the go, with step-by-step instructions, tips, tricks and case studies, to help you market your business and drive more enquiries.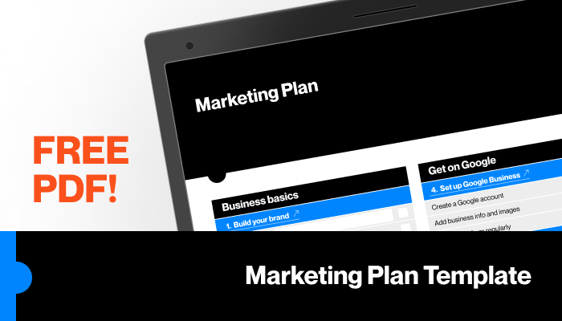 ---