If you have a good eye for detail and enjoy woodworking, then carpentry could be for you. Carpentry is a great career that gives you the flexibility to work across many different aspects of the construction and trade industry. A normal day in the life of a carpenter could include building, installation, restoration, or even demolition.
Interviewing for an apprenticeship? Download our free Interview Questions to help you prepare!
Carpentry and joinery trades are similar, but while many confuse them for the same profession, they are different in some key areas. Before you commit to a career in carpentry, you should find out more about the differences between a joiner and a carpenter.
If you're ready to commit to a career in carpentry, you'll first need to complete a carpentry apprenticeship. Here's how:
You can skip ahead here:
For other trade apprenticeship advice, check out these guides:
1. How to find a carpentry apprenticeship
If you're already working as a labourer or assistant on a construction site, it's worth asking your employer to support you through an apprenticeship. However, if you're completely new to the trades, then look to online job boards — they list apprenticeship vacancies. Local vocational colleges can also be a great source of information if you're looking to learn more about apprenticeships in your area.
2. Minimum age requirements for carpentry apprenticeships
There is no upper age limit for becoming an apprentice. If you're still at school, however, make sure to use your time wisely to prepare for your apprenticeship. Although there are no set qualifications for entering a carpentry apprenticeship, good grades in subjects such as maths, science, design, technology, and English will help your apprenticeship application stand out from the crowd.
3. How long does it take to get a carpentry apprenticeship?
Carpentry apprenticeships give you the chance to earn while you learn. This is one of the main attractions for young people who want to gain a valuable qualification without having to rely on student loans.
Be prepared to divide your time between on-site practical learning and classroom tasks. Your employer and training college will guide you through how much time you need to dedicate to each unit of work, and you'll be closely supervised until you gain confidence in all areas of carpentry.
To become a competent carpenter, you'll need to dedicate between two and four years to your apprenticeship, depending on where you live and the pathway you choose:
🇬🇧 UK - Most apprentices wanting to get into the UK carpentry trade take a combined carpentry and joinery apprenticeship such as this

Level 2 course

, which takes up to two years to complete. Once you get your Level 2 qualification and some real-life work experience under your belt, you may choose to undertake an NVQ Level 3 — an advanced course that allows you to specialise in the carpentry field.
🇺🇸 USA - To graduate from your apprenticeship, you'll generally need to complete around 7000 hours of on-the-job training and 640 hours of classroom learning. How long this takes may vary depending on your college or region, but four years is the typical timeframe.
🇦🇺 Australia - You should allow up to four years to complete an apprenticeship and gain a

CPC30211 Certificate III in Carpentry

. However, you may be able to complete your apprenticeship sooner, depending on how quickly you master the skills and how many hours per week you work.

🇳🇿 New Zealand - It takes around four years to complete the industry-standard

NZ Certificate in Carpentry (Level 4)

. There is potential to reduce this time to three years if you work quickly through the required units of work and complete all assessed working hours early.
4. Make your CV count
The next step in your apprenticeship journey is to write a great CV. First impressions are everything, so try to get at least a second pair of eyes on it before you send it out (if you have a career adviser at school, this is the perfect time to get their help). But, before you can do that, you'll need to get a good draft down that will stand out from the crowd. Here's how:
Get up close and personal
Give a brief run-down of who you are and what you can bring to the table. This will be your first introduction to the employer, so give them a personal insight into what you're all about — just a couple of sentences will be enough.
Highlight your work experience
Whether voluntary or paid, any work experience counts when it comes to your CV. There are heaps of skills you can draw out of part-time, temporary roles that will appeal to potential employers. If you lack experience, then simply highlight some key skills you've picked up at school that you think could be relevant to the trade. Employers will like to see that you can apply class-based knowledge to a practical setting.
Education and training
In this section, list schools or colleges that you've attended. Write your qualifications and include the grades you've achieved. Don't forget to list any awards, commendations, or extra-curricular achievements that you're proud of.
Don't undersell your skills
To be accepted for a carpentry apprenticeship, you'll need to demonstrate a good working attitude with skills to match. From physical fitness to practical problem solving, detail any times you've displayed those all-important qualities and explain how you intend to apply them as an apprentice.
Include a cover letter
Your cover letter is the cherry on the top of your CV. It gives you the chance to convey your passion for carpentry and reveal a little more about your personality. Even if the job advert doesn't specifically ask for a cover letter, include a short one. Here are the three rules to remember when composing a cover letter:
Stay on-point: Employers are busy, and chances are, they have a lot of CVs to get through, so make your cover letter engaging and to the point.
Make it relevant to the job and company: Research the company or business that you are applying to. Try to understand their culture and values, then factor this into your cover letter.
Persuade the employer that you're the best person for the job: Speak to what you can offer the company that others can't. Convince them of your enthusiasm and willingness to learn and be taught.
Be relevant
It helps to include a few key carpentry phrases and terminology in your CV — it shows employers that you're genuinely interested in the trade and already have a carpenter's mindset. Check out our YouTube videos and podcast to get your head in the game.
5. Get interview ready
Once you've got your CV sorted, you can start sending it out to potential employers. With a good CV, there's no doubt that you'll pick up an interview in no time. This is your chance to make your application come to life by meeting the employer in person and showing them that you're the best person for the job. Before your interview:
Research the company or organisation: Browse their website and social media platforms and look out for any information that tells you about their company values and areas of work that they specialise in.
Read (and re-read) the job description: The job description will tell you the types of skills and personalities that the employer is looking for. You'll want to keep this information in mind when answering their questions.
Prepare answers to potential interview questions: You might not be able to anticipate everything they'll ask you, but some questions are bound to come up.
Download your free Interview Questions for Apprentices!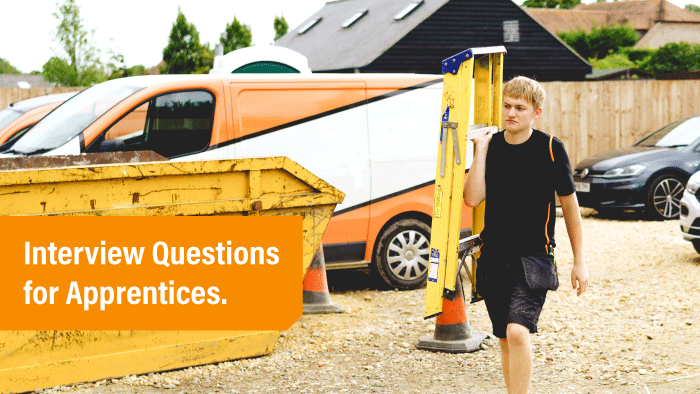 6. Keep your eyes on the prize
With a carpentry apprenticeship under your belt, you'll quickly find that there are opportunities to head in a bunch of different directions. Whatever area of carpentry you decide to specialise in, you can be assured of a rewarding, lifelong career that could see you starting your own trade business and maybe, one day, hiring an apprentice too. Always try to remember the passion and enthusiasm that you had for carpentry when you first started, and carry that energy with you at all times, especially if you find yourself running a business.
Carpenters who want to grow successful trade businesses use Tradify. Sign up for a 14-day free trial, or jump into one of our weekly live walkthroughs.
---