If new customers are coming in, don't let them be put off by a poorly created quote that ends up losing you the job. Even if your work on the job is top-notch, your first impression is usually a quote (and your customer service). No matter what trade you're in, a good quote is essential to winning work. In this article, we'll explore how to write a quote for a job, and how quoting software can give your business the edge.
Using quoting software like Tradify helps you easily create, store, and send professional quotes that will win you more jobs.
Jump Ahead:
1. Watch Tradify's Quoting feature in action
Presenting quotes in a timely, professional, and appealing manner shows prospective clients your work will be the same. You need to ensure you're including the right information in an accessible way so that your clients understand exactly what services you provide and what the job will entail.
On the other hand, a messy and confusing quote will give off the wrong impression and may mean you lose out on jobs — and money.
2. Understanding quotes in your trade business
What exactly is a quote? Often used but not always understood, a quote is an agreement between a service provider and a customer. This agreement includes what work is to be done, how much it will cost, and how long it will take.
A quote should show a breakdown of charges (time, materials, and miscellaneous costs) that come together to form the total estimate of the job requested. While the quote is an estimate, any changes will need to be agreed upon in writing (by both parties).
Estimating services can be more difficult than estimating physical products. Keeping a good record of previous work helps you to understand what similar jobs may have cost. Tradify stores your quotes, estimates, jobs, bills and invoices in one cloud-based app so you'll always have access to this information, wherever you are.
Beyond estimating work, a quote is often the first impression a customer gets of your work. More than a logo, an advertisement, or an enquiry, your customer gets a preview of your business processes and how you approach work.
Outside of the financial aspects of your business, a quote shows how methodical (or not!) you may be, your presentation skills, and your level of service. It's crucial your quote reflects how good you are on the tools. A great quote wins you great clients.
Want to know how Tradify can win you more work? Check out how Clark Johnstone from Fitted Joinery saves over ten hours a week using our quoting feature.
3. Important parts of a quote
Your quote is a whole document comprised of many moving parts. All of these should come together to reflect the work you can do. Generally, a quote should include:
A quote number.
The date of issue.
Your business information.
Your customer's information.
An itemised list of products, services and miscellaneous costs.
Terms and conditions.
A section for clients to sign their acceptance.
Additional notes and details.
These sections should all link to each other to ensure the document you send to your client is accurate and paints a clear picture of the work you can do for them.
Tradify provides a digital way to create quotes. With automated quote numbers, business information and the ability to create customer profiles storing documents, you'll never scramble for needed information in the back of your van.
What digital quoting looks like in Tradify.
Setting a date of issue and expiry date is incredibly helpful in ensuring things run smoothly. There will always be changes in material prices, seasonal trends, and even your own schedule. Give potential clients an expected response time. Generally, most quotes last for 14-30 days.
4. Brand your quotes with stunning visuals
Want to stand out in the market? Make sure your documents reflect this with a consistent colour scheme and a logo.
Using job management software to create professional quotes takes the hassle out of branding your business. Make your documents look as good as your work on the tools.
Tradify offers you the ability to change your document theme colours, logo, and alignment.
You can also add photos, videos, and notes to show how you'll tackle the job. This gives your customer an idea of the work and makes for easy reference once you're working. Additionally, you can automatically add terms and conditions to save yourself from hassle down the line.
5. Adding line items to your quotes
Listing your products and services in a logical order allows customers to easily gauge your work and your expectations. Include a brief description that illustrates exactly what the item is and how much it will cost.
Tradify makes it simple to add items to a Quote. Add labour (and separate it out by staff member or activity), price list items, pre-made Kits and miscellaneous items.
You can directly import Price List Items from CSV files, meaning it's easy to ensure all the materials and tools you'll be ordering are in one place. Your suppliers can provide you with these documents, ensuring you're estimating accurate prices.
It's important that you account for every part of a job, even if it isn't included in the cost of a job. You could even add optional premiums and add-ons to your work as this could pique the right person's interest.
Optional line items
Adding options to your quotes is super simple with Tradify and allows you to showcase everything your business has to offer. Easily mark quote sections as optional and give your customers the ability to accept their preferred options.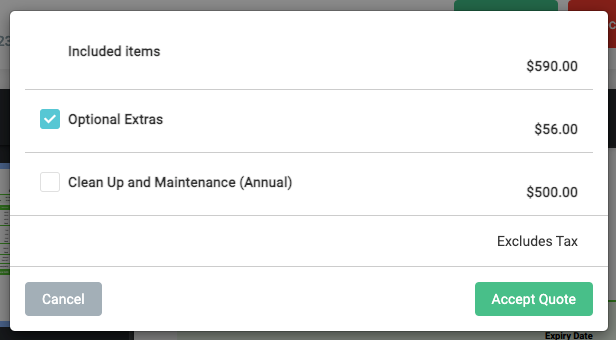 This is what optional line items will look like for your customers.
For more information, check out our help article covering quote options.
6. Defining your terms and conditions
You want to start things off on the right foot and on the same page. Laying out the responsibilities of you and the customer avoids disputes. Additionally, it gives your potential customers a sense of security. They'll know the rules that you're both playing by.
In Tradify, we leave this part blank for you to fill out, as we understand every trade business operates differently. However, there are some common areas where terms and conditions come in handy:
Payment: It's all about the money. Make sure your customers know if you require deposits upfront, your payment methods and payment timeframes. If you accept credit cards, Tradify offers

Stripe integration

— get paid online quickly, digitally, and in a contactless way.
Extra work: If the workload changes, how will you communicate this to your customer? Things change and you should be protected if they do. Outline your overtime conditions and ensure you're paid for all the work you do.
Changes: Things happen on-site that you don't expect. If you're working in unpredictable conditions, define how you work around this and what your customer should expect. A good example of this is if your work is weather dependent and you need to reschedule according to outdoor conditions.
7. It's all about the details
When you've included the basics, going the extra mile helps you win over even the most nitpicky clients. Show them that you're invested in your trade by making their life easier.
Tradify offers a few extra features within our Quoting feature:
Discounts: If you're offering a promotion or have a referral program, include this in your discount section. Give your customers that little extra push to choose you over other options.
Signing on-site: Doing quotes digitally means you can create the quote as you're meeting with a new client. Scope the site as you go and your customer might just be so impressed, that they want you on the spot. Tradify offers a mobile signature option that allows you to easily sign from your phone or tablet.
8. Sending your quotes to potential clients
Even if you're getting quotes approved on-site, you'll still want to easily send these documents to your clients.
Sending your quote as soon as possible (we recommend within 24 hours of meeting your client and discussing the job) is a surefire way to win work. However, do not prioritise speed over accuracy. Your customers appreciate communication that is both prompt and professional.
It's not just when you send your quote, it's how you send your quote. The best way to send a quote is via email, with the quote attached. This is the most professional and accountable method.
Tradify offers an easy way to send your quotes out professionally. Easily edit email templates with personalisation tokens so your emails look tailored but you can focus effort where it's needed.
Moreover, your Invoices will automatically attach as PDF files. You can choose to send these as linked files with tracking for greater visibility or separate PDF files.
Tips for emailing a quote:
Keep your subject line brief and to the point. Include the Quote Number and your business name in the subject line.
Use Tradify's template variables to add personalisation to your email. This will pull through Tradify-stored data to include names, addresses and other details where needed.
9. Following up on your quotes
Sending a well-made quote is one thing — closing the deal is another. Clients and prospective customers can be just as busy as you, so ensure you strike the perfect balance between being proactive and avoiding looking desperate.
Tradify offers automatic quote reminders to ensure quotes are approved and accepted before the expiry date. Using job management software does this for you, so you can focus on bigger and better things — like getting to work!
Quote reminders also work in tandem with Tradify's X-Ray Vision feature so you can see when a quote has been delivered, viewed and accepted.
Our customers love Quote Reminders
"With the Tradify reminders, there has been a phenomenal improvement in my quote acceptance rates and I'm getting paid faster." - Gifford's Electrical, Kidlington, Oxfordshire

"This new feature is working out well and is very handy. Helps save a lot of time and work by not having to send quote reminders manually." - Chilled Heat Queensland, Australia
Not a Tradify customer?
Start writing quotes in Tradify with a free 14-day trial or join one of our weekly walkthrough webinars to see Tradify in action.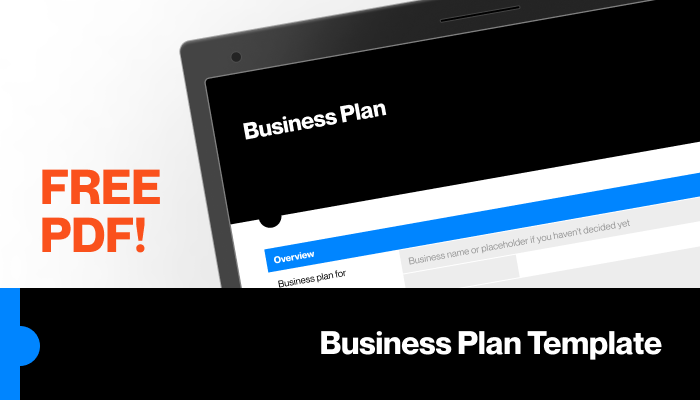 ---