Since before he can remember, Nick Millar has been an avid car lover. Any free time in his childhood was spent in his father's garage, perfecting his eye for mechanics. Fast-forward to adulthood where Nick graduated with a mechanical engineering degree and did a 15-year stint in the automotive trade for various companies.
Short on time? Skip ahead!
After that, he'd had enough of working for other people and decided to go out on his own. Nick launched Kits-n-Bits in 2003 – a company providing products, technical expertise, and installation of things like dash cams, reverse cams, parking sensors, tow bars, locks and DVR systems.
Nick's wife Claire jumped on board in 2007. She manages the financial side of the business as well as the day-to-day operations.
Today, Kits-n-Bits is a solid team of 12 – a mix of mobile engineers and office-based staff – including their good friend Andrea Skene, who, with her impeccable organisation skills, helps keep the team in order.
Some days, Kits-n-Bits services an entire fleet of cars for a large commercial company. Other days, it's installing a single towbar for a neighbour down the road. As business picked up, and jobs started coming in, it became clear the business needed to find a better way to manage their customer list and broad work range.
"It was really important to find a system that would allow us to accommodate all our different types of customers," Andrea explains.
1. Tradify streamlines job management processes
The Kits-n-Bits team enlisted the help of a business advisor from Foxability, who observed their processes over a few days and recommended Tradify. Given their previous experience with systems all over the show, the thing that appealed most to the Kits-n-Bits team was how everything in Tradify is connected.
"The best thing about Tradify…it's all of it really – in the sense that it's all linked," Andrea says, "Everything is there – the quote, the draft invoice, the job description with all the vehicle details, the customer's contact details and purchase orders… all in one place."
Now, when a customer calls for an initial quote, Andrea takes as much detail as possible – and that's the hardest part done. From there, the rest is easy – and the job management process is a lot more streamlined.
"It's so much more seamless following on from that initial creation of the customer. It's a long-term system."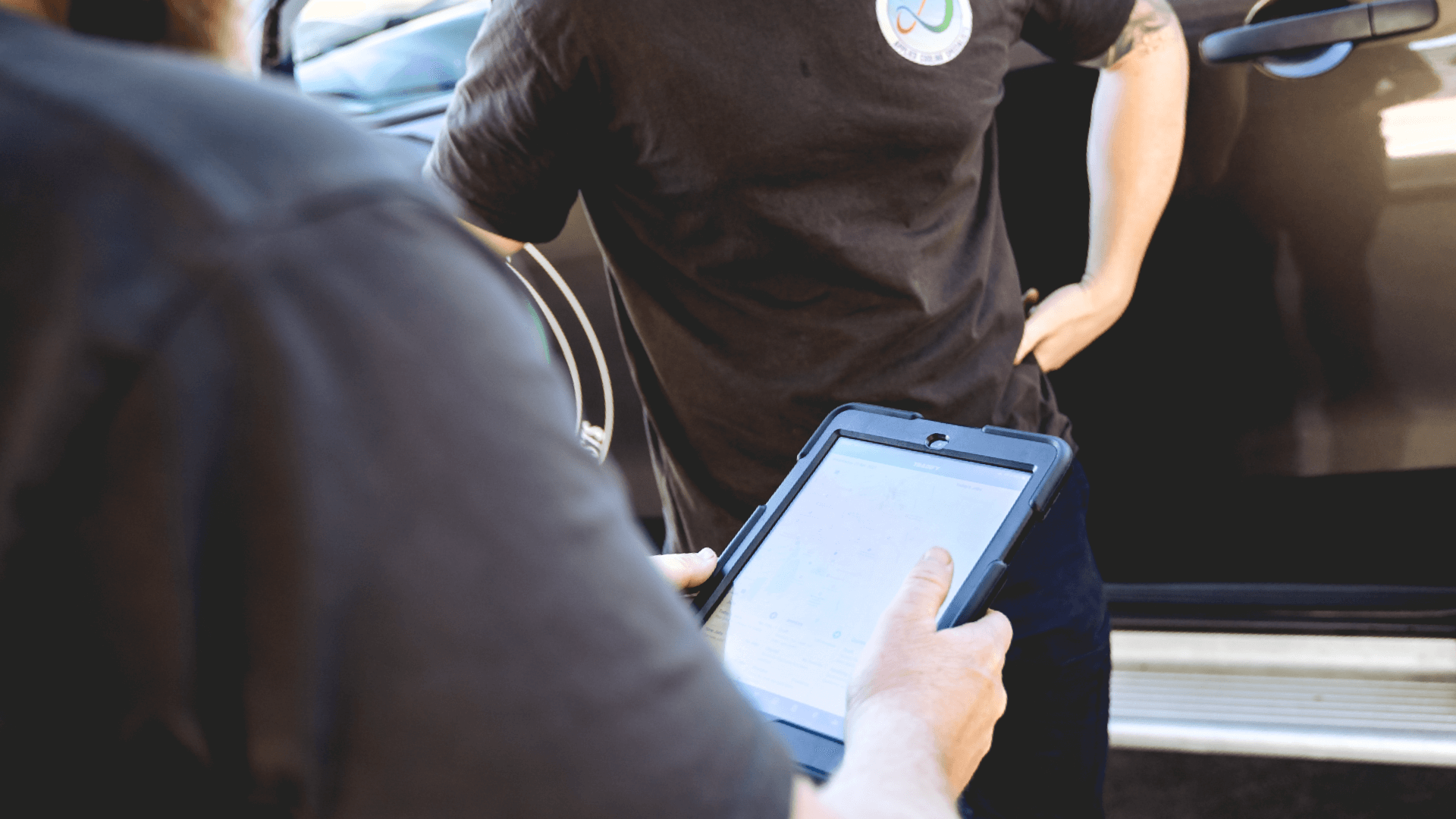 2. Efficient processes with job service reports
One feature that has eased the Kits-n-Bits workload is Tradify's job service reports. The team can now see a summary of work completed on a specific job –tasks, timesheets, materials and any associated notes.
It's particularly handy for managing commercial customers. Because Kits-n-Bits often works for the 'middleman', job service reports help clear up any issues quickly.
Once the report has been created, Kits-n-Bits can easily download or email it to the customer, straight from its Tradify account. The customer can add comments to the report or choose to accept or decline it. It speeds things along – and helps the team get invoices out faster.
"If the end-user has any issues, we can send them a job service report – they can see exactly what we've done on the vehicle."
3. Tradify brings in more business for Kits-n-Bits
Since switching to Tradify, the obvious benefit for Andrea has been securing more work. By streamlining their admin processes, it's freed up time that would otherwise be spent chasing wayward paperwork – and they have more time to spend on what's important.
"I think because of Tradify we are busier – we can fit in more jobs," says Andrea. "We can see everything – we know what we're doing and when we're doing it – it's just better laid out."
That's also reflected in the growth of the company. When Andrea started four years ago, there were four engineers in the company. They're now up to six, and because they're so busy, they're thinking they could do with another.
Andrea says Tradify has undeniably helped to bring in more business, and she'd recommend every trade business try it for themselves.
"I'd recommend Tradify just for the basic fact that it's all linked. And for the ease of work - it makes everything less time-consuming. It's perfect because it's so straight forward and everything's in one place," she says.
4. Kits-n-Bits say Tradify is wheely great!
Less time on paperwork: more time for securing jobs and building the business.
End-to-end: seamless management of admin for the whole team.
Job management: efficient systems make for fast job turnaround.
Keep tabs on materials and outgoings: charge for every single item.
Check out the Kits-n-Bits website and follow them on Facebook and Instagram to keep up with the latest updates.
Ready to give Tradify a go?
Jump on one of our weekly 30-min live walkthroughs to see Tradify in action, or start a 14-day Free Trial. No credit card required, no commitments.
---