If you're like many other tradespeople out there who don't yet have their own website, now is the time to finally create one. It's the best way to showcase your work, deal with enquiries, grow your reputation and customer base, and it's never been easier — with the help of Tradify's Instant Website Builder, your business will be online in no time at all. Here's a step-by-step guide to getting online, quick-smart.
Short on time? Skip ahead
1. Pick your website builder
If the thought of building a website gives you the cold sweats, you can relax! Today, website platforms are simple, easy to navigate, and deliver incredibly professional results. For a gardening or landscaping business, you can't go past Tradify's Instant Website, it's tailored to trade businesses. Just drag and drop your business information into a pre-designed template and customise it to your liking.
It comes as a monthly add-on to your Tradify subscription, allowing you to seamlessly connect your website to your regular Tradify software. This means you can streamline enquiries, automate responses, and manage your business, all from one place.
2. Time to get started


Templates made for landscapers
Because Tradify's Instant Website is designed specifically for trade businesses, you'll avoid the stress of designing a gardening or landscaping website from scratch. All you need to do is customise it with a few easy tweaks — from unique icons/logos to testimonials and photos, it's easy to stand out from the crowd.
Use beautiful garden photography
High-quality photos of your gardening and landscaping work will help to add some wow factor to your website. Uploading photos with Tradify's Instant Website is super easy too — just pick an image that fits our preformatted layouts.
If you haven't had time to document your work, check out our guide to taking good work photos.
Tutorials and guidance
Help is only a click away. If you get stuck, our online tutorials can help to guide you through what to do. Or, just click the help button and one of our team will get you sorted.
3. Buy a domain name
A website address (A.K.A. a domain name), is what your customers will type into the search bar to find you online.
Your domain name should be as memorable as it is relevant. Ideally, you want it to match your business name, so new and existing customers have no trouble finding you. For example, if your business name is 'Paradise Landscapes' the best domain name would be 'paradiselandscapes.com'.
Due to the nature of the internet, you might find your business or domain name is already taken. In this case, try adding an abbreviation, like your location — paradiselandscapesuk.com or paradiselandscapes.co.uk.
You'll need to register your domain externally on a domain hosting server and add it to your Instant Website. If you don't want a custom domain, we can host your Instant Website on our subdomain for free.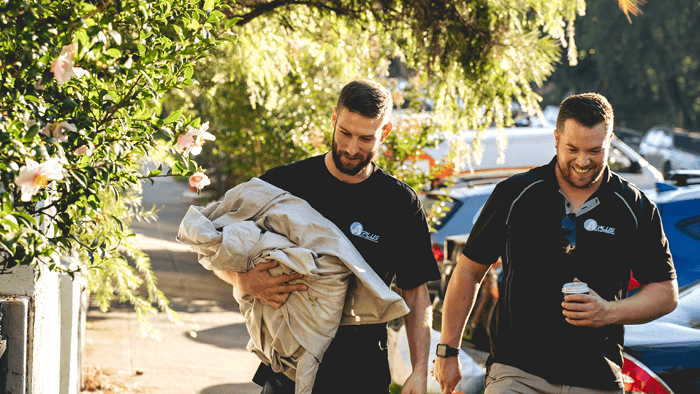 4. Add your logo
A key element of your website will be your unique logo. If you've yet to make a logo, make sure it's recognisable and represents who you are and what you do. To make one easily, you can either:
Ask a local designer to whip one up
Create one online with

Canva

.
Once you have the perfect logo, Tradify makes it super-easy to add it to your Instant Website.
5. Write text that's useful and personable
What do you do? What is your hourly rate? What areas do you service? It's vital information like this that you want to set out clearly on your website. Remember to write in short, easy-to-read sentences that show off your brand personality.
Make sure your text:
Lists all the services you provide
Talks to your business ethos/mission
Describes what makes your work stand out
6. Optimise your website for search engines
When a prospective customer searches 'landscapers in London', results are ranked in order of relevance. To increase your odds of being found online, Tradify's Instant Website makes optimising your website straightforward.
Adding links will help boost your Google rank score while building trust in your brand. Link to:
Social media pages
People you work with such as partners or suppliers
To get set up on social media, check out our social media ideas for landscapers.
7. Register with Google Business
Google Business listings are the reason you can find a restaurant's opening hours in an instant or search for particular stores in your area. Think of it as a 21st-century phone book.
Getting registered doesn't take long. Follow our straightforward guide on how to set up Google Business for trade businesses.
8. Look great on a smartphone
Ever tried looking up a website on your phone and the font's too small or the formatting is all over the place? With more and more people using their phones rather than computers, it's really important to make your website look great on any device. Luckily, with Tradify's Instant Website, your website will be mobile-responsive by default.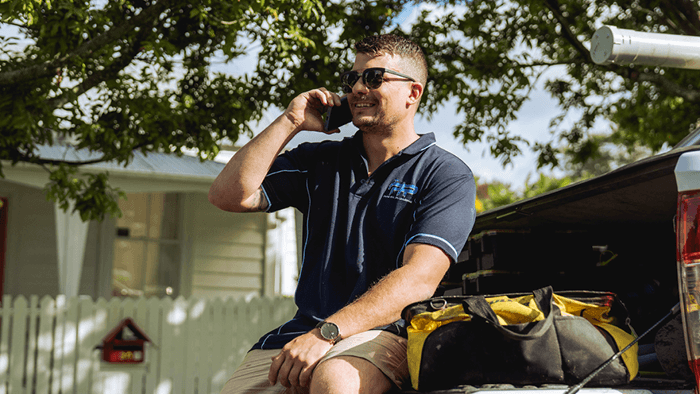 9. New enquiries linked to Tradify
Tradify's Instant Website has the bonus of pulling job enquiries straight from your website into your Tradify management software. It will also save you time by sending out automated email responses, so no opportunity is missed.
Check out this article on how an 'Enquiries' feature on your website will streamline your admin, so you can save time and focus on the important stuff.
10. Testimonials build trust
Shine a light on all your best gardening and landscaping work. Customers naturally trust each other more than they trust any other form of marketing, so be sure to highlight all that great feedback.
To make it easy, Tradify's Instant Website has an optional section dedicated to testimonials. Check out our guide to getting good reviews for your business to get the ball rolling.
11. The best fertiliser for your gardening or landscaping business
A good website allows your customers to find your services around the clock and get in contact when they need you. It builds a higher level of professionalism and trust in your brand, and demand for your services. The best part is that making a website is easier than ever with Tradify's Instant Website.
Inspired to build a gardening and landscaping website? Sign up for a 14-day free trial of Tradify or pop over to one of our live demo webinars to see the trade business management app in action.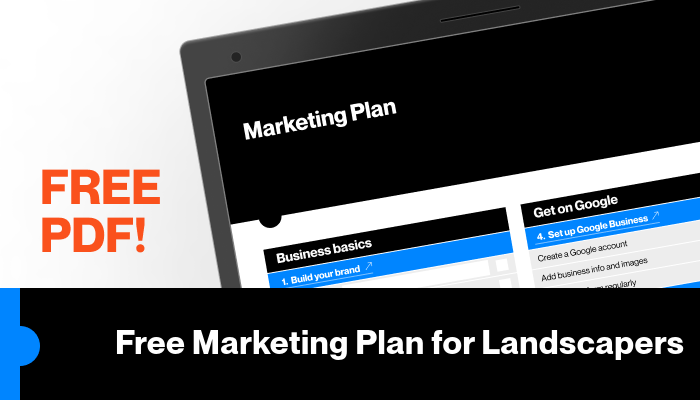 ---